Privacy-conscious people can breathe a sigh of relief now that the blockchain system has entered our everyday life. In 2019, users have an ultimate solution against the Big Brother and global surveillance – encrypted software. Up-to-date messengers, browsers, wallets, and other essentials are encoded and never use servers to store your data.
Wouldn't that be great – to have a messenger, full financial service, e-mail, and mining bot all-in-one network? Well, now it's here. A team from London have developed the self-enclosed ecosystem of your dreams – meet Utopia. What is the difference between an ordinary and an encrypted messenger? Why is Utopia the best privacy tool? We're about to tell you everything you need to know.
What data do ordinary messengers track?
Often, you don't realize that you allow the invasion of your privacy by accepting the general Terms of Service of companies. Messengers like Facebook and WhatsApp are closer to you than your best friends. They read the content of your messages, have access to your camera roll, and can record and download media. They track you more than you know.
● Interactions with other users are monitored. Who you talk to and how often do you connect
● Data about your device is saved. Your operating system, geolocation and IP are analyzed to make up your digital fingerprint
● Your contacts could be uploaded to a server
Do you really want to be a victim of international espionage? The data these messengers collect costs a lot as governments and corporations use it. They need to understand your behavior to expand their influence and gain more money. See what Utopia offers to protect you…
What is unique about the Utopia ecosystem?
Utopia is a P2P network: it's decentralized and anonymous. Moreover, Utopia is a feature-rich service that includes all the essentials you use daily online. Encrypted uMessenger, uMail, Idyll browser, uWallet, uMaps, and Mining bot are protected and united by core principles:
Enhanced encryption. Elliptic curves and self-enclosed network architecture guarantee that data can be decoded only by the recipient – the holder of the Key
Anonymity. Users don't need to mention their phone number, name, or any personal data while registering. Each user has a life-long Private Key
Decentralization. Servers have no access to your data
Rewards. Users get paid in their native currency every 15 minutes when contributing to a network's expansion. Crypto is protected against the market's violations
All the listed principles enable online confidentiality and freedom.
Utopia Encrypted messenger – is it safe?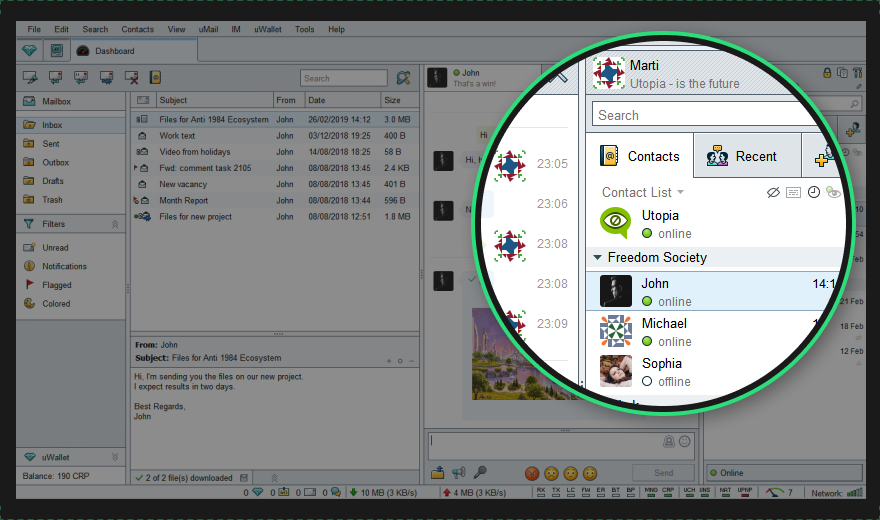 uMessenger is encrypted by default, compared to its competitors. It's never connected to a phone number and doesn't reveal a user's location. Text messages, group chats, channels, and voice messages are protected and can be decrypted only by a receiver. Third-parties and governments can't read the content of your messages as they are never stored on a central server. So, yes – it's 100% safe.
Along with being protected against Big Brother, uMessenger is multifunctional and user-friendly. Funny stickers and games make communication engaging!
uMessanger is a secure communication tool for business and entertainment due to channels. You can start a blog or share news feeds, enjoying the freedom of speech. Use uTags to identify an audience with the same interests and location effortlessly.
Take a look at this guide, complete with screenshots:
A quick guide on Utopia features
uMail
uMail is P2P encrypted mailbox integrated with the other Utopia services. Users can to switch to Hybrid Mode, and they have emails, chats, and wallet on the dashboard.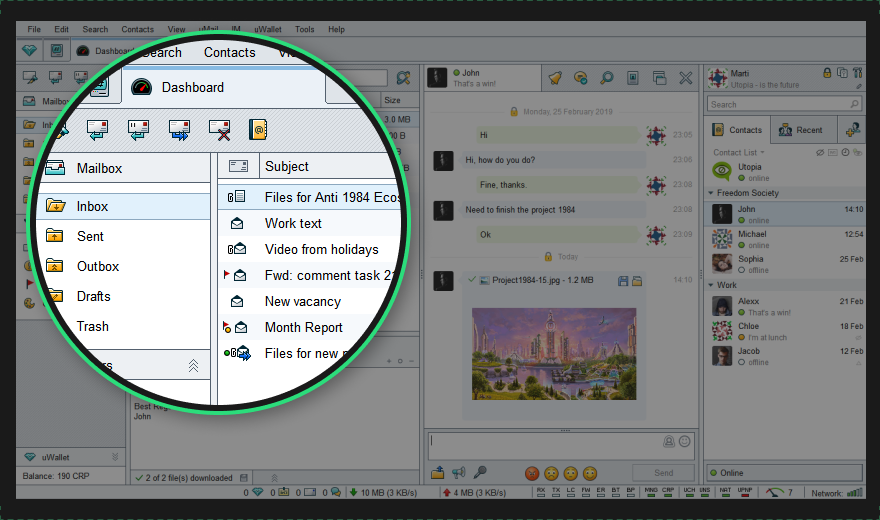 To guarantee security and maintain privacy, users can send emails only to authorized members inside the Utopia environment.
Templates make uMail comfortable for business correspondence. Once you generate a layout, you can use it as needed for different letters' styles.
Idyll browser
Idyll is a safe browser that is based on end-to-end encryption. It doesn't collect the user's metadata, location, or search history. This mechanism keeps governments out and prevents you from being served marketing.
Note that you can use Idyll only for browsing through pages hosted within Utopia ecosystem.
uWallet
uWallet enables safe financial transactions and purchases. Money transfers are straightforward and fast since you can issue a card with a unique design in a matter of minutes.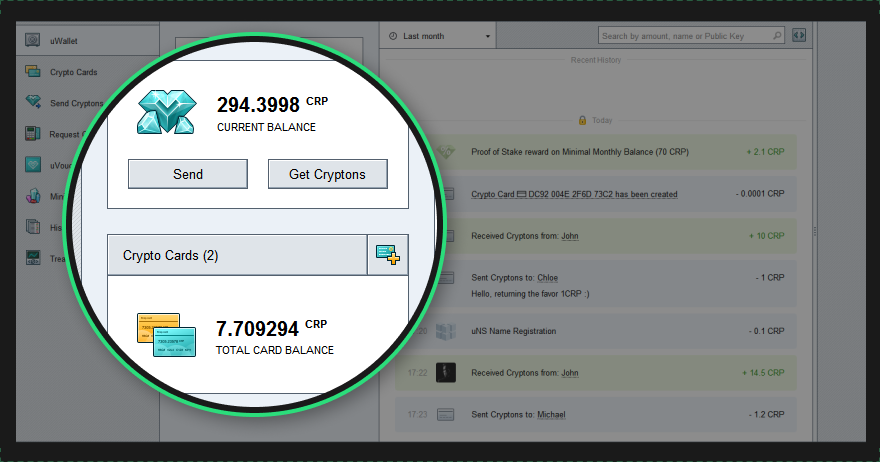 Operations are secure because users never mention their Private Key when they commit a transaction. This guarantees upgraded security, impossibility of money leakage, and hacking.
Current balance and transactions are always at your disposal.
Mining bot
Mine coins every time you use messenger; money-making has never been so easy. The more devices you use, the more coins are credited on your balance.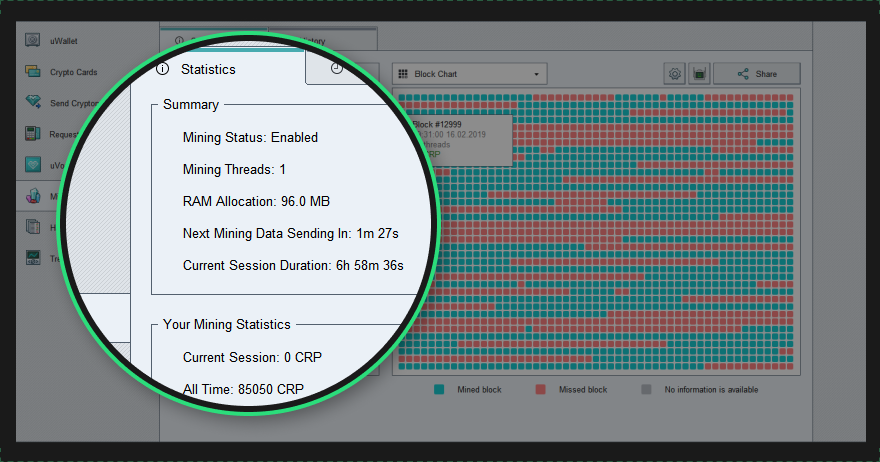 Users get rewarded every 15 minutes when they expand the network paths by rooting connections.
The bottom line
Messengers collect vast data masses that are used by institutions and advertisers. Utopia – is a feature-rich P2P network built on advanced encryption mechanisms. E-mail, browser, encrypted messenger, wallet, and other tools are encoded by default, decentralized, and anonymous. During the Beta test the team developed even more tools they will integrate in the future. Soon Utopia Mobile will be available along with the desktop version. Users will be able to design their framework and enjoy secure voice calls. Download Utopia to protect business and personal communications on the Internet.
> Check out and download Utopia <
Thanks to Utopia for sponsoring Reclaim The Net.