An environmentalist from Uganda was suspended from Twitter and it is leading to speculations that he had been censored as a part of a larger scheme involving the country's government. Several environmental groups also express a similar concern that Twitter's moderation system was being slyly used to keep Africa-based climate activists on a tight leash.
Right after Nyombi Morris, a 22-year-old environmentalist appeared on the TV talking about preserving the Bugoma Forest, his account was suspended from the platform with no response at all from Twitter support.
Surprisingly, another environmentalist in Uganda, working with Fridays for Future, Leah Namugerwa, had also faced a similar fate in the recent past.
"I was very, very disappointed. What I suspected is that because our government was trying to silence us about this Bugoma Forest, they used some people to suspend our accounts," said Morris, as reported by The Verge.
He also said that social media is the only way to reach out to fellow environmentalists and let the world know about the developments in their area. "We are not supported by our media. It is only social media which can support us, but if even on social media we are silenced — where will he go?" questioned Morris.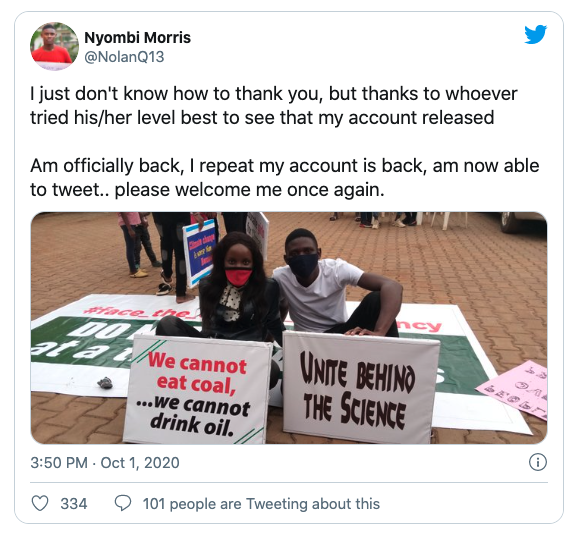 Twitter, ultimately, ended up restoring Morris' account. That said, as is increasingly common, it did not provide any explanation as to why the account remained frozen for such a long period. The social media platform said that the said two accounts were frozen as they turned up on a "spam filter."
Climate activists do not seem convinced by Twitter's explanation and strongly believe that it is preventing eco-minded conversations and personalities across the platform. "This is unacceptable. Having a platform to talk about the climate crisis is crucial, especially for [people and areas most affected by climate change]," said Fridays for Future who believe that climate change is man-made and a huge problem.
Twitter is not the only platform that is not known to censor environmentalists. "Facebook can silence much of the climate movement at their discretion, without explanation for any duration," said the chief program officer at Greenpeace USA. Facebook's reasoning is that, as it's trying to censor those who don't agree with climate change, their filters sometimes make mistakes and instead ban those that support it.