While declaring that it wants to combat, among other kinds, "pro-Kremlin disinformation," the EU is acting suspiciously, and ironically, like the Kremlin of yore: there are arbitrary accusations flying around against (this time social) media, and of course, there are threats.
One by one, major platforms are getting under fresh pressure from the bloc that recently adopted wide-ranging "anti-disinformation" rules for platforms: Facebook/Meta was first, Apple is "on the list" as well, and, of course, Elon Musk's iteration of Twitter, X.
EU Commissioner Věra Jourová has issued a warning to Musk in true Big Brother fashion: "We will be watching what you do."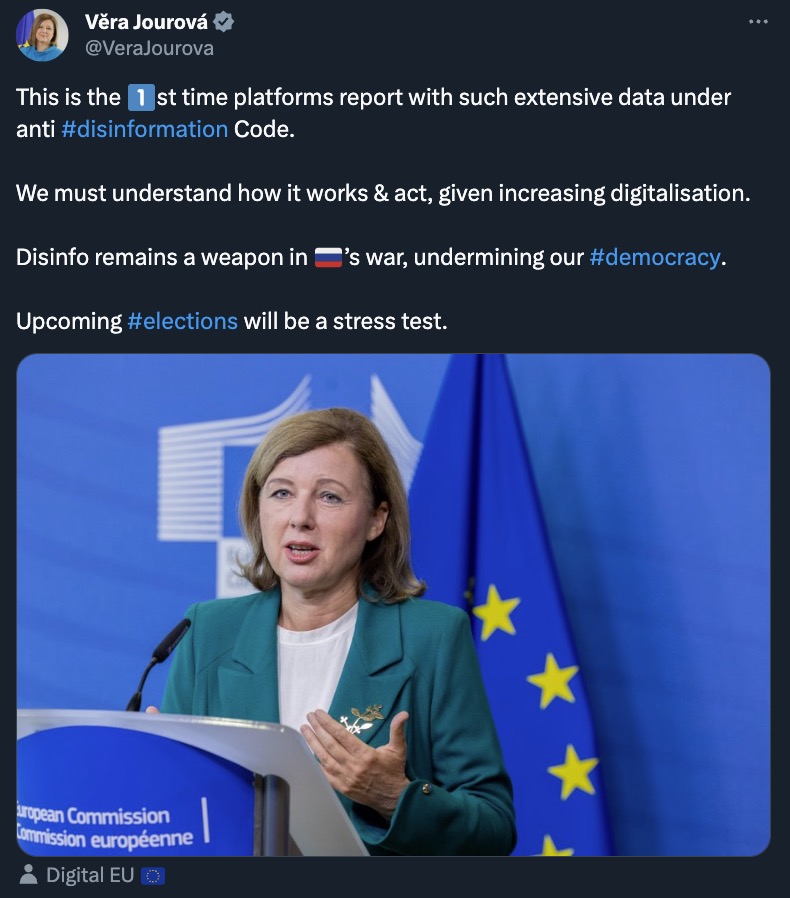 At the same time, Jourová accused X of being the worst offender among major social sites when it comes to "ratio of disinformation."
And, Big Tech as a whole has been told to "do more" in terms of censoring what the EU considers disinformation, relevant to the war in Ukraine (but, it seems, only that coming from the Russian side in the conflict).
All this is happening as the EU official presented "an update" on how the 44 platforms who signed its code of practice on disinformation are doing in complying with it. Unlike Facebook, Google, TikTok, Microsoft, advertisers, etc, X is not among the signatories, which explains the need to "remind" the company that it is still a subject of EU's tight control.
X for its part is aware of this, and in a post reacting to what its Global Affairs said was discussion about disinformation in Europe, confirmed that the platform would continue to comply with EU's DSA (Digital Services Act).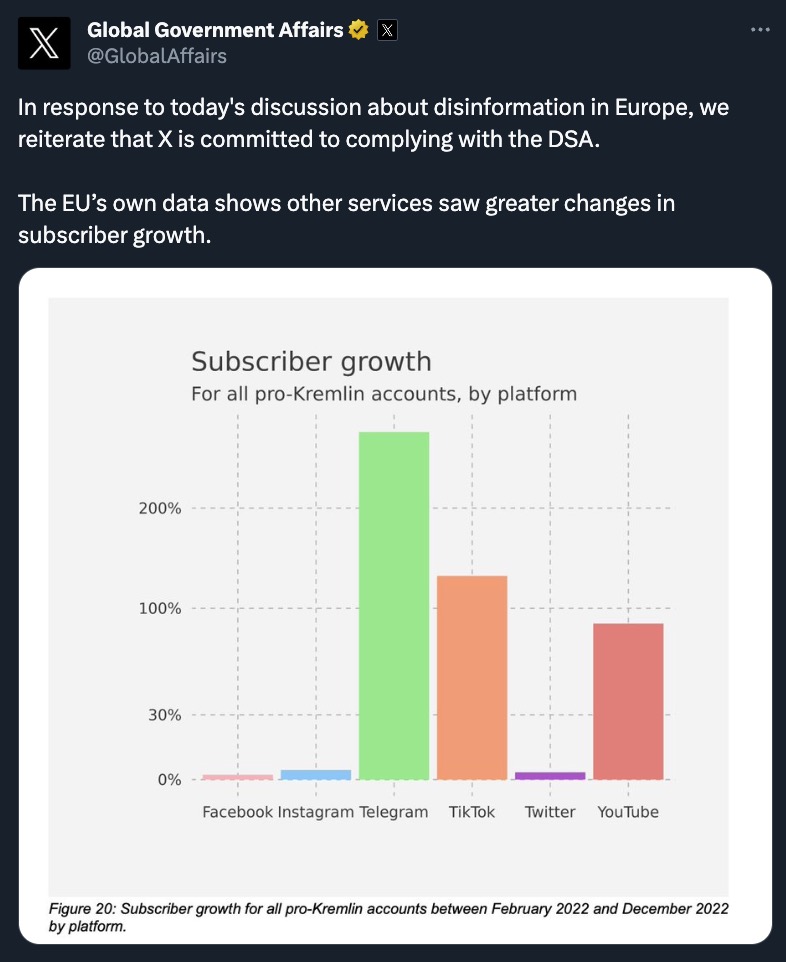 The post then went on to note that when it comes to the increase in the number of people subscribing to "pro-Kremlin" accounts, other platforms have seen, sometimes dramatically higher growth.
Back to Jourová, and she is "naturally" linking the issues of disinformation coming from Russia, with a threat to democracy, and, once again, here we go with "election integrity."
The EU Commissioner ended her post on X by writing, "Upcoming elections will be a stress test," without specifying which elections she has in mind, or what will be stress-tested, and in what way: democracy, or efficacy of censorship.