The authorities in Washington and Brussels seem to be coordinating in putting pressure on Elon Musk, in his role as the owner of Twitter.
In particular, the US and the EU seem upset by his moves that appear to be meant to pave the way to more free speech on this social network, and less censorship, which has become rampant there over the several past years.
Just how serious of a "threat" such developments are seen as by the elites in power on both sides of the Atlantic is evident in the players currently openly involved in attempting to tighten the screws on Musk: the European Commission, and US Treasury Secretary Janet Yellen.
Musk spoke with EU's Commissioner for Internal Market Thierry Breton, who is also a lead in enforcing a new Digital Services Act, the purpose of which, among other things, is to "clarify" obligations of online platforms.
Officially, this has to do with giving smaller businesses legal clarity and a level playing field – but when Breton got on a video call with Musk, the talk was about putting an end to reinstating de-platformed users "arbitrarily" (the EU is not on record as reacting negatively when they would get banned arbitrarily).
Further, Breton wants Twitter to continue with an "aggressive" approach to "misinformation," and submit to an extensive "independent audit." Failing all this, the company could face bans across the EU's 27 member-states, or be forced to pay fines rising up to 6 percent of its global turnover.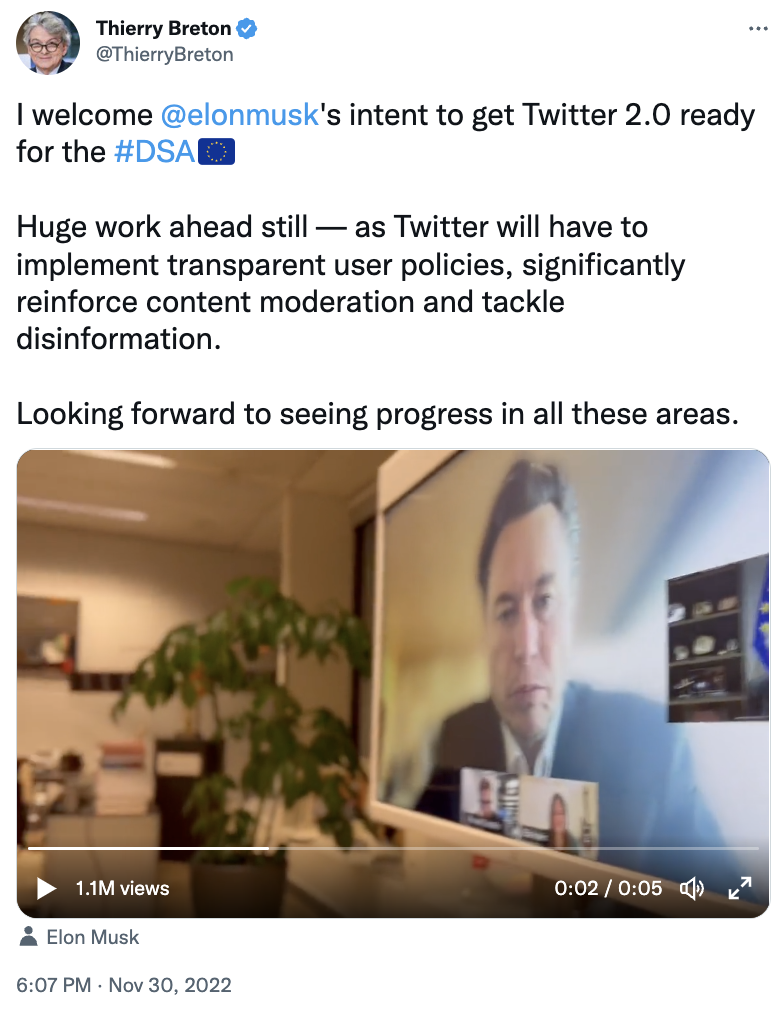 Musk reportedly reacted by saying the act in question is "very sensible" and by suggesting it should be "applied everywhere in the world."
Musk's overhaul of Twitter's policies, especially concerning speech (account reinstatement) has been done in a "trial and error" way so far, with the billionaire saying all along he would respect all applicable laws.
The US push, meanwhile, at this point focuses on ownership issues and lumps "national security" in there.
Janet Yellen recently told a New York Times conference that the Committee on Foreign Investment in the US "looked at transactions involving foreign investment to see if they create national security risk."
This is a "work in progress" and concerns Saudi Kingdom Holding Company, which also has stakes in Uber, Lyft, and Citigroup.
"While Yellen herself (unlike Joe Biden) had previously dismissed the likelihood of such a probe, on Wednesday she said she had 'misspoke'," the FT noted in its report.