Escalating tensions between the pro-censorship factions of the EU and tech mogul Elon Musk reached a new peak as European officials accused Musk's social media platform X, the rebranded version of Twitter, of being a hotbed for "illegal content and disinformation."
This accusation comes in the aftermath of the recent Hamas attacks on Israel.
Commissioner Thierry Breton, the EU's head honcho for industry and the digital economy, and someone who has also threatened Musk in the past, didn't mince words in his new demands of Musk. The stakes were laid bare in his letter, demanding that Musk urgently address these grievances within a mere 24-hour window and engage with "relevant law enforcement authorities."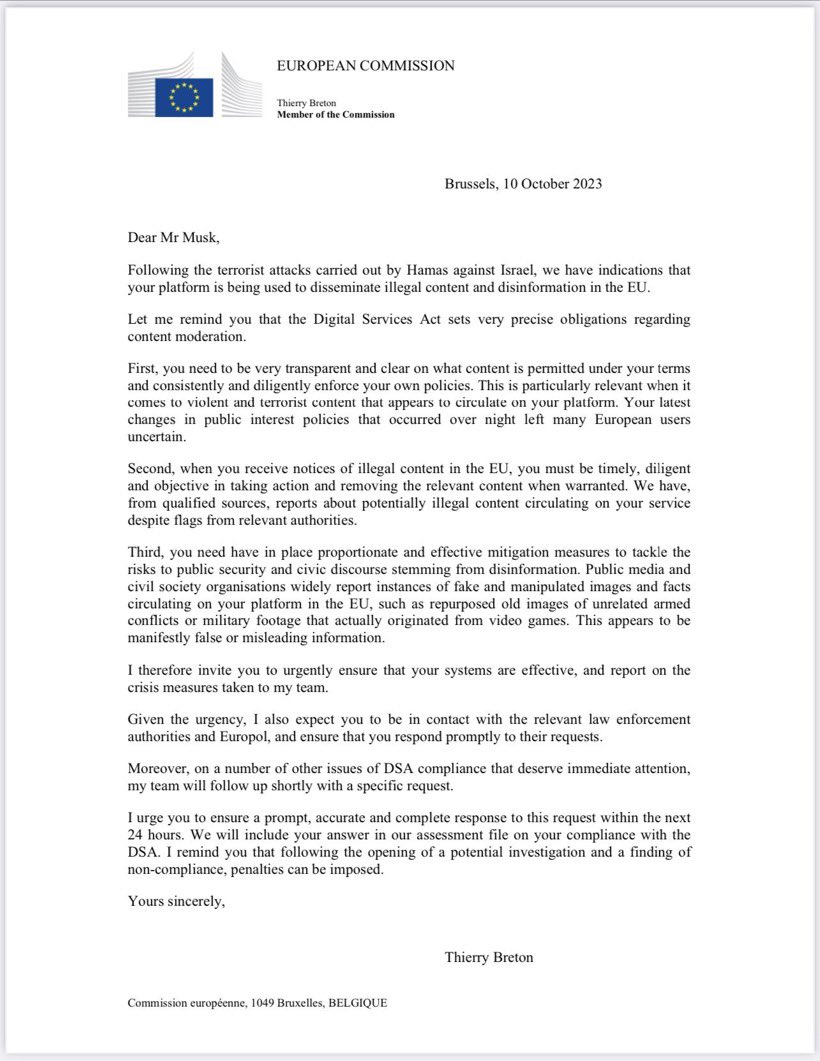 Breton, wielding the authority to initiate legal proceedings against internet behemoths under his jurisdiction, was unequivocal: "Following the terrorist attacks carried out by Hamas against Israel, we have indications that your platform is being used to disseminate illegal content and disinformation in the EU."
Breton's missive not only sought a swift response but also an immediate liaison with Europol, essentially putting X's operations under the European microscope in line with the newly minted EU censorship law, the controversial Digital Services Act (DSA).
This latest act in the EU's regulatory playbook carries significant weight, as underscored by Breton's stark reminder: "I remind you that following the opening of a potential investigation and a finding of non-compliance, penalties can be imposed."
"Public media and civil society organizations widely report instances of fake and manipulated images and facts circulating on your platform in the EU, such as repurposed old images of unrelated armed conflicts or military footage that actually originated from video games. This appears to be manifestly false or misleading information," Breton wrote.
Musk responded to the claims by asking for specifics. "List the violations you allude to on X, so that the public can see them," Musk posted, adding that it should be out in the open and not any "back room deals."