Liberals in the US, and their affiliated and influential corporate media, must be rubbing their hands in glee: China is doing it, so they don't have to. Namely, China is said to be blaming the coronavirus pandemic on Donald Trump, while flooding Facebook and Instagram with undisclosed political adverts to whitewash China's role.
These undisclosed political ads here seem to be posts from leading Chinese media outlets.
The first such post, documented with a screenshot, and coming from Global Times, says that US administration doesn't believe the current US coronavirus ordeal has to do with the county's erroneous politics – and that this attitude may prevent Washington from taking stronger measures.
(This, by the way, is not criticism unheard from some US conservatives, too, who blame decades of outsourcing of strategic medical equipment and material from the US abroad, specifically to China, making the country dependent on its trade enemy. But they tend to mention Trump for what he seems to be here: the fall guy who has to try to fix what's been wrong with the US system and global supply chain for a very long time.)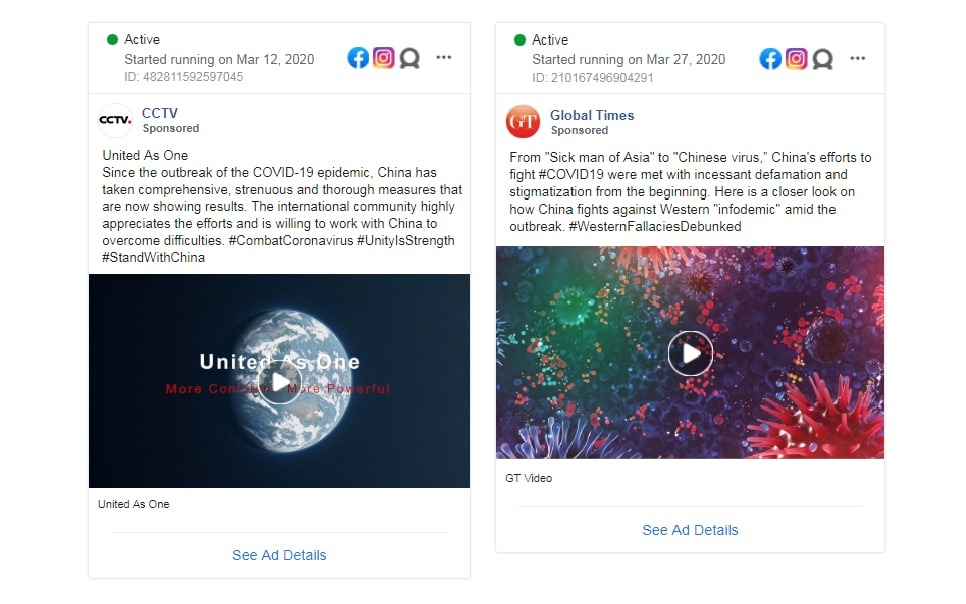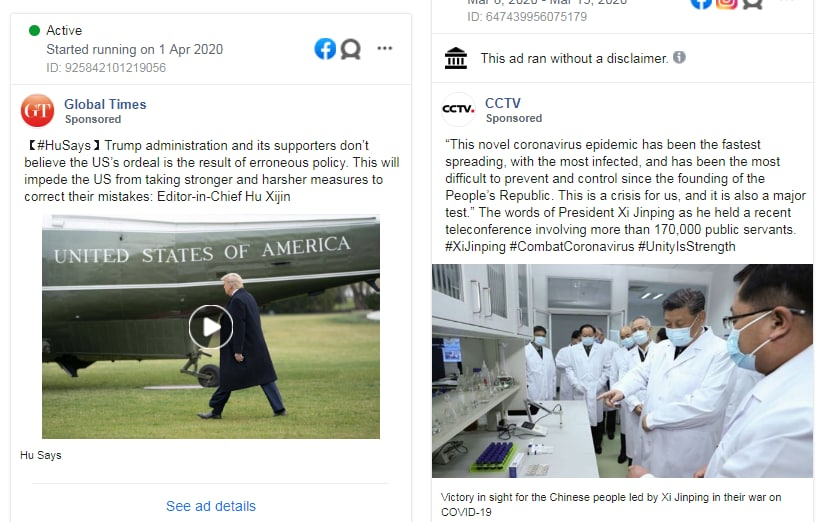 Meanwhile, another post, (also screenshotted) this time from state broadcaster CCVT is just run-of-the-mill praise of "dear leader's amazing handling of a crisis" that media everywhere do all the time.
And this is labeled as "ads." Not untrue – but hopefully the next time a mushy praise of French President Emmanuel Macron shows up on Facebook, we'll also see labels like "ads ran without disclaimer" and "sponsored content." (Spoiler: No, we won't.)
Facebook is said to not adhere to its own policy of running "ads" with politics disclaimer, and as political advertising. And that's an accusation preceding the pandemic.
Trump had been referred to as "racist" is these Chinese stories, while the origin of the virus is said to be "the US rather than China."
Such a Chinese effort wouldn't be particularly different from what's going on in the US liberal political circles, where the administration is pummeled from many politicians and their corporate media for somehow mishandling the crisis.