According to a new survey, most Big Tech employees using the Blind app that allows them to anonymously share their opinions on a variety of matters, overwhelmingly think that giant centralized social media platforms were right to suspend President Trump.
Blind, which gathers a community of verified professionals, including from the tech industry, said in a statement that the question was asked by a Microsoft employee who started a poll wondering whether Twitter and Facebook "did the right thing."
The "right" thing they would have done here was deleting Trump's tweets and videos in the hours of the US Senate unrest and drama, and also suspending his accounts: Twitter for 12 hours, and Facebook and Instagram for 24 hours.
(Keep in mind, this was before Facebook locked Trump's accounts indefinitely and Twitter permanently banned him.)
This is described as unprecedented behavior on the part of these companies, and now over 8,000 Blind users who responded in the poll have revealed at least some of the mood inside dozens of companies, but most relevantly here, inside Twitter and Facebook itself, as well as other tech/social heavy-hitters like Google, Amazon and Apple.
When asked what they thought about blocking the president's account, 80 percent of Facebook employees and 75 percent of Twitter employees who took part in the survey said this was the correct course of action, while 20 and 25 percent, respectively, think it was an attack on free speech. (Only 60 Twitter employees responded, against 378 of those working by Facebook, as Blind's data shows.)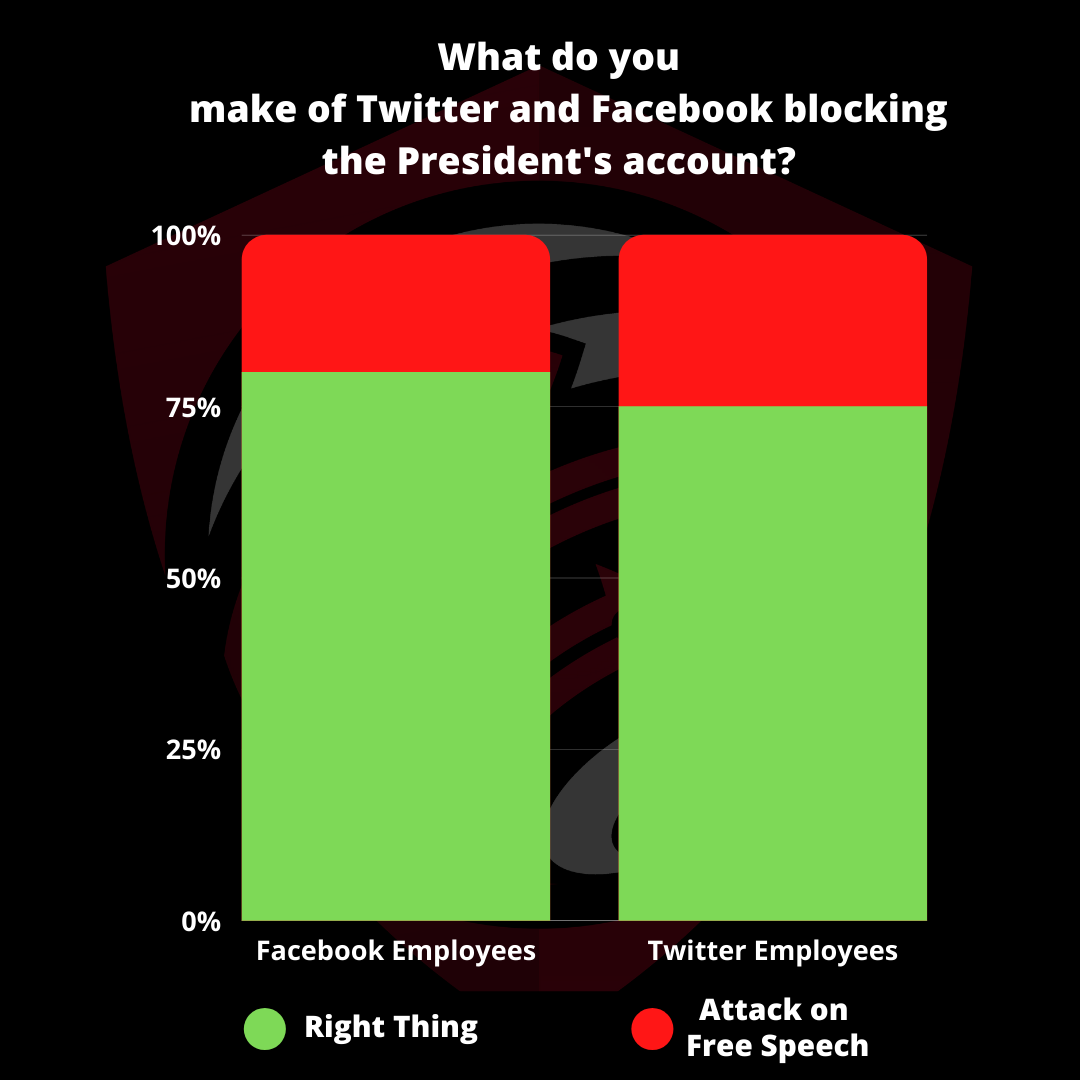 The results are similar when it comes to employees of all major tech giants (Twitter, while politically influential, is far from that status, business-wise). These firms now go by the acronym "FAANG" (Facebook, Apple, Amazon, Netflix, Google), and the poll showed that apart from Facebook's 80 percent in favor, the censorship was also supported by 71, 76, 77, and 74 percent of respondents from the other four companies, respectively. (Out of those, Amazon and Google led the way in the number of people who bothered to respond: 808, and 493.)
Overall, out of 8,238 employees who participated (not all of them from tech firms) 76 percent (6,238 people) said they agreed with banning Trump's social media accounts, while 2,000 respondents, amounting to 24 percent, said this was an attack on free speech.