Facebook has reversed its decision to permanently disable the ads account of Heroes of Liberty, a conservative kids' books publisher. An editor for the publisher described the censorship as "anti-American" and "pure madness."
Heroes of Liberty has published books about former President Ronald Reagan, Supreme Court Justice Amy Coney Barrett, and author Thomas Sowell, all conservatives.
Facebook sent the publisher a message that its ads account had been disabled for violating its rules on "Low Quality or Disruptive Content."
The account was first disabled on December 23. After the publisher appealed, the account was permanently disabled.
"This ad account, its ads and some of its advertising assets are disabled because it didn't comply with our policy on Low Quality or Disruptive Content," Facebook said in a message disabling the account on December 23.
After the appeal, Facebook sent a message saying: "After a final review of this ad account, we confirmed it didn't comply with our Advertising Policies or other standards. You can no longer advertise with this ad account and its ads and assets will remain disabled. This is our final decision."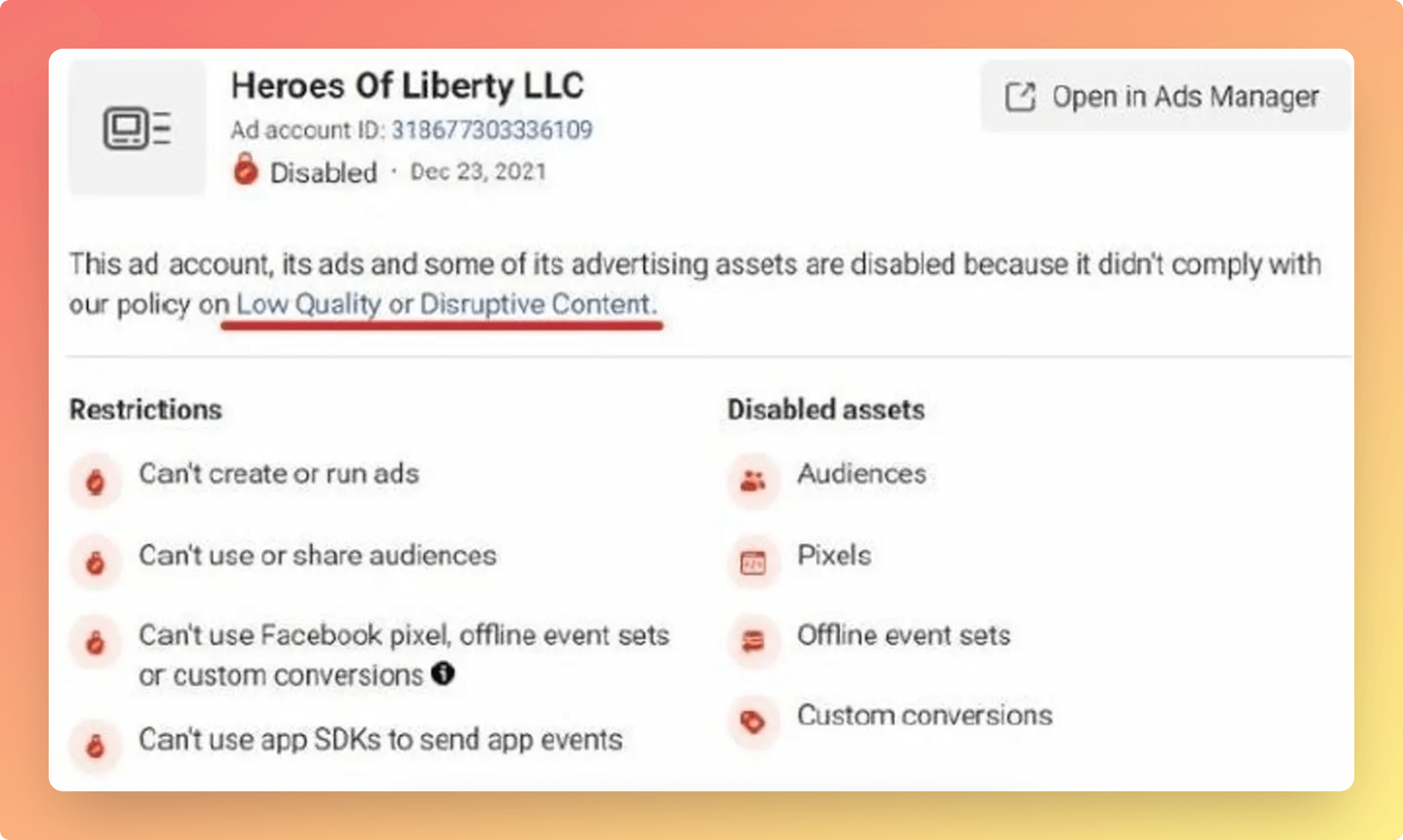 However, editor and board member of Heroes of Liberty, Bethany Mandel, confirmed to Fox Business that the account has been restored.
"They proactively reached out to several members of Congress and told *them* it was a mistake and we're back online. Those offices told us," Mandel said. "They didn't reach out to us."
Heroes of Liberty publishes books for children focused on promoting American values.
Mandel described the censorship as more than just anti-conservative.
"We are not in politics, we are in the business of creating beautiful stories about great people that will entertain children and give them life lessons," she said.
"To cancel children's books because they celebrate American values that 90% of Americans believe in isn't even anti-conservative bias, it's anti-American. Pure madness."
Mandel suggested that the cancellation of the account was the result of a small but vocal group of users.
"There was a small but noisy group of responders to our ads who didn't like the fact we published books about Ronald Reagan, Thomas Sowell and Amy Coney Barret; people we called Heroes of Liberty," she told FOX Business. "They made nasty comments, especially about Reagan, and about us for publishing these books and even shared their desire to burn them."
In a statement, Meta's communications director Andy Stone said, "This should not have happened. It was an error and the ad account's been restored."