Libs of TikTok's Facebook account has been suspended for violating "community standards." Facebook did not provide a specific reason for suspending the account and said the decision "can't be reversed."
However, Libs of TikTok said on Twitter that "Facebook is telling us that they did not suspend our account," but that they have "no access" and are "locked out."

Libs of TikTok has been the target of the media and Big Tech. The account regularly posts, without commentary, images and videos of the statements of typically left-wing users.
Libs of TikTok shared a screenshot of the notification it received from Facebook on Twitter, writing: "Facebook just suspended our account. No reason given."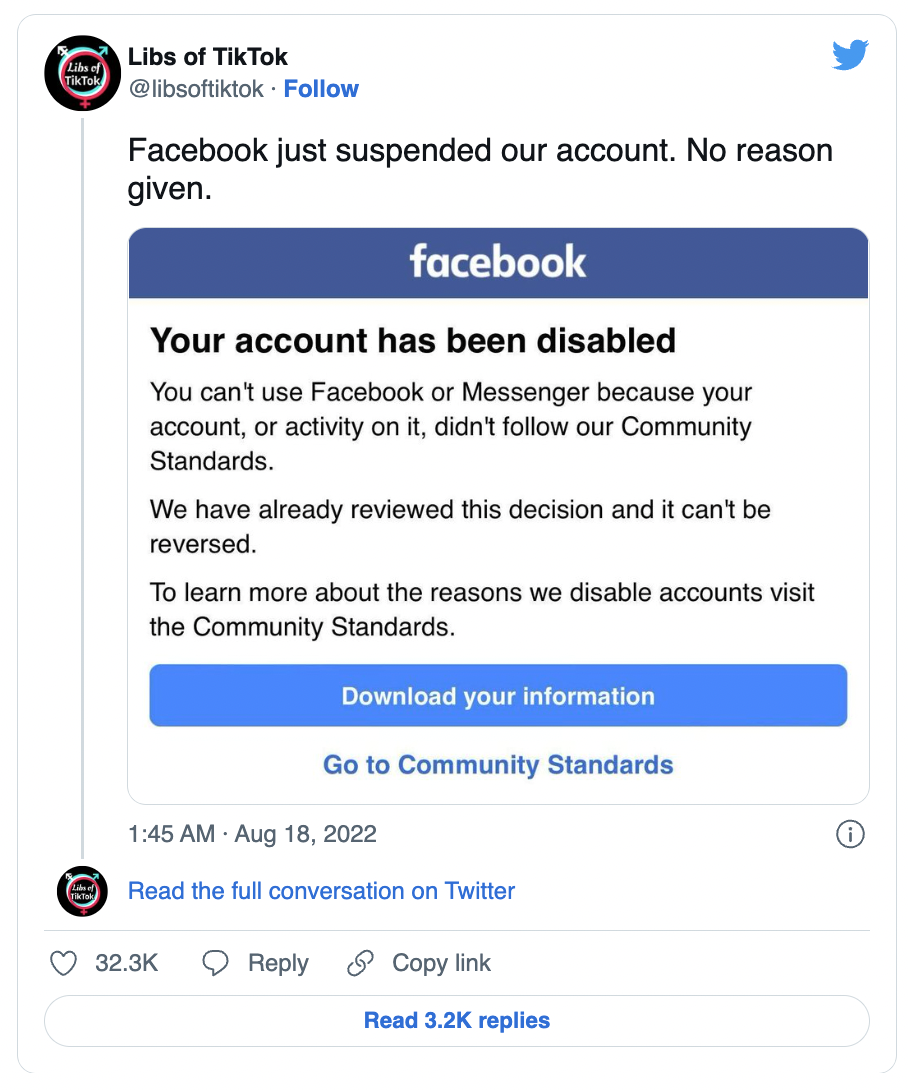 While no reason was given for the suspension, it has come at a time when the account is facing censorship demands for highlighting doctors pushing for gender-based surgeries for minors. Media outlets report that doctors and hospital staff are receiving threats after Libs of TikTok amplified videos of doctors pushing for such surgeries.
On August 11, the account shared a video showing Dr. Frances Grimstad, a gynecologist and obstetrician at Boston Children's Hospital, promoting what she called "gender-affirming hysterectomies."
In the video, Dr. Grimstad summarized the procedure, which is "the removal of the uterus, cervix, and fallopian tubes," and sometimes ovaries.
In May, Libs of TikTok Instagram account was suspended, but later restored, the platform saying the suspension was a mistake.
In April, it was suspended from Twitter, right around the time the person behind the account was doxxed in an article by The Washington Post. Twitter later restored the account.