Some real or imagined purveyors of targeted campaigns delivered via fake accounts, and believed to be powerful enough to influence a person's behavior, are hard if not impossible to actually spot and identify on social networks like Facebook; whereas others, like Israel's The Spinner, make their claim of selling this dubious "feature" front-and-center of their entire business.
According to the Daily Mail The Spinner's business is "brainwashing." Specifically, brainwashing targets selected by paying customers into taking some action they otherwise wouldn't have.
Things like, "quit smoking," "get a dog," "initiate sex." The list is long and varied. What Spinner is actually selling are sets of articles that cost from $49 to $79 that are supposed to nudge the target towards the selected goal by showing them corresponding content online, including on social media. These articles are "disguised as editorial content" – and the Spinner promises to install a cookie on a target's device that would allow showing them ads promoting the said content.
The Spinner has now been banned by Facebook and Instagram, where the social media giant said the company appears to have used fake accounts and fake Facebook Pages to "strategically bombard" Facebook users with advertisements.
One example is of a victim that's supposed to be "brainwashed" into a polyandrous relationship by being targeted by articles such as, "How Polyamory Saved My Marriage."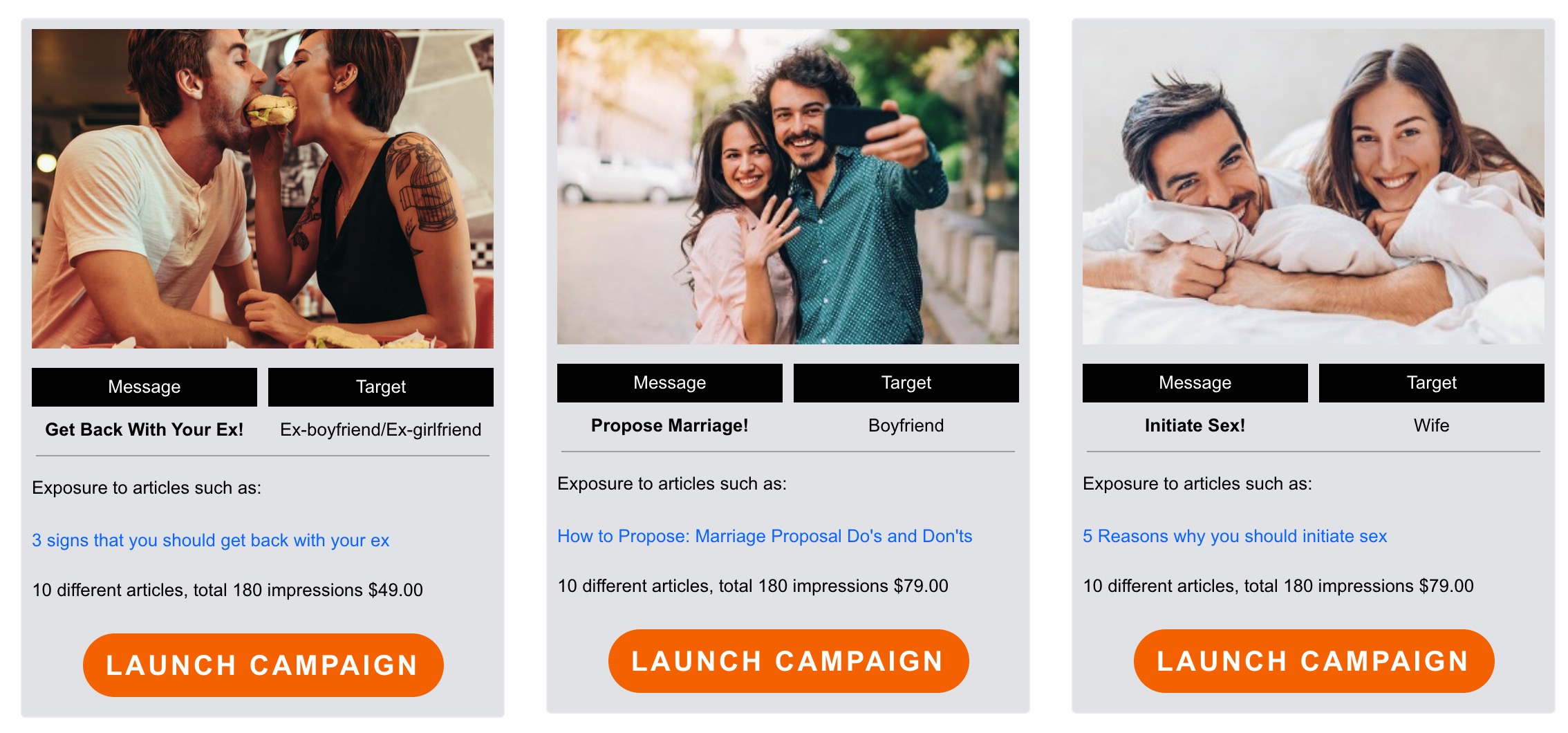 "These activities violate Facebook's terms and advertising policies. Facebook demands that you stop this activity immediately," read a cease-and-desist sent to The Spinner by Facebook's lawyers.
The Spinner's co-founder and CEO Elliot Shefler appeared unfazed, however, as he told the BBC that the company would continue to sell its online campaigns. Shefler also claims that his company did its business via Facebook for over a year before being spotted – and wouldn't rule out returning to the platform – though he did not reveal how.
But the real big question here that remains unanswered is, of course: does it work? Is it possible to "bombard" people with ads and a specific type of information via fake accounts and drive them to act against their own will? Or is The Spinner simply trying to capitalize on the now wide-spread, possibly fake narrative that says this does in fact work?