Former Congressman Dr. Ron Paul has been blocked from posting to and managing his popular Facebook page after the tech giant accused him of "repeatedly going against our community standards."
Paul wrote that he and his team had never received notice of violating community standards in the past and added that the offending post hadn't been identified by Facebook.
Facebook's message to Paul also provides no timeline on when this block will be lifted and simply states that it's "temporary."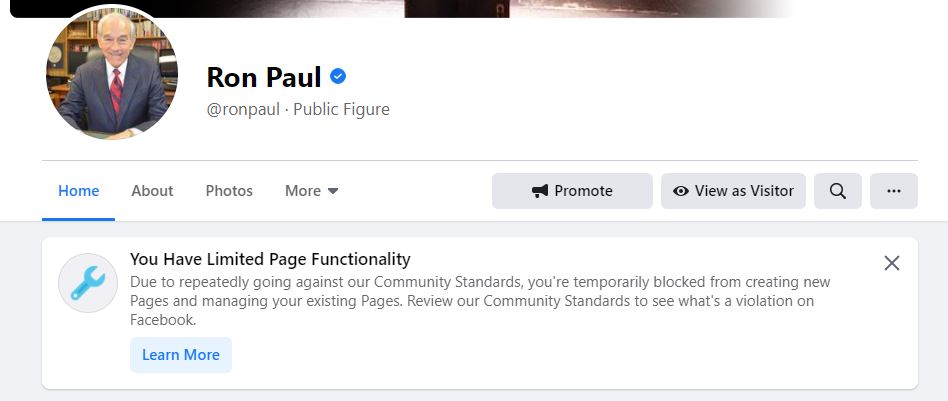 The block on Paul's page means that he's unable to share his Ron Paul Liberty Report videos or his weekly "Texas Straight Talk" column with the more than 1.2 million followers of his Facebook page until Facebook lifts the restrictions on his page.
Paul's final Facebook post before being blocked from posting to the page without a clear explanation was a link to his weekly Texas Straight Talk column where he criticized Big Tech for its lack of transparency.
In the column, titled "The 'War On Terror' Comes Home," Paul wrote that the mass social media purges that started last Wednesday were "shocking and chilling" and that the justifications for these purges "made no sense and the process was anything but transparent."
Facebook's decision to restrict Paul's page follows YouTube censoring several of Paul's videos last year.
In one of the censored videos, Paul and the Ron Paul Institute's Executive Director Daniel McAdams discussed several reports that dispute the effectiveness of coronavirus lockdowns and wearing masks.
In the other censored video, Paul and McAdams discussed "Fire Fauci" chants that erupted at a Trump rally and an article that argued "mask mandates do nothing to stop COVID."
Both videos were removed by YouTube and Paul's channel was given a community guidelines strike after each video takedown.
Paul described the takedown of the second video as "blatant censorship" and an "attack on the Ron Paul Liberty Report."