Nintendo's Animal Crossing is the game of the moment, but the Animal Crossing community has been recently affected on Facebook because the social network is marking as inappropriate the posts that refer to buying or selling services related to weeds, since the Facebook's real-system is relating them to drugs and not to the plant that grows invasively in the fields of the game.
Since March 20 of this year, gamers have been able to start a new adventure on their own island in the new Animal Crossing: New Horizons. The Nintendo Switch title has enjoyed unmatched popularity for the franchise, but one of the new activities within the video game has become a red alert for Facebook.
The game has been about creating a virtual life where real-life concerns disappear. The amount of activities in the game is overwhelming, having tasks such as removing weeds that grow in the ground, or the collection and sale of products to get a large amount of in-game money with which to build your dream house.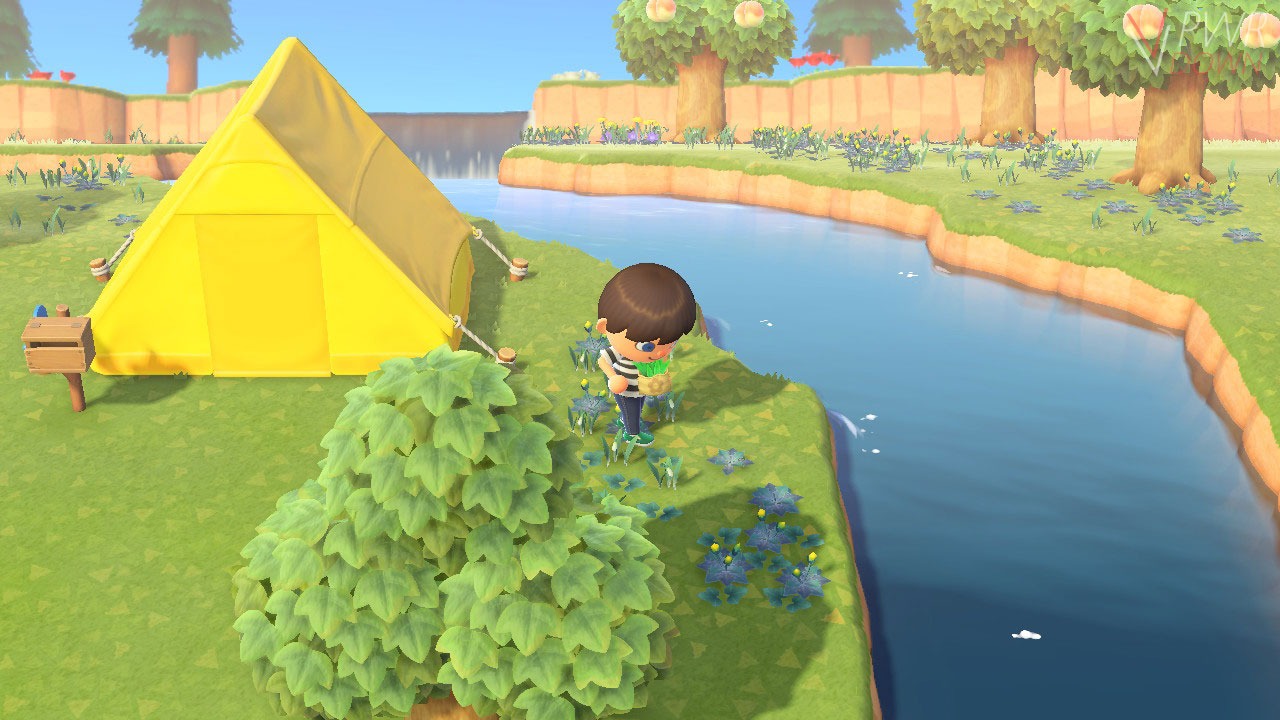 As mentioned, one of the most common actions in the game is to remove weeds, which damage your town's image if you let them accumulate for days. Although the task has always been heavy, New Horizons created incentives for the player to remove them, such as obtaining materials to build furniture. Additionally, the weeds received a visual redesign, making it attractive to many players who want to keep them for a natural look on their islands.
This new utility has created a marketplace for players offering services and making it perfect for those players who don't want to wait for weeds to grow naturally, or for those that just don't want to clean up their island.
To advertise these services, users have turned to social networks, such as Facebook – but it seems that a certain combination of words has been enough for the innocent game to become a target for punishment on the platform.
It turns out that Facebook's automated system detects the word "weed" and interprets it as marijuana.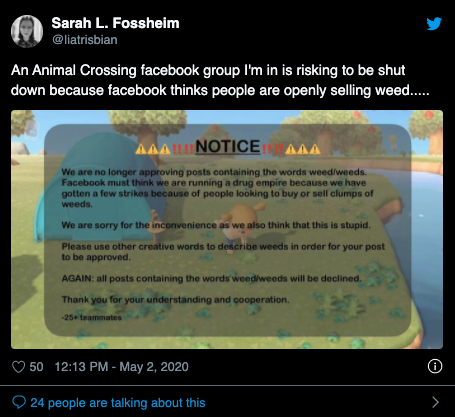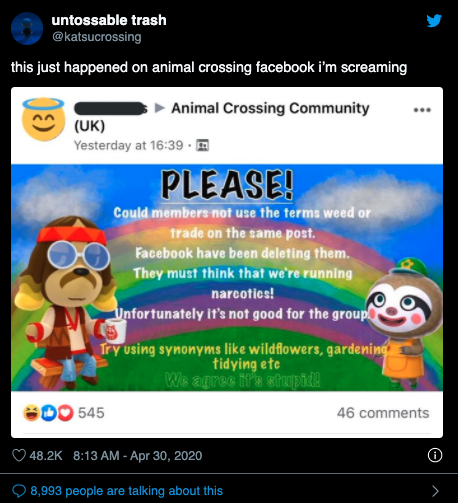 While talking about the plant is not illegal, Facebook's terms of use do prohibit its sale and distribution. Not knowing how to identify the context with which the word weed is used within groups, the system has simply limited itself to deleting posts.
Several pages related to Animal Crossing have reported being a victim to these warnings, receiving threats that, if they continue to post transactions with the plant, they could be closed.
Clair Davis, Animal Crossing Community (UK) group administrator, was forced to post a notice asking the more than 34,000 members to avoid using the word weed and trade within the same post.
Other groups have suffered the same fate and are asking members to refrain from using the words "weed" or "weeds" in posts.