A US non-profit organization aiming to educate people on the potential adverse effects of benzodiazepines has evidence of being shadowbanned on Facebook, causing users looking to learn more about the prescription drugs unable to get access to the information they need.
The Benzodiazepine Information Coalition was founded in 2016 and aims to help those suffering from a "benzodiazepine induced disability" and who often lack adequate support. The organization has a medical advisory board including physicians and researchers.
However, earlier this year, the organization found that new people wanting to follow their page or join any of these various groups "were unable to find anything in search," said JC Curle, the founder of the Benzodiazepine Information Coalition, to Reclaim The Net.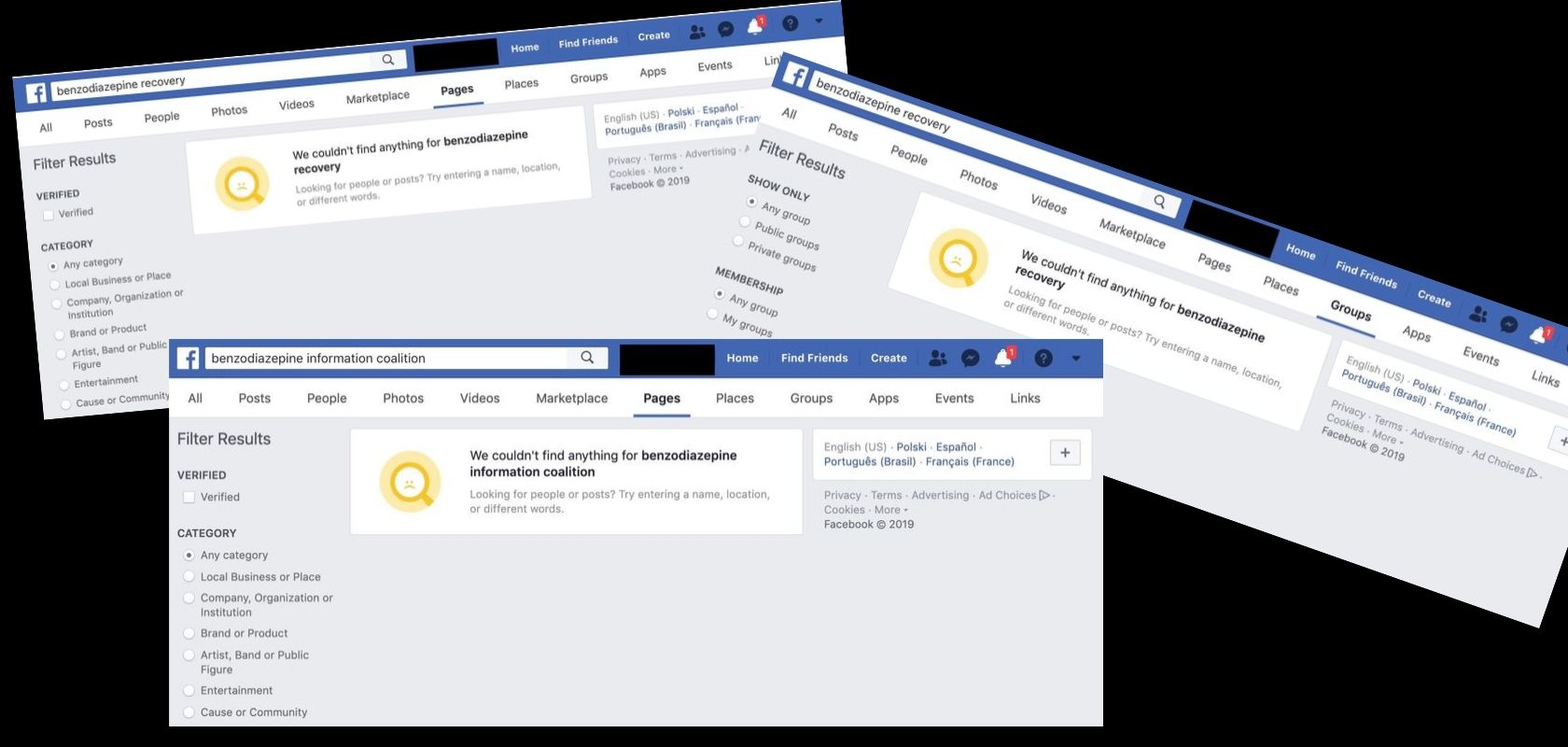 Concerned about patients who have been prescribed benzodiazepines not being able to access the support they need, Curle contacted Facebook to find out why their page wasn't showing in search. A Facebook employee admitted to Curle that they too couldn't find the page when they search for it and promised to get it fixed within 5 days. However, weeks went by without any change.
"Eventually they closed our case without any resolution or reasoning," said Curle. "I've tried to open it since and they have ignored my questions."
Curle said that "many patients state that these pages and groups saved their lives". With no word from Facebook, to ensure that they could help the community, the Benzodiazepine Information Coalition and others changed their name on Facebook to "Benzo Information Coalition" to try and get around Facebook's shadowbanning. The assumption being that it's the word "benzodiazepine" that's causing Facebook to hide their content.
This appeared to work and helped the group appear back in the search rankings, albeit much lower than they should be considering the popularity and size of the organization. However, even with this workaround, Curle expressed concern that even that Facebook "may take that away at any time," – suggesting that Facebook could end up censoring the term "benzo" too.
Also, the term "benzo" is not proper name for the medication and it's likely that many patients who are looking for advice on the subject will be unable to find it unless they know to look for the workaround censorship-avoiding term "benzo".
Facebook has been increasingly criticized for its waves of either policies or supposed technical issues that end up censoring and suppressing valid groups that are working to do good. It's easy to see how Facebook's algorithm that works to eradicate content about the sale of drugs on the platform could end up censoring groups that are providing valid medical assistance. However, they haven't corrected it when they learned that helpful support groups are being harmed.
Facebook's antics resulting in the censorship of those helping users with drug and medication-related issues is nothing new. Back in May, a Polish drug treatment support group Civil Society Drug Policy Initiative sued Facebook for free speech violations after Facebook suspended their page, preventing their users from getting medical help for their addictions.
In a landmark ruling, a Polish court ruled that Facebook was violating free speech and ordered Facebook to reinstate the page.
While this prior incident involved a group that helped patients with addiction, Curle says that the Benzodiazepine Information Coalition provides information for "non-addicted patients harmed by a medication", and that "nobody sells drugs in these groups or anything of that nature." Curle likens their support group to a cancer support group.
Reclaim The Net has contacted Facebook for comment.