Facebook removed a video where a top YouTube comedian roasted recently-arrested alleged sex trafficker Ghislaine Maxwell and convicted pedophile Jeffrey Epstein. According to Facebook, the video violated the community standards on harassment and bullying.
The video was the work of Andrew Schulz's, a popular YouTube comedian, who uploaded it on July 12, the same day Epstein's ex-girlfriend Maxwell was arrested. Maxwell is being accused of having helped Epstein groom minors.
"Ghislaine & Maxwell… How DEEP Their Pedo Connections Go" the post said.
"The evil broad Ghislaine Maxwell has finally been arrested, and it's time to give her, Epstein, and everyone that enabled them some bars. Enjoy the massacre!" read the caption of the video.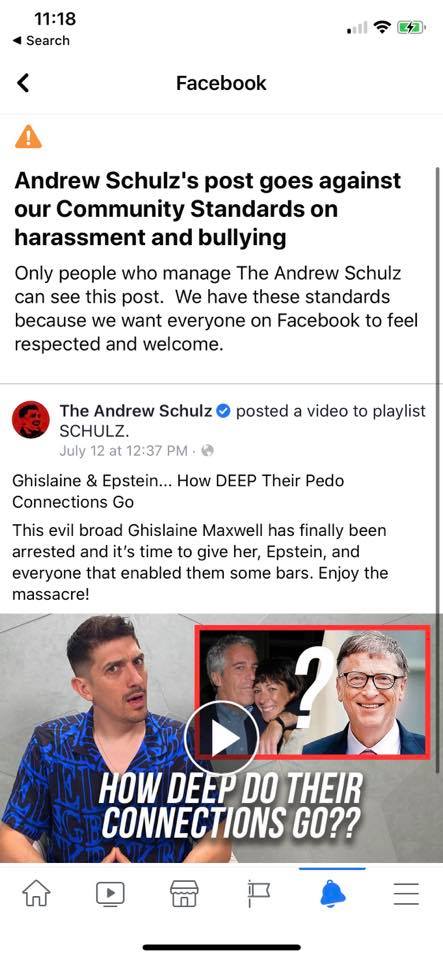 Schulz posted on both Twitter and Facebook a screenshot showing that his video was no longer available on Facebook. He wrote: "Apparently Facebook's bullying policy protects convicted pedophiles and the people that enable them from bullying. Interesting."
"Facebook has videos of people getting murdered but is protecting Epstein & Maxwell… something is off…," Schulz exclaimed.
In the video, which is a comedic monologue, Schulz calls Maxwell a "whore" before telling an adult-rated joke about her name. The video also addresses the alleged connection between Epstein and influential public figures, including Bill Clinton and Prince Andrew.
Facebook did not respond to Schulz's request for further clarification on why the video was removed.
Schulz posted the video to condemn a pedophile and those people who enabled him. Is it wrong to roast sex traffickers?
At the time of publishing, Facebook had not yet restored Schulz's video. However, the video is available on the comedian's Instagram account, which is a little weird considering Facebook owns the media-sharing platform. The video is also available on Twitter, and Schulz's YouTube account, where it has over one million views.