Former Senator Jim DeMint was censored by Facebook for discussing the censorship of scientific articles. Facebook is labeling scientific studies as false information if they do not match their chosen narrative.
"My friend, Judicial Watch's Tom Fitton, was locked out of Twitter for daring to tell the scientific truth on masks: they don't work at stopping COVID. He simply shared the news of the long-anticipated Danish study of over 6,000 randomized people which came to the conclusion: 'A recommendation to wear a surgical mask when outside the home among others did not reduce, at conventional levels of statistical significance, incident infection compared with no mask recommendation,'" DeMint wrote in the censored Facebook post.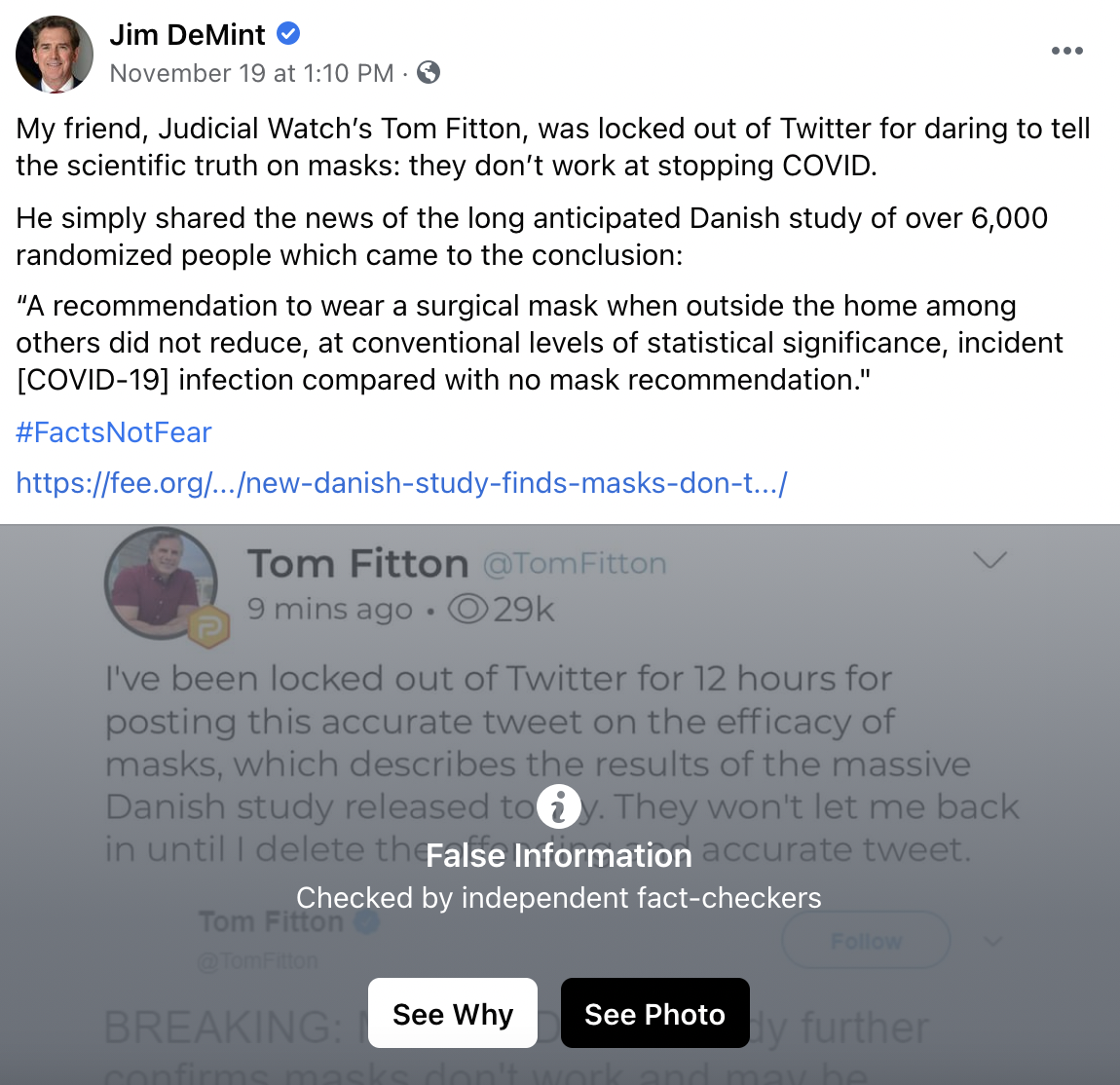 The post included a screenshot of Fitton's post on Parler where he announced the censorship on Twitter. The post read, "I've been locked out of Twitter for 12 hours for posting this accurate tweet."
DeMint's post was "fact-checked" by Facebook's independent fact-checker Health Feedback, that Facebook consideres a higher authority than science journals. The fact-check label said, "Independent fact-checkers say this information has no basis in fact."
The label was linked to an article by Health Feedback's science editor Flora Teoh. She claimed that the "Danish face mask study did not show that masks were ineffective at reducing spread of COVID-19; study was underpowered and results were inconclusive.
"The lack of a statistically significant difference indicates that the results are likely due to chance alone and that the intervention, in this case recommending the use of face masks, did not change the infection rate for the wearers," the article stated.