On the legality of COVID-19 vaccine mandates, Facebook's fact-checkers are in disagreement. Disagreement on the issue is understandable; but, a Facebook fact-check has consequences for users such as reduced distribution and even a permanent ban, putting more user accounts at risk than normal.
According to Factcheck.org, "there is some uncertainty about the legality of mandating vaccines authorized for emergency use by the US Food and Drug Administration."
"There is no federal law that says vaccines cannot be required for employees or students," the fact-check website added. Florida became the first state to make COVID vaccine mandates and passports illegal.
Factcheck.org also notes that contracts might make it difficult for employers to mandate vaccines:
"Employers also may be subject to collective bargaining agreements that require them to negotiate with employee unions before mandating vaccines as a condition of employment." The issue of contracts became apparent when New York attempted to mandate vaccines for public universities' staff and faculty.
Factcheck.org's stance on the COVID vaccine mandates highlights that more clarity is needed on the issue and so doesn't outright suggest that the idea is false, CollegeFix found.
However, another Facebook fact-checker, Poynter's Institute Politifact said that statements saying COVID mandates are illegal are false. The fact-checker gave a "false" rating to the statement, "It's illegal for a college, public school or employer to 'mandate' the vaccine because it was authorized for emergency use."
"There are no legal mechanisms in place that would prevent any institution, whether it's an employer or school, from mandating COVID-19 shots," one of Politifact's members explained. The fact-checker has not changed its stance despite several colleges and coming to the conclusion they lacked the legal authority to mandate vaccines.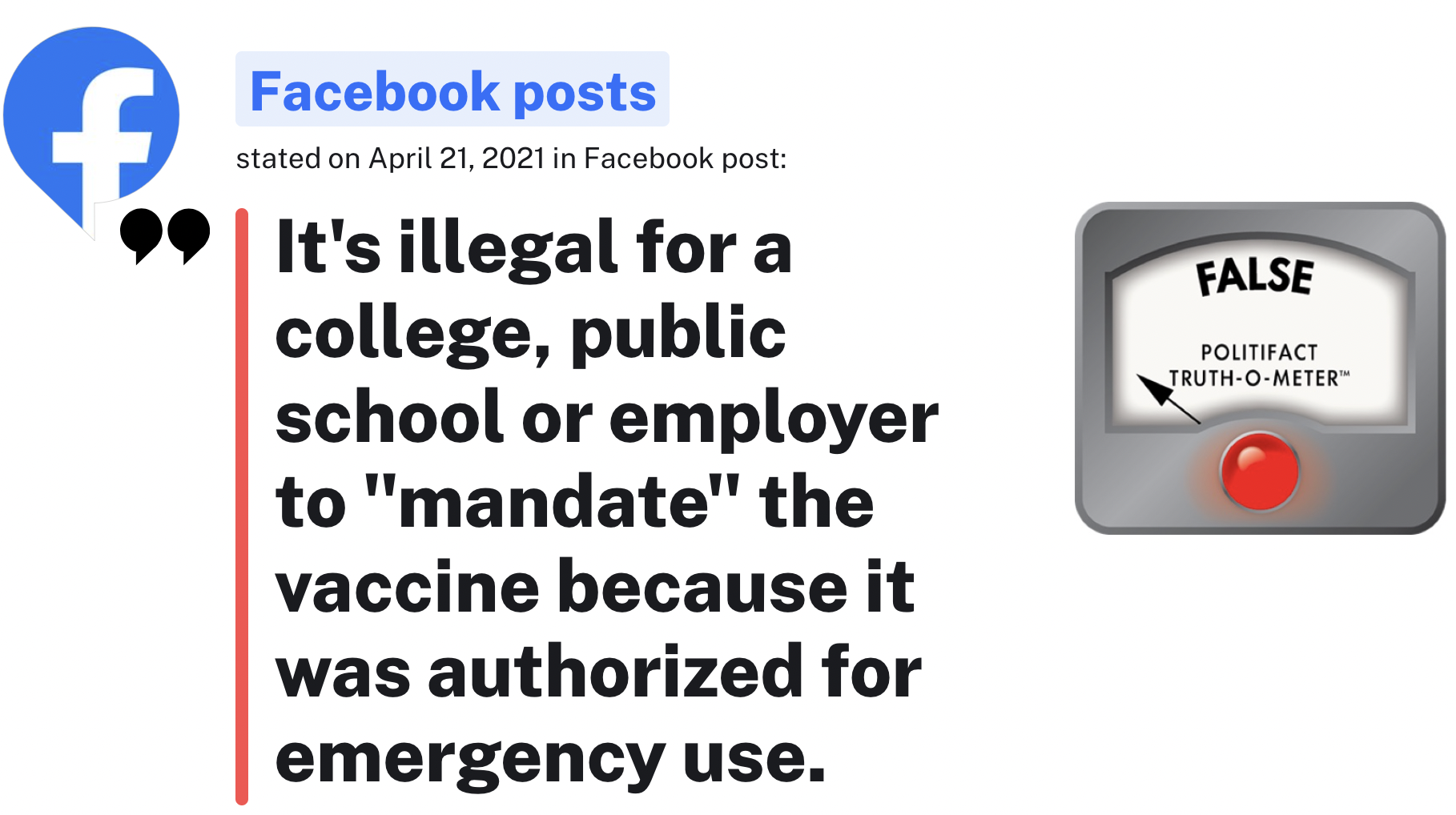 The problem with fact-checkers disagreeing on an issue is that Facebook users have to avoid non-factual statements in their content. Getting a post flagged for misinformation can result in reduced distribution of your post and, for repeat offenders, a permanent ban.
How can Facebook purport to be fighting misinformation, while by its own standards, one of its fact-checkers is potentially spreading misinformation?