Not the Bee, satirical publication Babylon Bee's sister website, is reporting that Facebook has yet again gone after the latter by censoring one of its videos titled, "Mattel Introduces Pregnant Ken Doll."
Babylon Bee is a counterpart to the likes of the less popular site The Onion, but because of its conservative slant often not only gets censored and downranked, but is not considered a proper satirical site by tech giants, despite ample evidence to the contrary.
And not recognizing it as such allows Big Tech social media companies not to treat its content as comedy.
In the case of the "pregnant Ken," the issue is clearly that Babylon Bee stirred up a hornets' nest of the feverish and aggressive debate over transgenderism and what can and can't be said about it.
The short clip that is still available on Rumble and Odysee features a narrator "explaining" that Mattel has moved to introduce a much needed makeover for Barbie's boyfriend along the lines of greater inclusiveness – with a bearded Ken toy sporting a large baby bump.
The first is supposed to let people know this is a man, and the second that he is pregnant, the voiceover continues.
"Men can get pregnant just like women – in fact there is no definition of women. We literally have no idea what a woman is," the video continues.
It also shows Barbie expressing some misgivings, though, calling Ken "just a woman on hormones" – to which he responds by physically assaulting her.
Another trigger point mentioned is the issue of abortion, when viewers are reminded that women should not be the only ones to experience that.
Then, Facebook "fact-checkers" got involved. Babylon Bee received a notice saying that it had shared "false information" on its page, resulting in the flagging of the post to reflect that decision.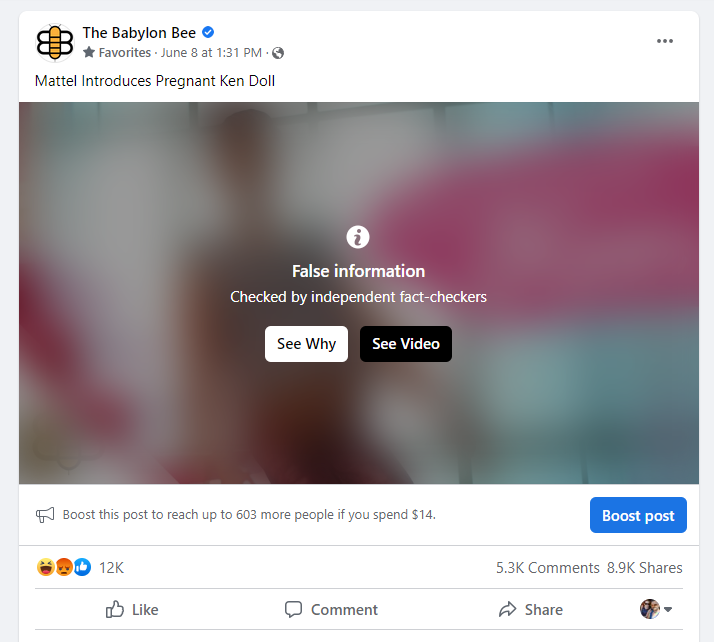 This remarkable piece of "fact-checking" is the work of one of Facebook's contracted third-parties, called Cotejo.info.
The threat of reduced distribution and monetization of posts is also made in the notice, in case the publication continues with satirical posts that "fact-checkers" frown upon.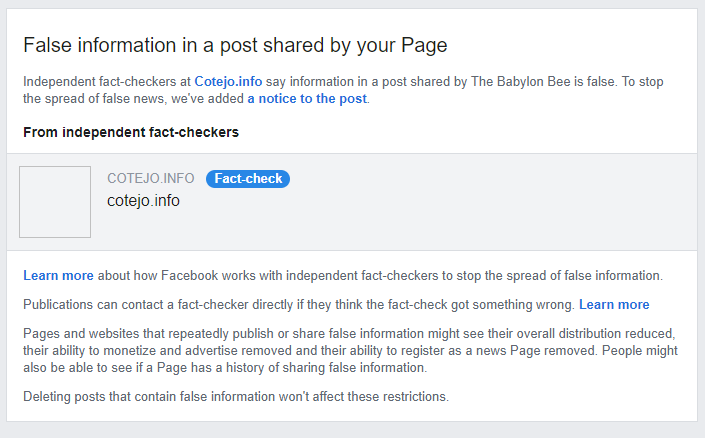 Bee CEO Seth Dillon reacted to this by saying on Twitter that he was unsure how their distribution even could be further reduced at this point.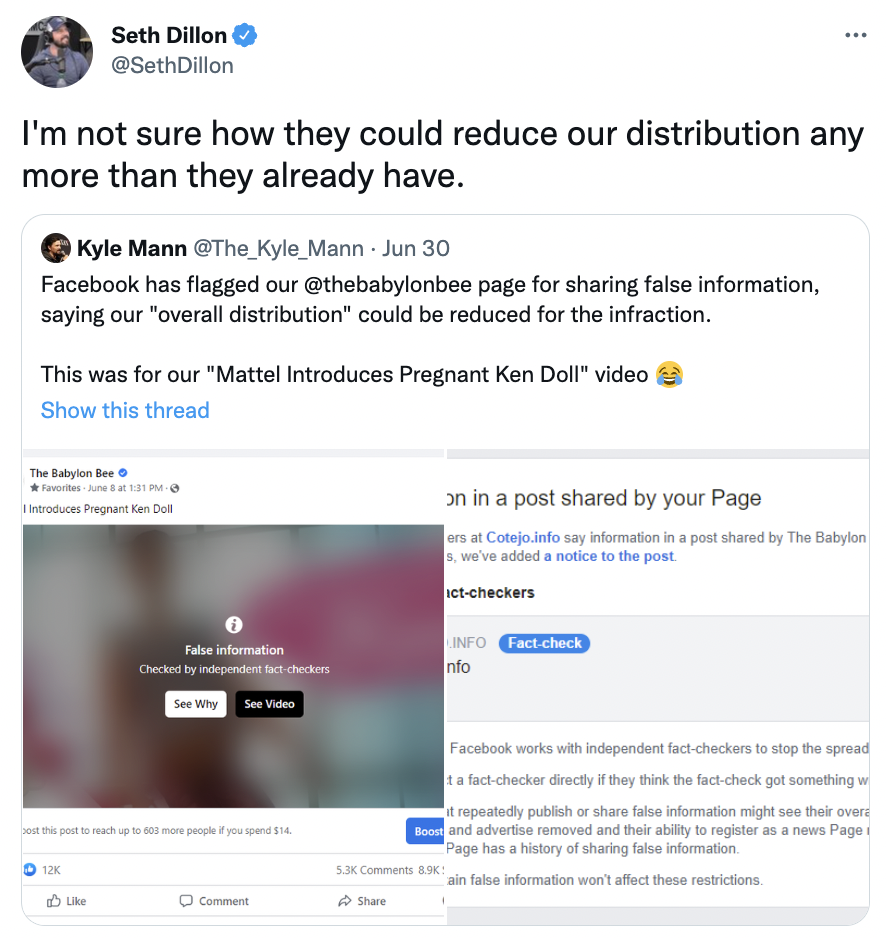 TikTok is another social platform that issued an account warning over the same video before the entire account was banned.