It's been less than a day since Facebook confirmed the worst Orwellian nightmares of publishers and freedom-seekers, that it was actively censoring all mentions of the "impeachment" whistleblower, one of the biggest stories of the week and what could turn out to be one of the biggest stories in the presidency of Donald Trump.
The whistleblower, whose complaint started the current impeachment inquiry against President Trump, is being actively scrubbed from the platform to the alarm of many.
It is true no US law prevents anyone, other than the Investigator General and their staff, from revealing the name of a whistleblower and yet Facebook (and YouTube, for that matter) has taken it upon themselves to actively delete conversations that talk about the whistleblower and even prevent credible journalism from being shared on the platform.
"Any mention of the potential whistle-blower's name violates our coordinating harm policy, which prohibits content 'outing of witness, informant or activist,'" a Facebook spokeswoman said in a shocking statement. "We are removing any and all mentions of the potential whistle-blower's name and will revisit this decision should their name be widely published in the media or used by public figures in debate."
Today, political commentator Tim Pool revealed that Facebook had even deleted his post discussing the importance of journalists disclosing the information.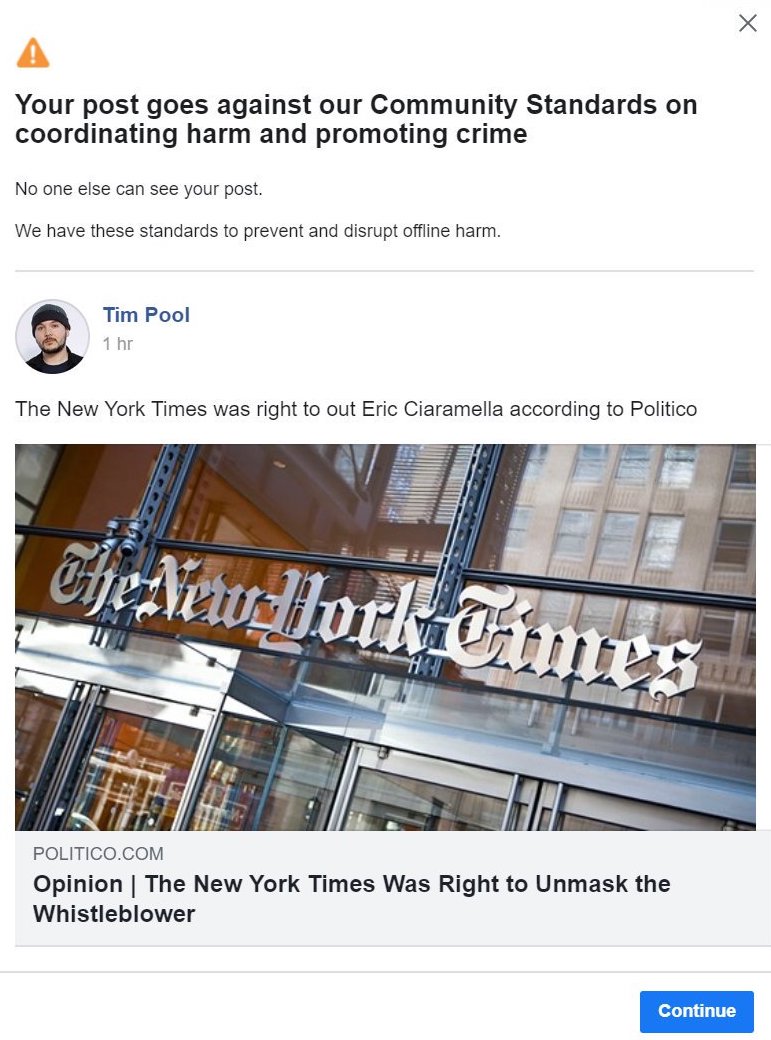 The post that Pool shared was a piece exploring the reasons why it was right for The New York Times to unmask the whistleblower. Facebook deleted it and said it was "coordinating harm and promoting crime".