Facebook has revealed its biggest crackdown on the pro-Trump QAnon movement to date by removing 790 QAnon Groups, 100 QAnon Pages, and 1,500 QAnon ads on Facebook and blocking over 300 QAnon hashtags across Facebook and Instagram.
It has also restricted 1,950 Groups and 440 Pages on Facebook and 10,000 accounts on Instagram that are associated with QAnon. These restricted properties are "still subject to removal" as Facebook reviews their content against its updated rules.
These updated rules were introduced at the same time that Facebook announced the QAnon crackdown and are aimed at organizations and movements that Facebook claims have "demonstrated significant risks to public safety" but don't meet the criteria for a complete ban under its "Dangerous Organizations and Individuals" policy.
The rules allow people to post content that supports these movements but ban these organizations and movements from using Facebook ads, commerce tools, monetization tools, and fundraising tools.
The rules also restrict these organizations and movements by limiting their recommendations on Facebook and Instagram, reducing the ranking of their content in the News Feed, reducing their ranking in search, and removing their search suggestions.
Related: ? Big tech's little helpers: How the mainstream media enable and encourage big tech censorship
The announcement follows Facebook employees pushing for a complete QAnon ban last week and other social media sites such as TikTok and Twitter also placing sweeping restrictions on QAnon content recently.
Amid this increased Big Tech QAnon crackdown, the news media has also been amping up the pressure to censor the movement after they realized just how popular it is.
Some of the many news media complaints preceding this Facebook crackdown include Forbes complaining that Facebook "fails to fight QAnon" and lamenting the movement's "explosive growth," The Guardian complaining that QAnon "Facebook communities are gaining followers as Twitter cracks down on QAnon content," Wired directly calling for Facebook to censor the movement, and The New York Times framing the growth of the QAnon movement on social media as a "major problem."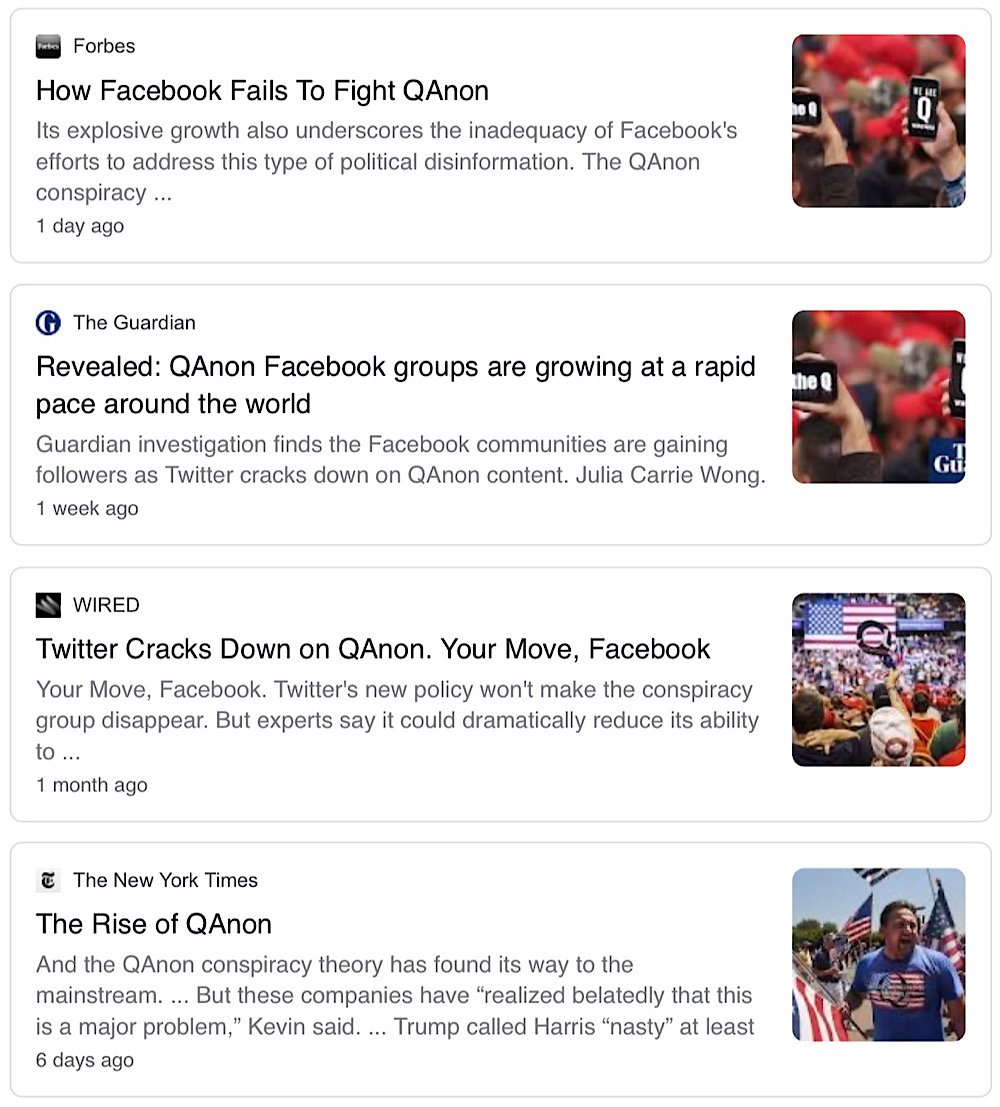 While the media's tactic of pressuring Big Tech companies to do censor certain topics is nothing new, this time journalists seem to have accepted that the movement is too popular for their calls for censorship to be effective.