Facebook says it has no immediate plans to reinstate former President Donald Trump's account, despite him announcing he will be running for president in 2024. However, the platform is set to reconsider the decision in January.
Following the Jan. 6, 2021, riot at the US Capitol, Trump was suspended from Facebook, and all other major social media platforms. On Jan. 7, Meta CEO Mark Zuckerberg said the suspension was indefinite because "the risks of allowing the President to continue to use our service during this period are simply too great."
The company's Oversight Board, which acts like a supreme court for content moderation decisions, upheld the suspension, but said that the platform has to make a final decision on whether or not to make the ban permanent by January 7, 2023.
If Facebook does reinstate the account, there will be one major change; as a candidate, Trump's account will not be subject to fact-checking. Facebook guidelines state that elected officials and candidates are not subject to fact-checking.
Trump was permanently suspended on Twitter. The new owner, Elon Musk, said Trump's suspension was unfair. However, when he took over late last month, Musk said decisions on reinstatement of banned accounts would not be made until the formation of a content moderation council and said today a decision is yet to be made.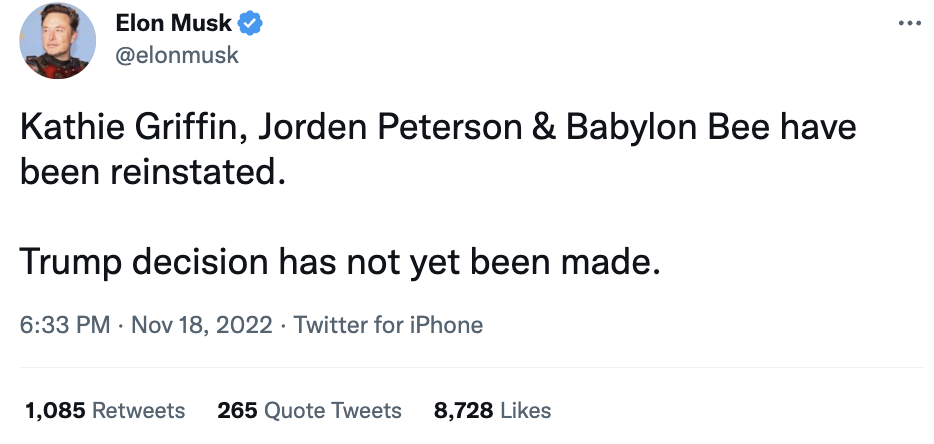 Since the bans, Trump has created his own social media platform Truth Social, and has previously said he would not rejoin Twitter even if he was given the chance.