It looks like Facebook is not properly vetting sponsored posts before running them online. Some of these sponsored posts may seem to be legitimate and provides a link to a valid page but sometimes, upon closer look, these sponsored posts contain links to questionable websites.
Recently, users have discovered a link contained in a sponsored post. Upon clicking the post, it redirects to a webpage that sells hacked PayPal accounts. The website promoted by the sponsored post originated from Russia and it charges differently depending on the amount of money present in the hacked account, according to security researcher Graham Cluely.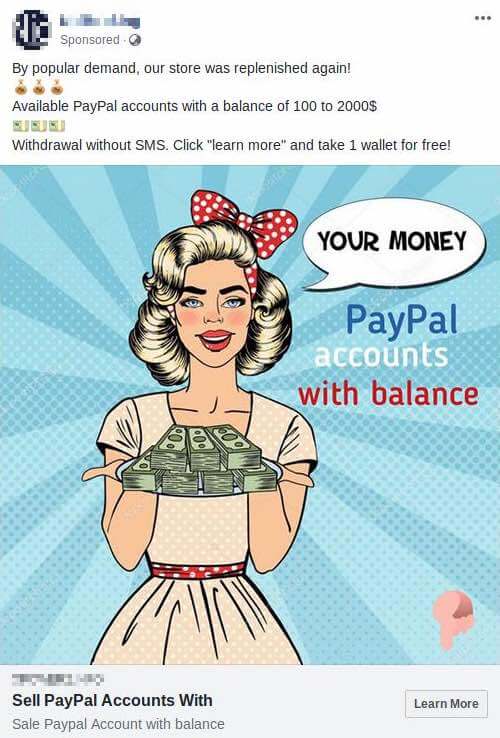 The higher the amount contained in the PayPal account, the more expensive the account gets. For instance, if a hacked PayPal account contains around $90-$130, you can access the account after paying $30. If you want access to an account with $300-$400 available balance, you will have to pay $70. If you want to have access to a PayPal account containing $2000 balance, you will need to pay $470. Additionally, you will also receive extra PayPal wallet free of charge.
The website also claims that PayPal accounts are legitimate and 100% valid. In addition, these accounts are not implementing SMS-based two-factor authentication so when you access it, you can easily change the password and use it.
Before you go ahead and look for this sponsored post as the offer seems to be tempting, remember that this scheme is not legal and is being provided by people who have no problems committing crimes. There's a big chance that these people selling PayPal accounts may also rip you off your hard-earned money.
All those being said, the question now is whether Facebook is doing a good job in getting rid of sponsored ads that provide links to questionable websites or accounts. If the said sponsored post continues to show up on users' newsfeeds, it means that Facebook may have approved the ad without first examining its legitimacy. It could also mean that whoever applied for the said ad paid a significant amount of money to Facebook.