To stop what Facebook calls "Fake News," the social media giant has blacklisted over 800 accounts and pages. The pages were shut down because they have been accused of circulating "misinformation," spreading spam and conducting "inauthentic behavior."
What makes this deletion of content unsavory, is that it happened just a month before the critical American mid-term elections in November and that it included the shutting down of popular conservative-leaning pages with millions of followers. The conservative-leaning pages that were shutdown include Noisyroom, Right-Wing News, Anti-Media, Nation in Distress, The Free Thought Project and more.

This week, Facebook confirmed that they disconnected 251 accounts and shut down 559 pages.
According to Facebook's Cybersecurity Policy Chief Nathaniel Gleicher and Product Manager Oscar Rodriguez, these pages and accounts broke the platform's rules concerning spam and, "coordinated inauthentic behavior." These two Facebook employees made a blog post to inform the public on the reasons for the backlists on the over 800 accounts and pages:
Many were using fake accounts or multiple accounts with the same names and posted massive amounts of content across a network of Groups and Pages to drive traffic to their websites. Many used the same techniques to make their content appear more popular on Facebook than it really was.

Others were ad farms using Facebook to mislead people into thinking that they were forums for legitimate political debate… Of course, there are legitimate reasons that accounts and Pages coordinate with each other — it's the bedrock of fundraising campaigns and grassroots organizations. But the difference is that these groups are upfront about who they are, and what they're up to.
Although, lots of the accounts and pages that were disconnected appear not to be fake and very much legitimate. Also, many of these legitimate pages and accounts post conservative or libertarian political content. Some of these pages had been on the Facebook platform for many years and had amassed millions of followers, then overnight they were dissipated.
Some of the biggest pages that were unpublished in terms of followers include conservative page Right Wing News with about 3.1 million followers, anti-establishment page Anti-Media which had about 2.1 million followers, independent/libertarian news page The Free Thought Project with also around 3.1 million followers.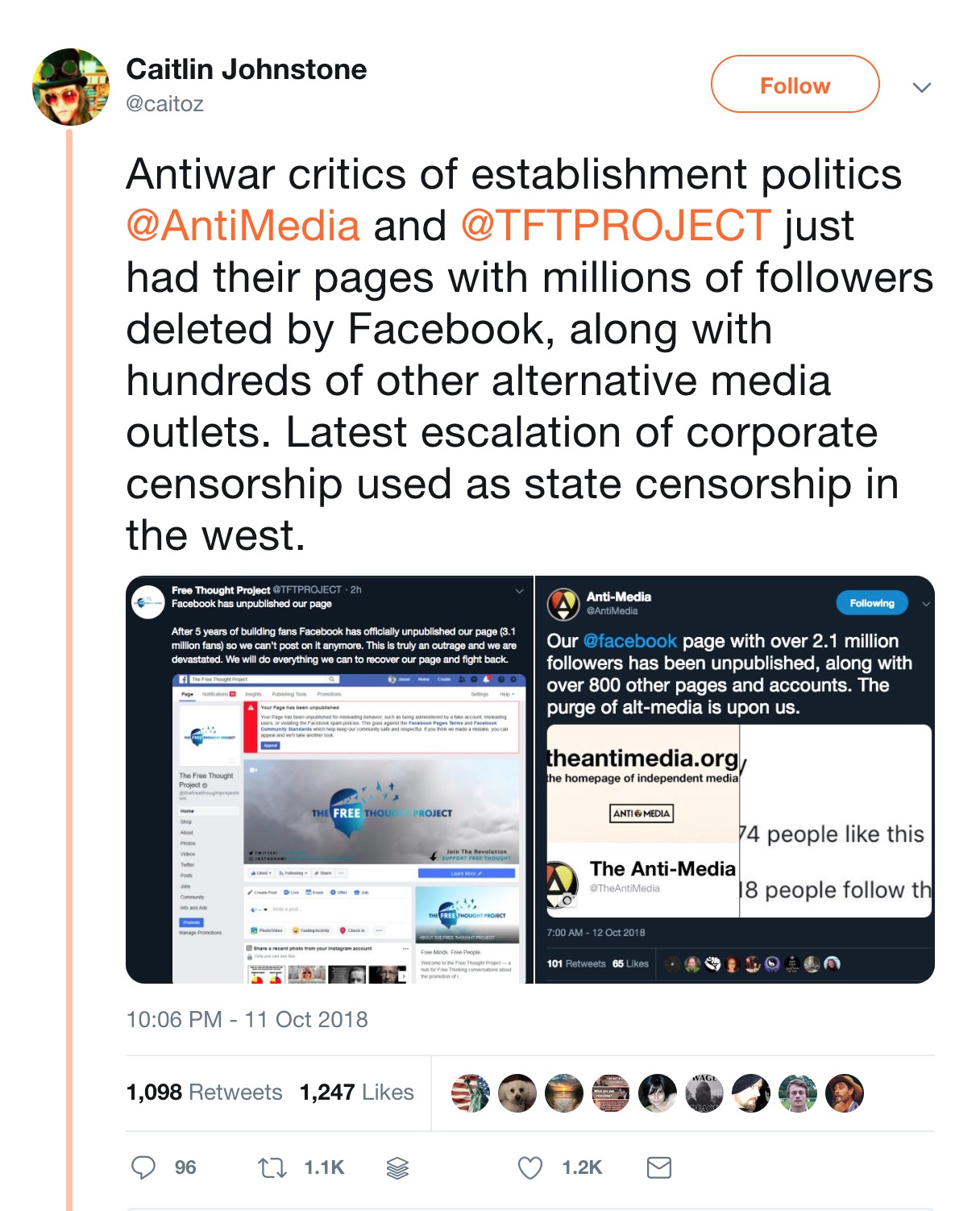 These three pages seem to have fallen victim to a coordinated attack between Twitter and Facebook. Just hours after their Facebook pages were disconnected, their Twitter accounts were suspended as well.
This coordinated attack between the two Silicon Valley giants has not gone unnoticed.
News Organization RT  interviewed some of the owners of the purged pages. Jason Blaser the owner of The Free Thought Project told RT "If that was just spam, if that was just irrelevant garbage they wouldn't be so threatening, they would not ban us, they would not care, we would not have been on their radar… This is nothing more than political censorship and trying to eradicate certain political ideologies."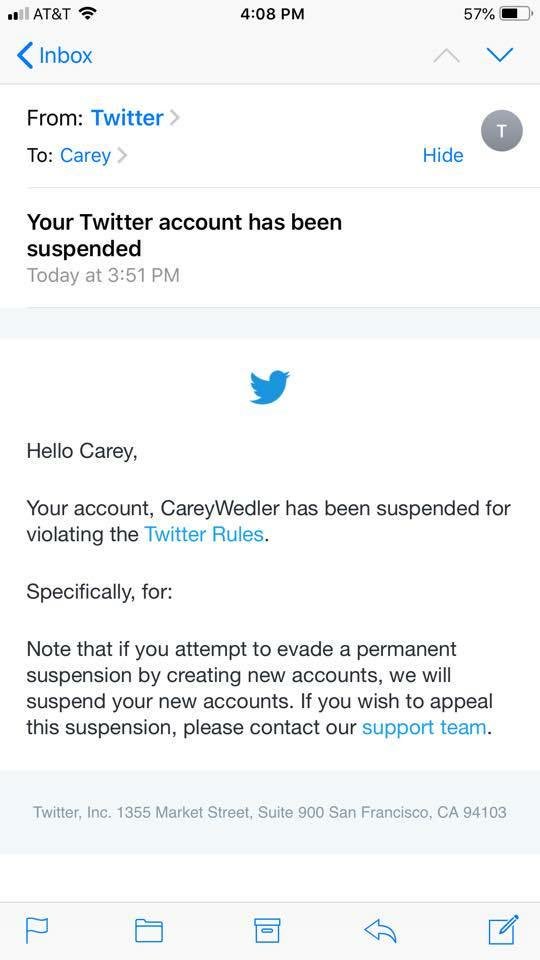 RT also spoke to the founder of The Anti-Media, Nicholas Bernabe. He said that Facebook disconnections, "Could actually be perceived as Facebook itself meddling in elections because we are only a few weeks away from the midterms and they go and target 800 politically-oriented media pages for deletion."
He also added that most of the pages that were blacklisted had "very anti-establishment, very anti-authoritarian views."
The timing of this Facebook "purge" is very questionable. It just days away from a critical mid-term congressional election in the United States. Many political pundits have deemed this election to be a referendum on President Donald Trump.
The big Silicon Valley tech companies have been accused of having an intolerant left-wing culture and suppressing conservative content multiple times in the past few years.
At this point, Facebook is refusing to disclose all the accounts and pages that were disconnected. The Western Journal has in recent hours come up with a list of pages that were blacklisted by Facebook. All the pages on this list of pages added together had a following of around 60 million.
The list isn't complete and the Western Journal is still updating it.