After purging multiple high profile pages earlier this month, Facebook has now mass deleted a number of high profile Facebook groups with millions of members. It's unclear whether this is a bug or an act of censorship but the shut down of the groups has left millions of users frustrated that they can no longer access their favorite Facebook communities.
Banting 7 Day Meal Plan which focuses on low carb, high fat dieting is one of the largest groups that was removed by Facebook. It had over 1.65 million members when it was deleted.
Tim Noakes, one of the people who highlighted that the group had been deleted, believes that it was taken down by Facebook to stop people knowing about the low carb, high fat diet information that was being shared in the group. He also shared a tweet from Jayne Bullen who said that Facebook gave the group's moderators no warning that it would be deleted.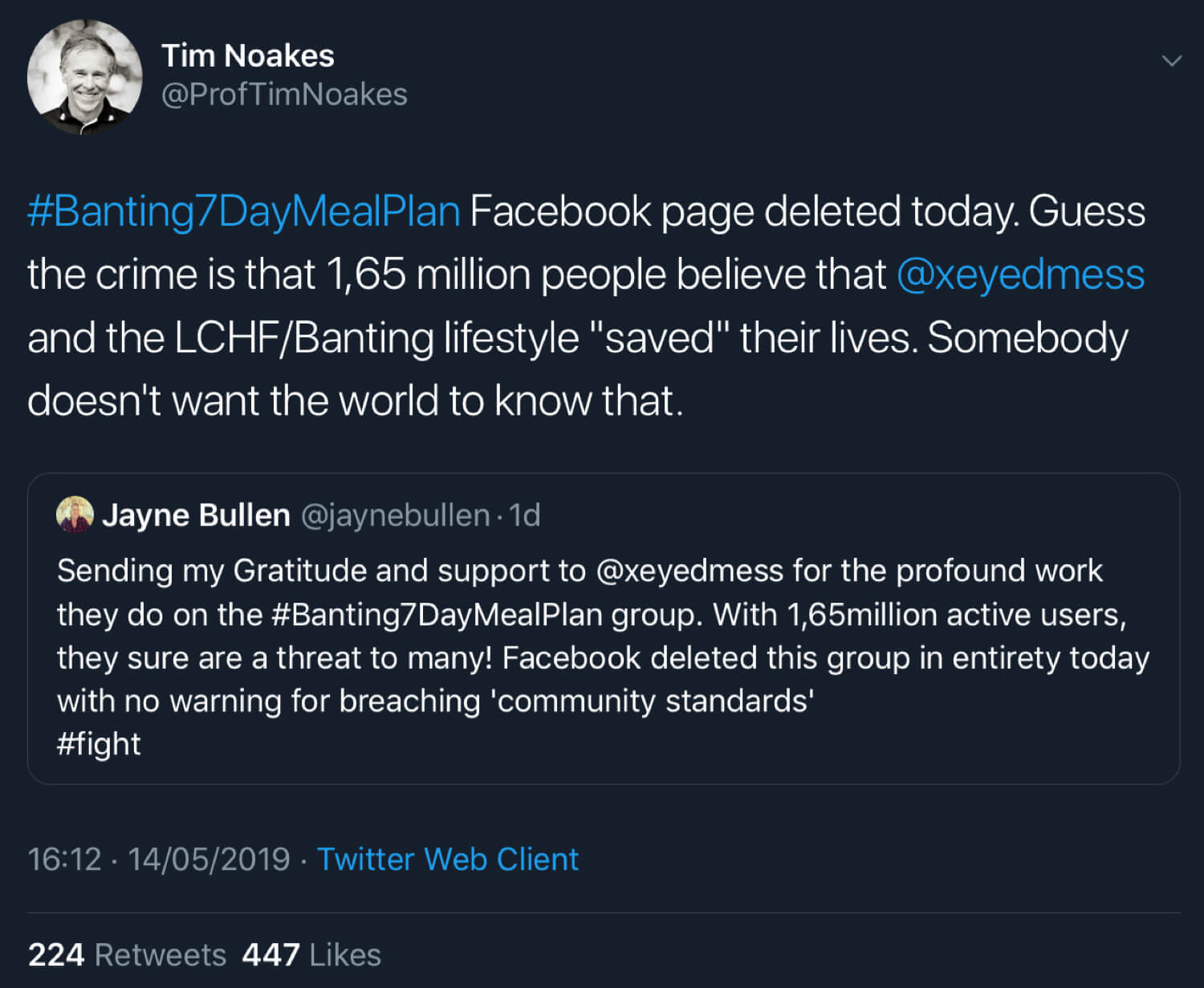 Travis Statham, one of the moderators from Banting 7 Day Meal Plan, confirmed that the group had been permanently deleted by Facebook and added that Facebook had not indicated how the group had violated its community standards.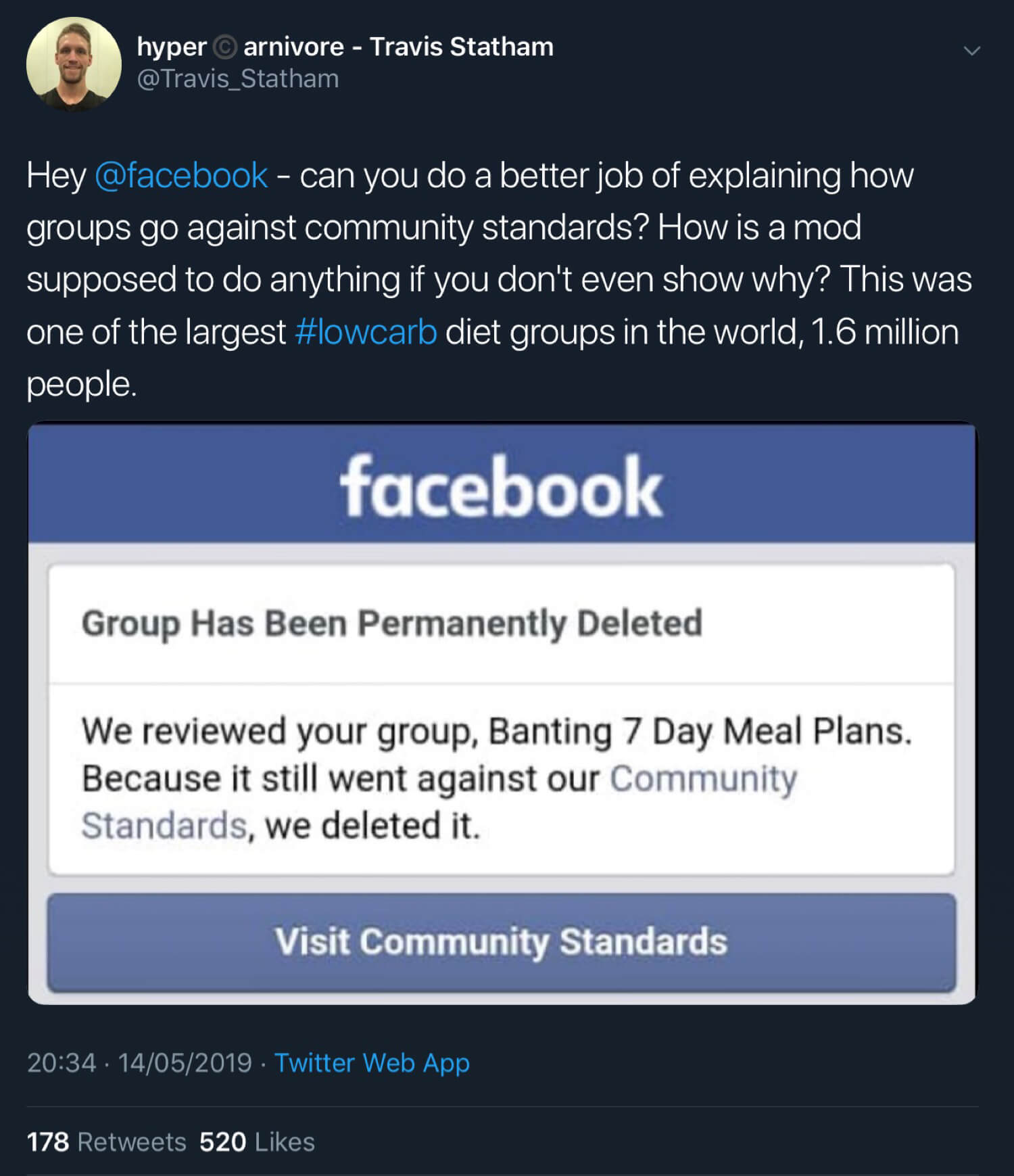 Another large group that was deleted as part of this purge is the pro-Trump Yourtrumpstore.com. This group had more than 132,000 members and according to one of the owners of the group, it was deleted without any explanation from Facebook. The owner believes this is an act of censorship by Facebook.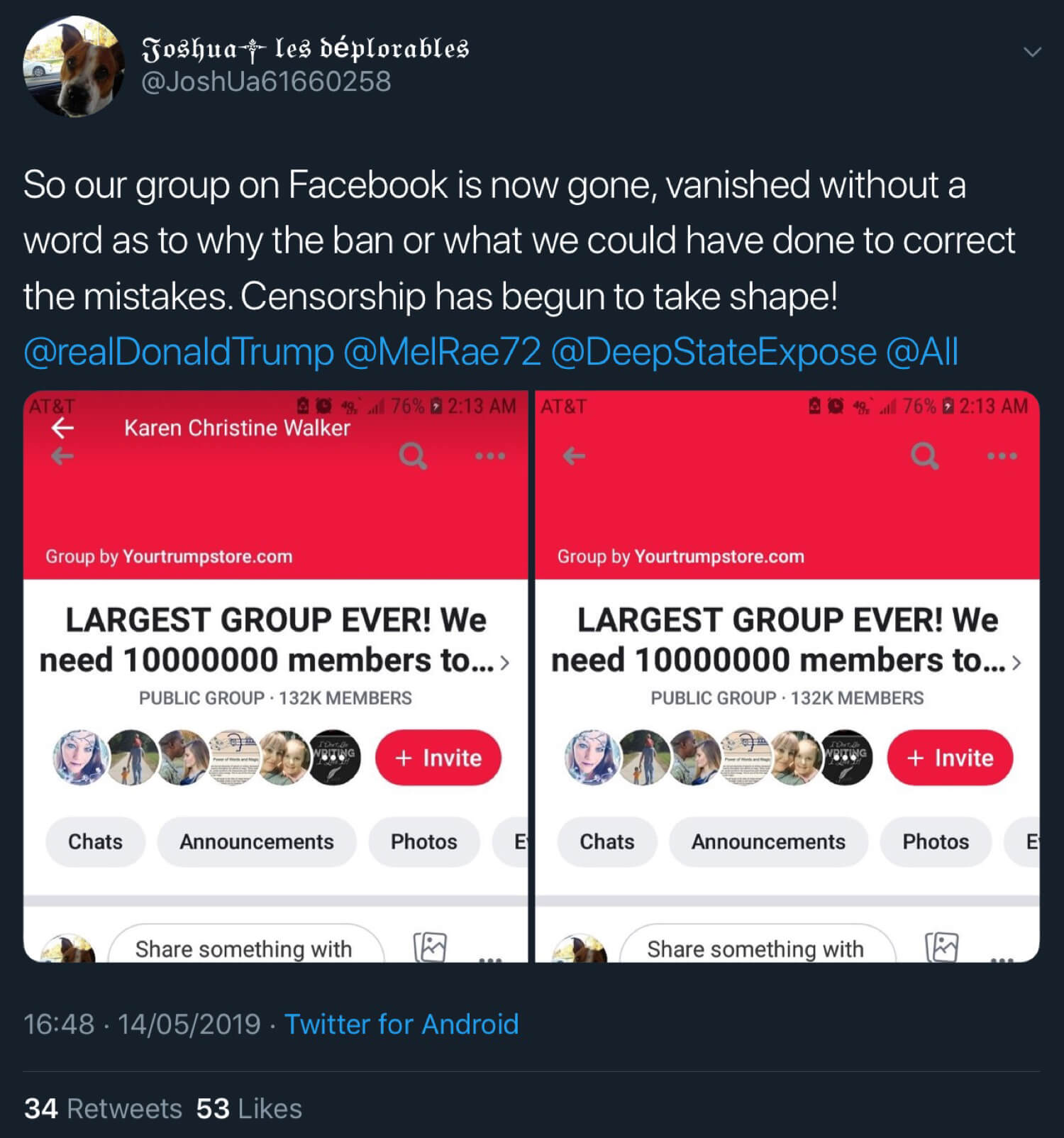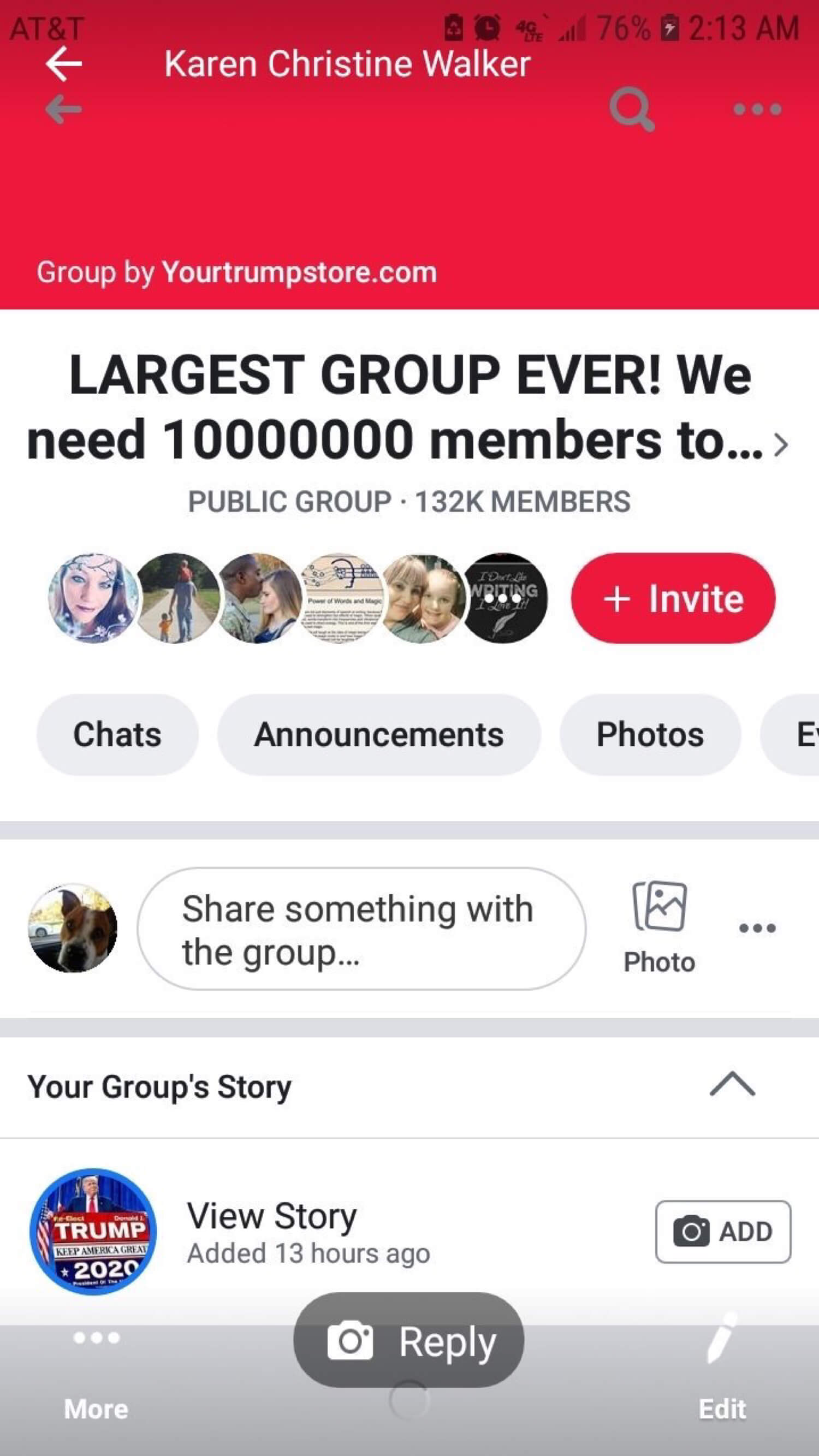 In addition to these high profile shut downs, there have also been reports that a Facebook group called Search English, which helps Bangladeshi people learn English, was deleted. One of the admins for this group claims that his Facebook account was also disabled when the group was removed.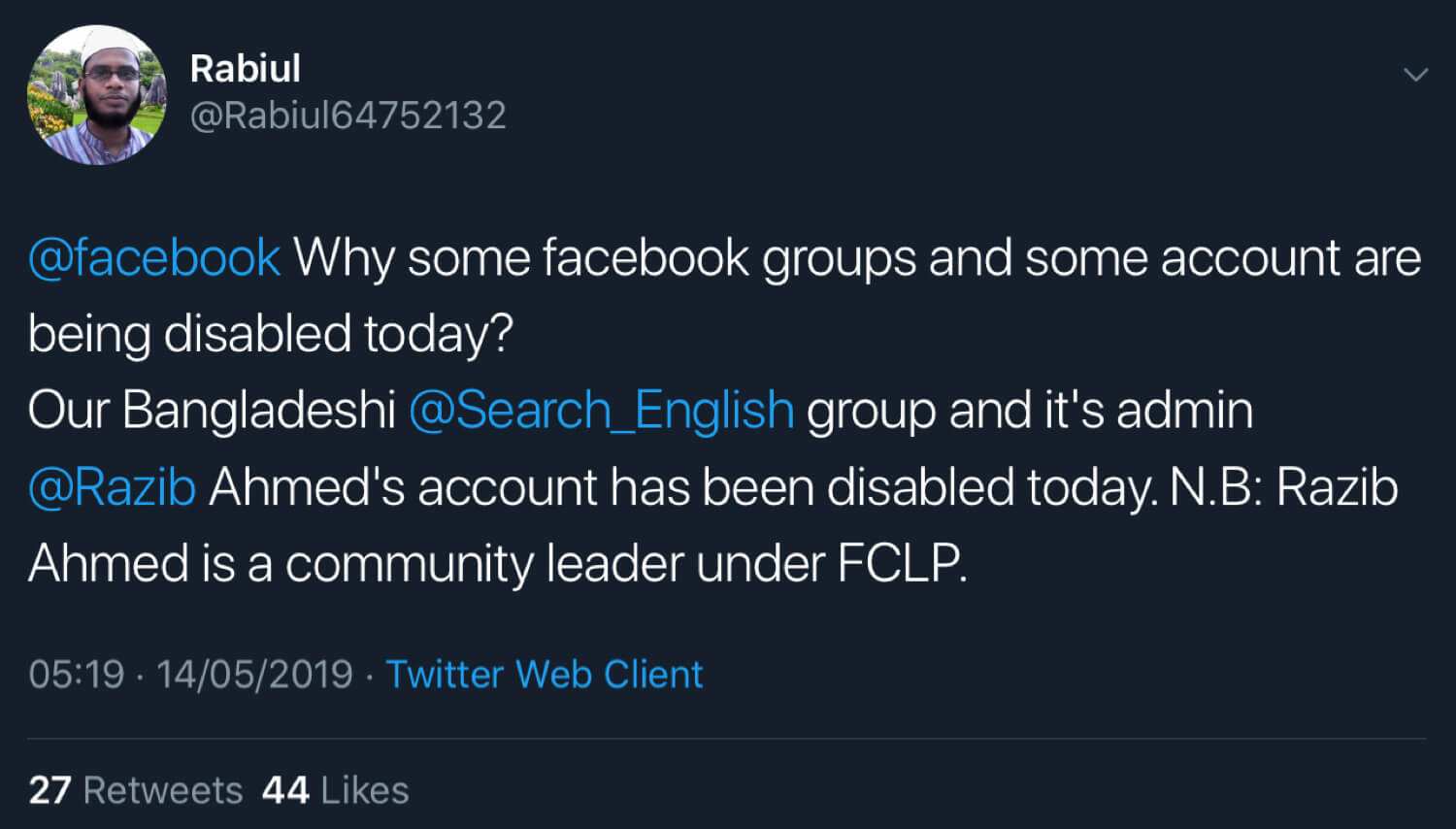 Other Twitter users have reported that the following groups were also shut down by Facebook: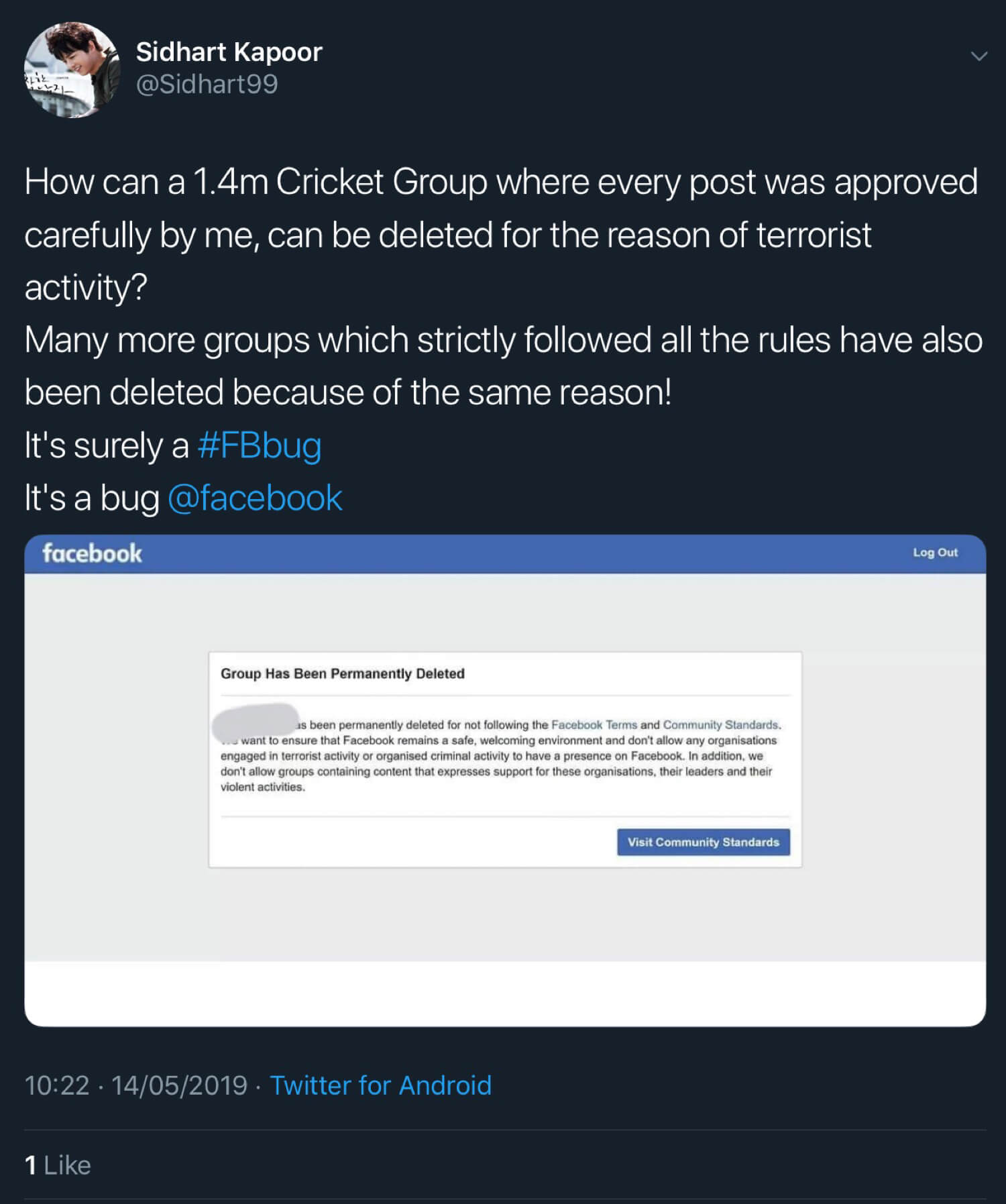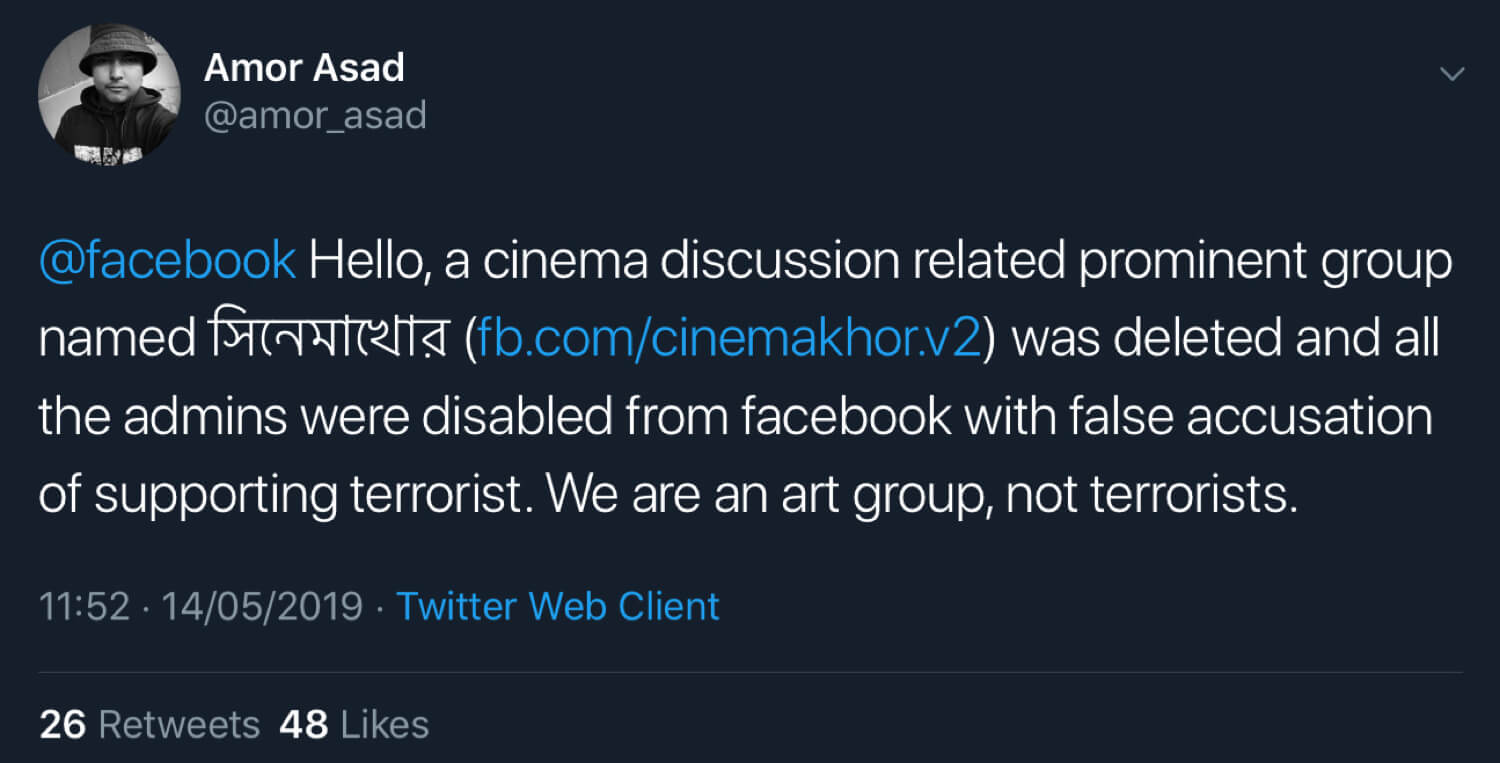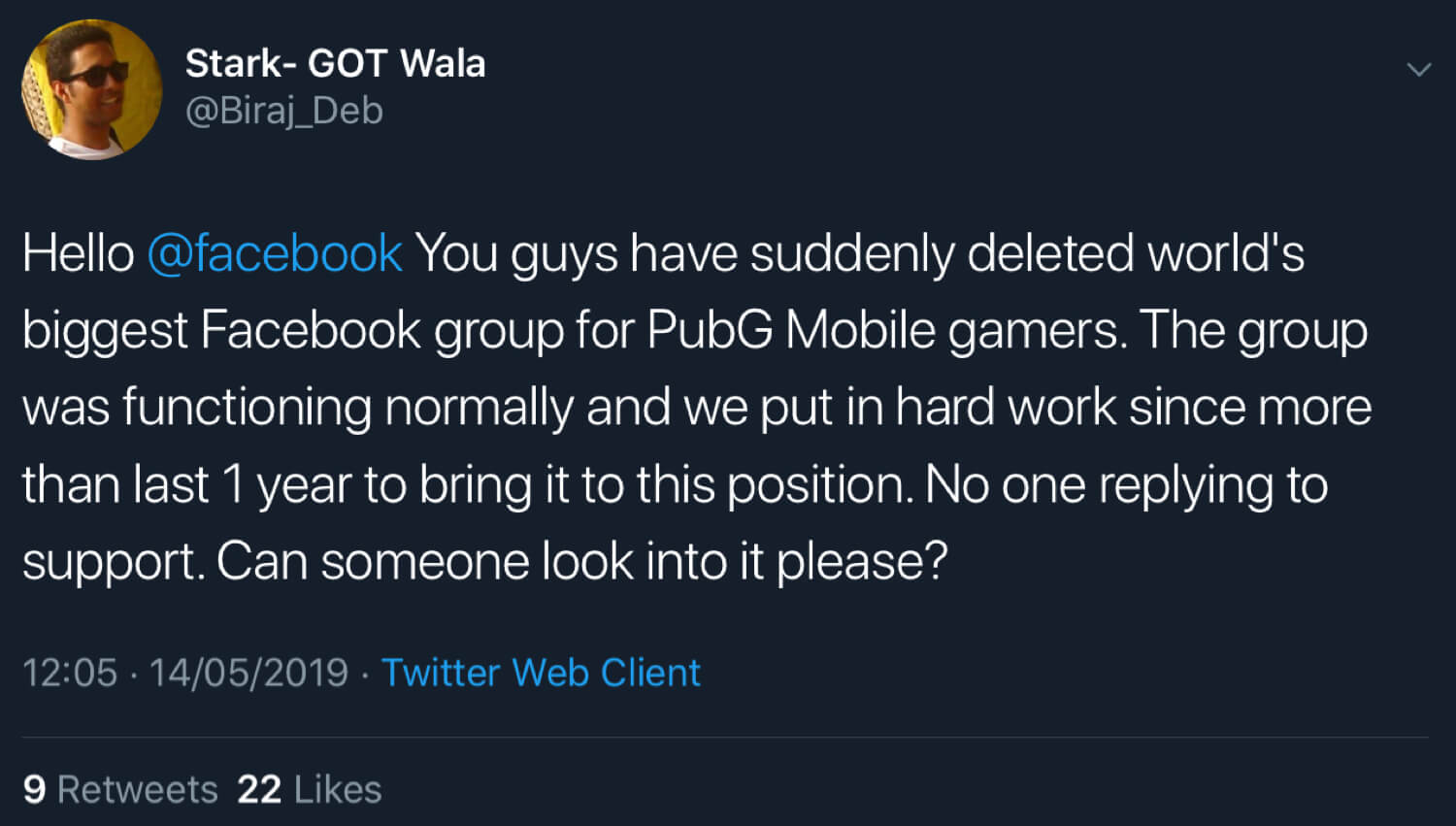 Additionally, many Twitter users are reporting that lots of other groups have been removed by Facebook and these removals are often resulting in the group admins having their Facebook and Instagram accounts disabled.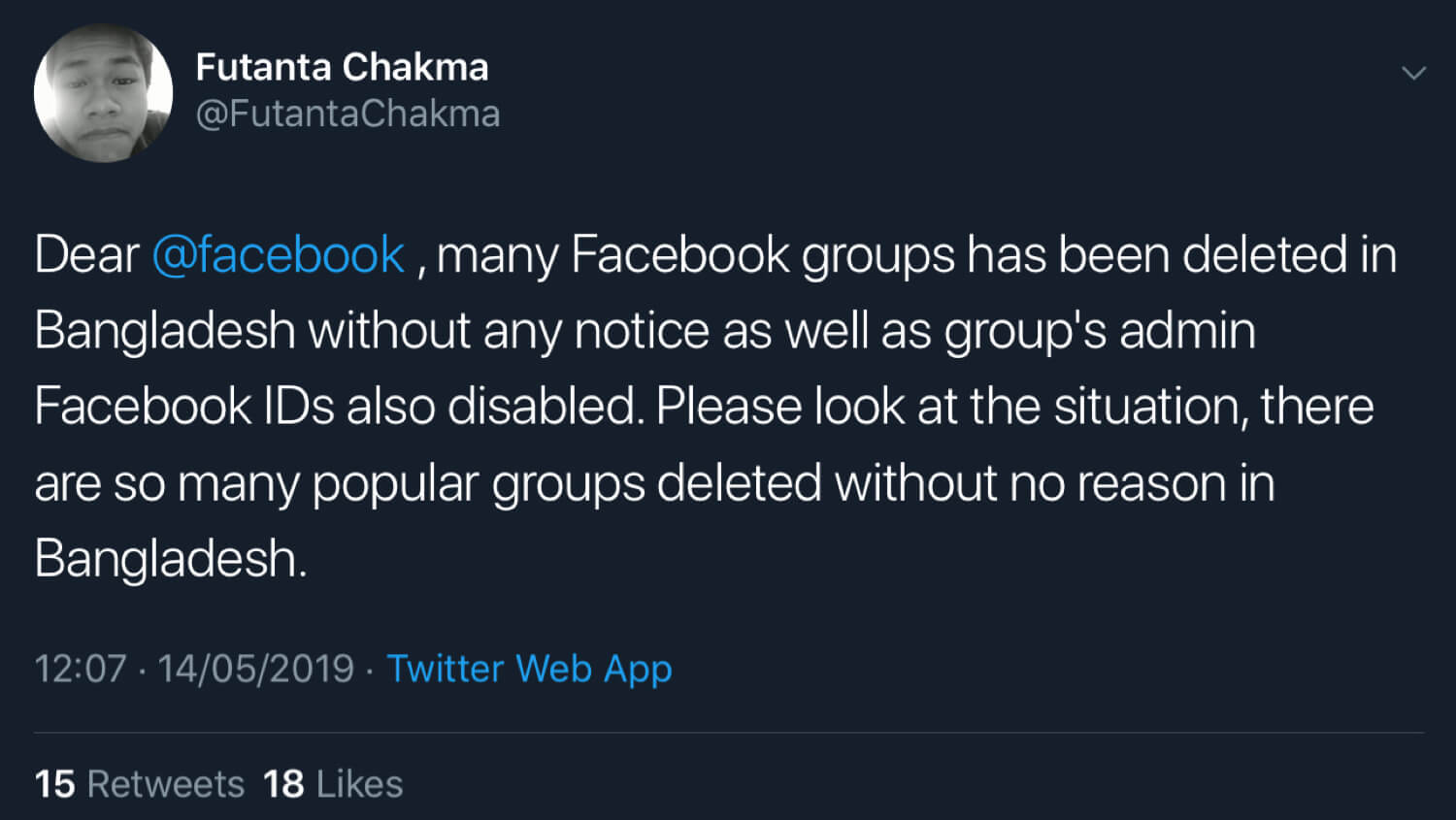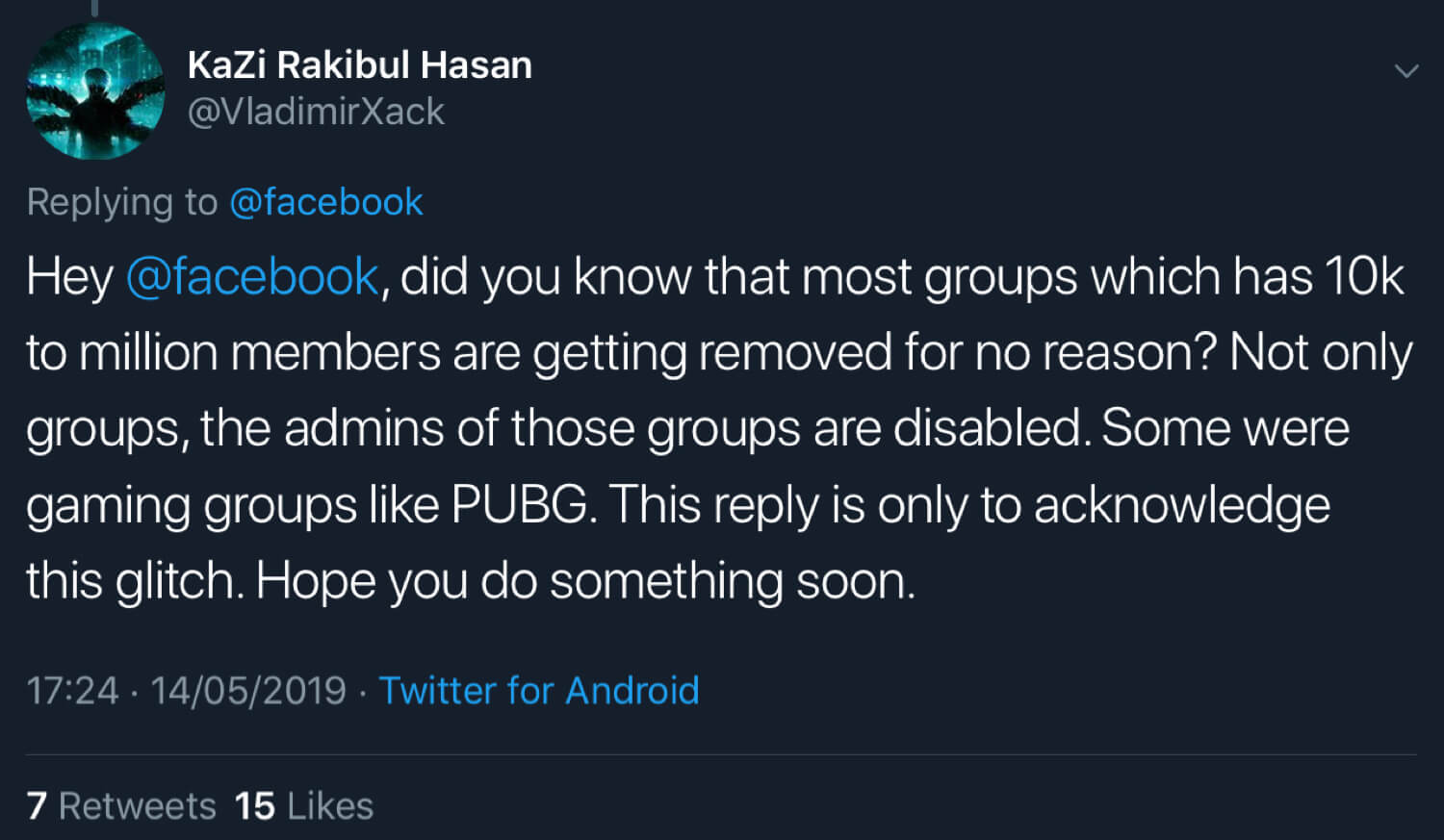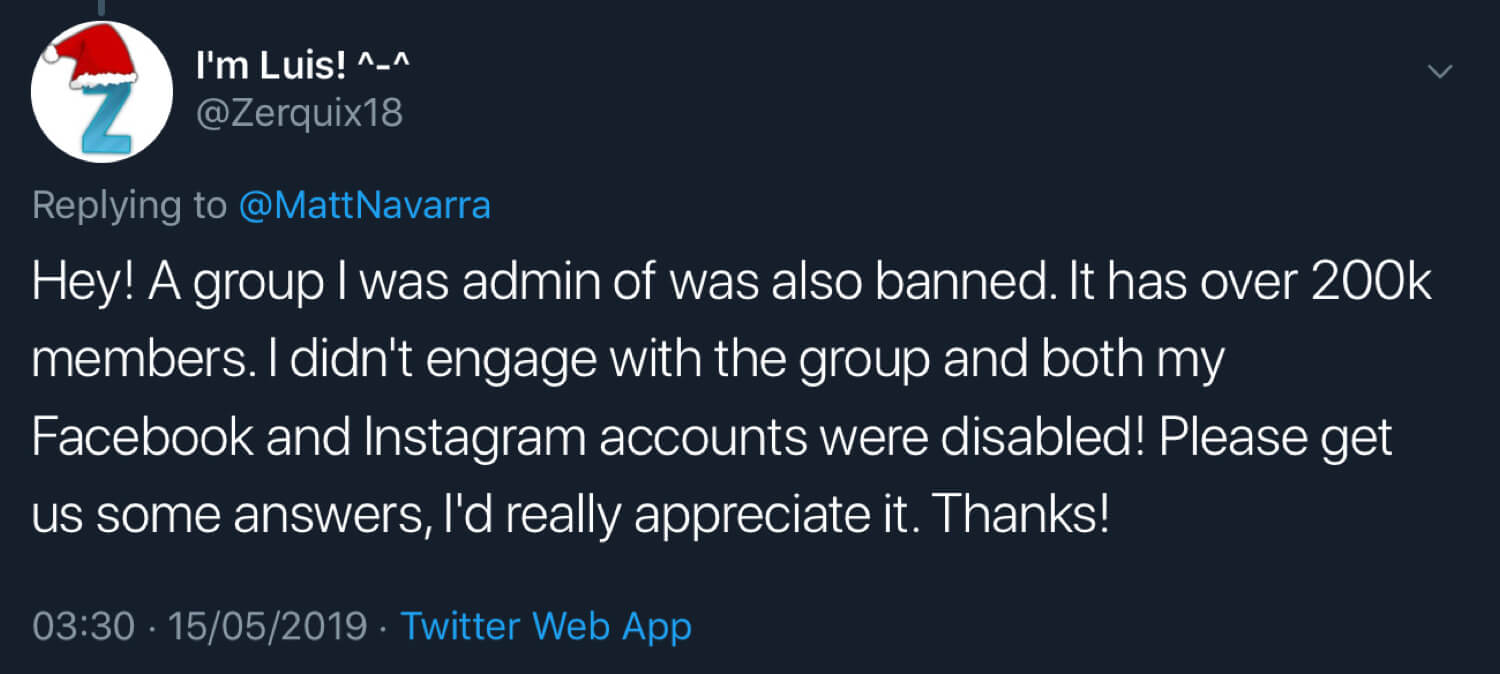 It's not clear why Facebook is mass deleting all these groups. However, it appears to have started shortly after Matt Navarra, a social media industry commentator, announced that Facebook was deleting lots of groups for terrorist or organized criminal activity. Shortly after making this announcement, he started receiving lots of messages from people saying that their Facebook groups had been shut down in error.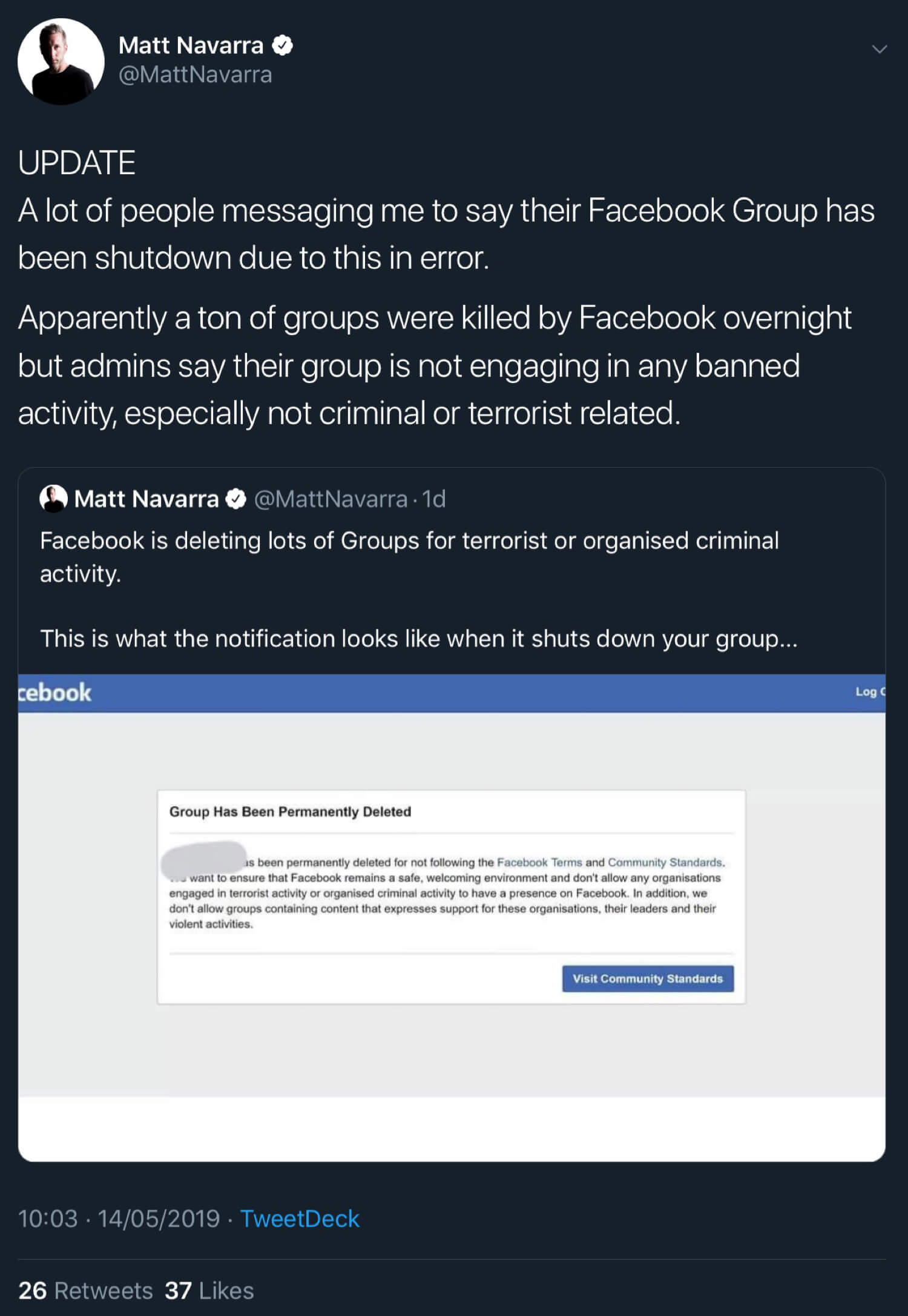 Navarra's tweet indicates that the group takedowns could be a bug. However, Facebook hasn't clarified why these groups are being removed and many Twitter users believe they're being deleted intentionally as a way to shut down opinions and political views that Facebook doesn't agree with.



This mass purge of Facebook groups follows Facebook mass deleting lots of pages from its platform earlier this month for violating its "dangerous individuals and organizations" policy while providing no specific examples of why the people running these pages were "dangerous."
It also comes after Facebook introduced new rules that say you could be banned based on who you associate with. In addition to this, Facebook is tightening the rules around the content you're allowed to share on the platform and even prohibiting the posting of photos that feature people Facebook has banned.
The removal of these groups has encouraged some high profile users to respond to this Facebook deplatforming by building their presence on alternative tech platforms that embrace free speech such as the free speech social network Gab.
One example of this is Dr. Shawn Baker who highlighted that Facebook had removed the Banting 7 Day Meal Plan group and described it as "nutrition censorship." Shortly after calling out Facebook for deleting this group, Baker said that he's aware that he could be deplatformed due to the nature of his content and announced that he's going to start posting to Gab.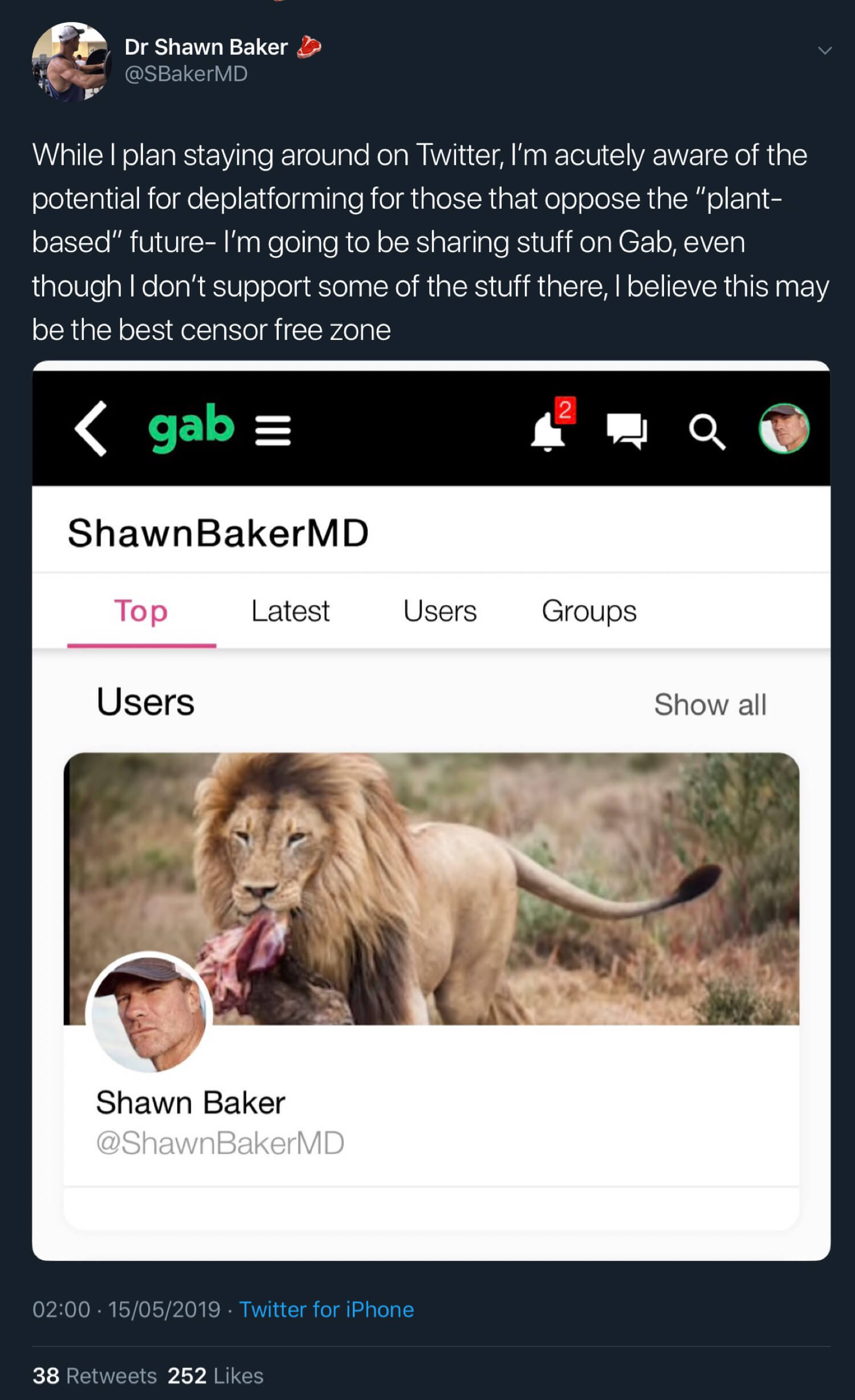 Update – May 24, 2019: Facebook has now restored many of the groups mentioned in this post.