The mass uncertainty surrounding the 2020 US presidential election result has led to a huge push for poll watchers to be given access to vote-counting centers so that they can observe the process and report any irregularities.
This movement has quickly gained momentum online and the Facebook group Stop the Steal was one of the most popular groups leading the charge with its members organizing protests across the country.
The group was created by Women for America First – a pro-Trump, not for profit social welfare organization.
It gained more than 364,000 members while it was live but within 24 hours of it being created, Facebook shut down Stop the Steal, claimed that it was "organized around the delegitimization of the election process," and alleged that there were "worrying calls for violence from some members of the group."
Facebook added that it's reviewing other smaller Stop the Steal groups and planning to "take action accordingly."
Amy Kremer, the chair of Women for America First, slammed Facebook's takedown of the group and described it as "outrageous."
"The left is trying to steal an election and Social media is complicit," she tweeted.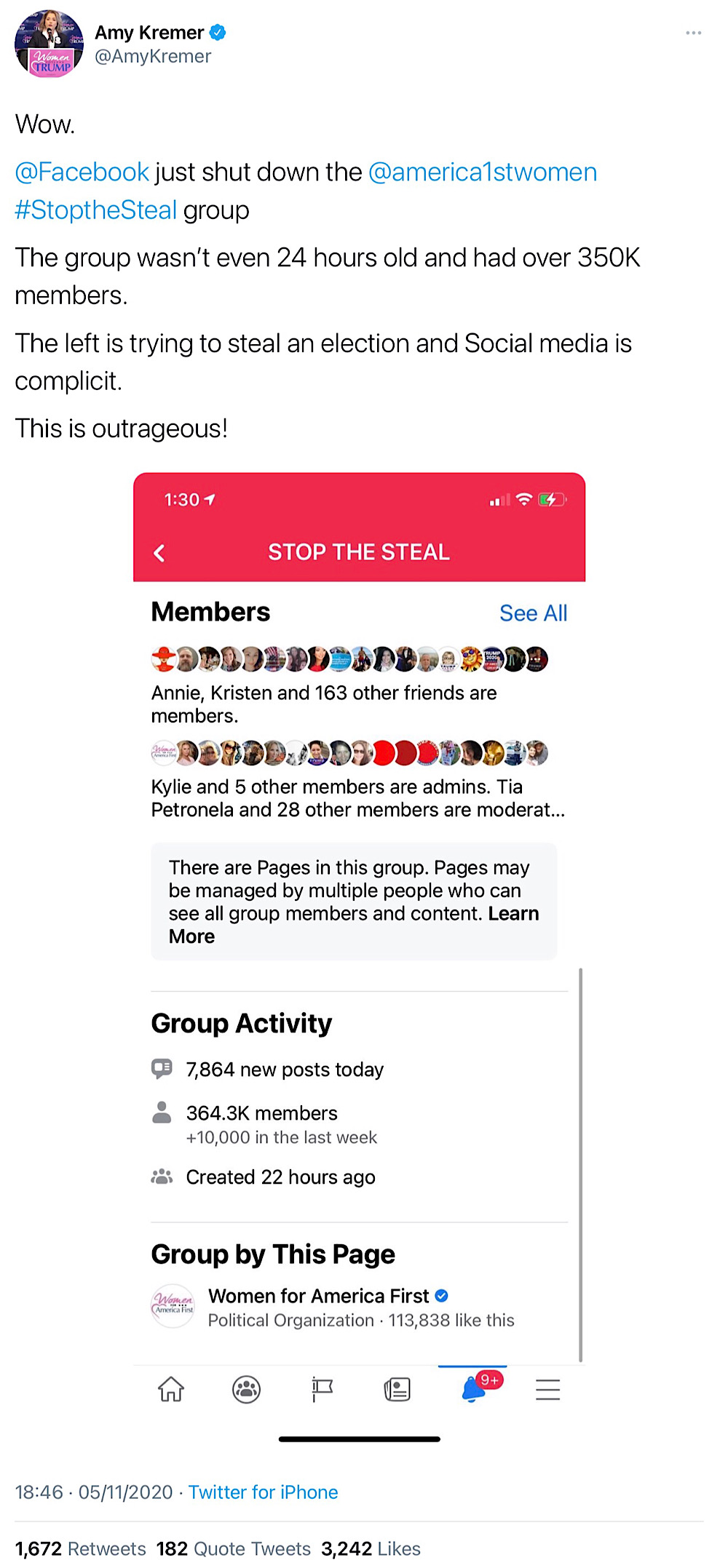 Cindy Chafian, the Director of Coalitions at Women for America First, also challenged Facebook's claims about calls for violence in the group:
"This woman is an absolute liar. I ran the group. We were clear we did not condone violence. The real reason is they don't want the right organizing. She'll say nothing about the radical violent left but 350k conservative women are a threat."
Before the Stop the Steal group was shut down, mainstream media outlets and reporters had claimed that the group was spreading "disinformation" about the election and that "threats of violence" were being shared in the group.
The shut down of the group follows an unprecedented wave of Big Tech censorship that has been deployed across the large social media platforms since election night.
Users that attempt to discuss election-related inconsistencies or share stories about alleged voter fraud are being shut down en masse.
Facebook has blocked search results for hashtags and search terms related to these topics.
And President Trump's post-election night statements are now so heavily censored, that half of his Facebook and Twitter posts since election night are being flagged.
The election result has yet to be finalized, legal challenges are being filed across the country, and several whistleblowers have provided video footage alleging election fraud.
This unprecedented and constantly changing situation is one where disputes and protests are to be expected and where it's still unclear what is true and what is false.
But instead of allowing open discussion about the situation, the Big Tech platforms have opted to censor these discussion, squash hubs that are used to organize protests, and somehow frame these calls for more transparency as something that delegitimizes the election process.