Facebook suspended hundreds of accounts over links to racist skinheads. However, in the Monday night crackdown, the social platform ended up mistakenly taking down the accounts of anti-racist reggae and ska artists and fans, as well as members of Skinheads Against Racial Prejudice (SHARP).
After the story came out on OneZero, Facebook apologized for the mistake and said it was working on ensuring such a mistake never happened again.
"We apologize to those affected by this issue," a Facebook representative told OneZero. "These accounts were removed in error and have been reinstated. We are reviewing what happened in this case and are taking steps to ensure it doesn't happen again."
Reports on the suspension on Facebook accounts started doing rounds on rival social platforms such as Twitter and Reddit as early as June 9. Garry Bushell, an English Rock Music Journalist, tweeted about hundreds of UK accounts linked to skinhead culture being closed. In the replies section, hundreds of people confirm the suspension of their accounts.
Other notable figures whose accounts were suspended include Neville Staples of The Specials, Neville's Wife Sugary Stable, Clara Byrne of ska/reggae/dub band Dakka Shanks, and Guy Shankland, a UK-based music journalist.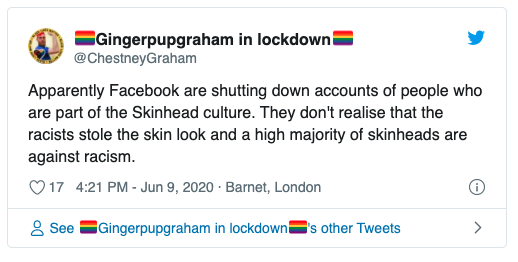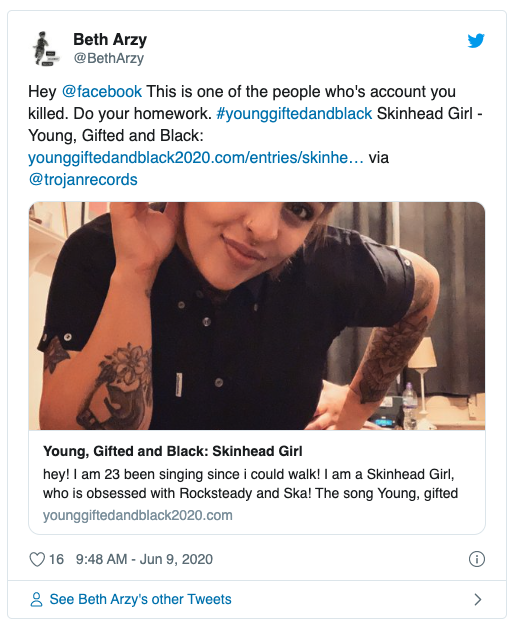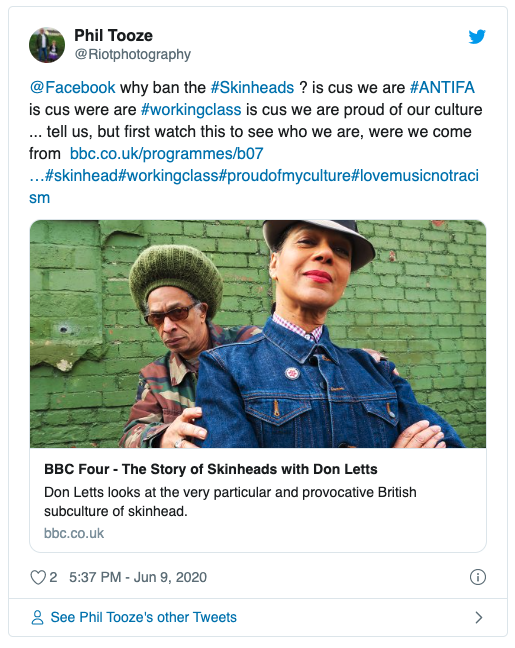 Users whose accounts were suspended got a notification saying, "You can't use Facebook because your account, or activity on it, doesn't follow our Community Standards."
The erroneous suspension of people like Neville Staples and Clara Byrne clearly portrays Facebook's shallow understanding of subcultures and the problems in mass algorithmic moderation of posts. Critics point out that on one end of the spectrum of skinhead subculture are white nationalists. But on the other end, we have the original skinhead subculture deeply rooted in Jamaican music. Neville's band, The Specials, was among the pioneers of the 2 Tone music genre that embraced diversity during a rise of white nationalism. The music adopted the skinhead style, which was later taken over by racist white nationalists.
"The irony of banning [individuals such as Staple] on the grounds of suspected right-wing or racist promotion or support is particularly galling and shows a complete lack of knowledge (and understanding) of British music in general, especially the multicultural 2-Tone movement," Guy Shankland said.
Facebook did not explain how accounts like Neville Staple were mistakenly flagged as "bad actors." A user on Redditt speculated that Facebook also suspended accounts for merely liking or following street-punk artists and SHARP. Another theory is that Facebook's algorithm acted on the phrase "skinhead" without considering the context of the page or group.
The results have been similar to how YouTube's crackdown on "hateful" content resulted in model makers, teachers, and 3D tabletop gamers being censored on the platform.
According to OneZero, Facebook asked some people to provide identification documents for their accounts to be restored. In May, the company announced it would start requiring ID verification for suspicious accounts.