Facebook has restricted the page of conservative comedian Steven Crowder and threatened to delete it permanently after accusing it of "repeated sharing of clickbait."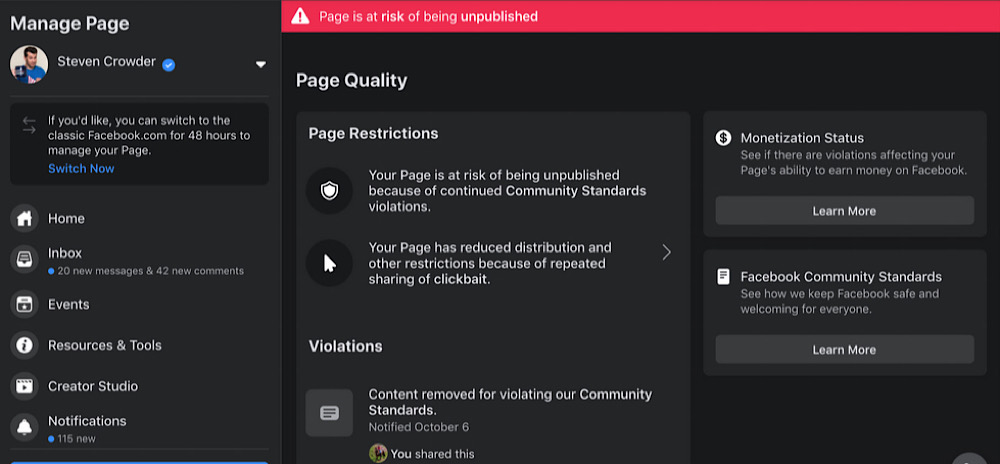 Crowder and his team have built the page to more than three million Facebook followers over several years. They use the page to post updates and share articles from Crowder's Louder with Crowder website.
If Facebook follows through on its threat, not only will Crowder and his team lose all the content that's posted to the page but they'll also be cut off from the large Facebook audience that they've built over the years.
According to Louder with Crowder's editor at large, Courtney Kirchoff, Facebook flagged two recent posts to the page as clickbait.
Kirchoff wrote that one of the flagged posts was a Louder with Crowder article about NBC News being shocked by Sweden's results from not locking down for COVID-19.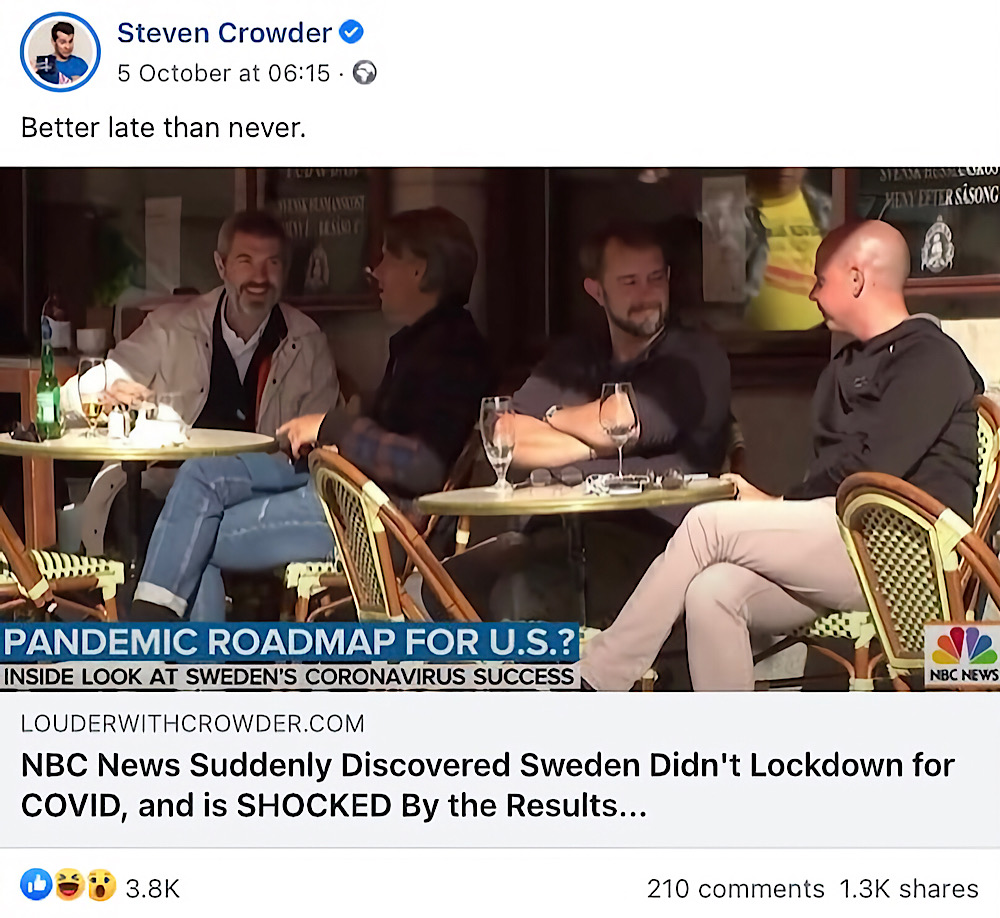 The other flagged post was about a "crazy liberal" demanding the cops do something about Trump supporters at the Walter Reed Medical Center.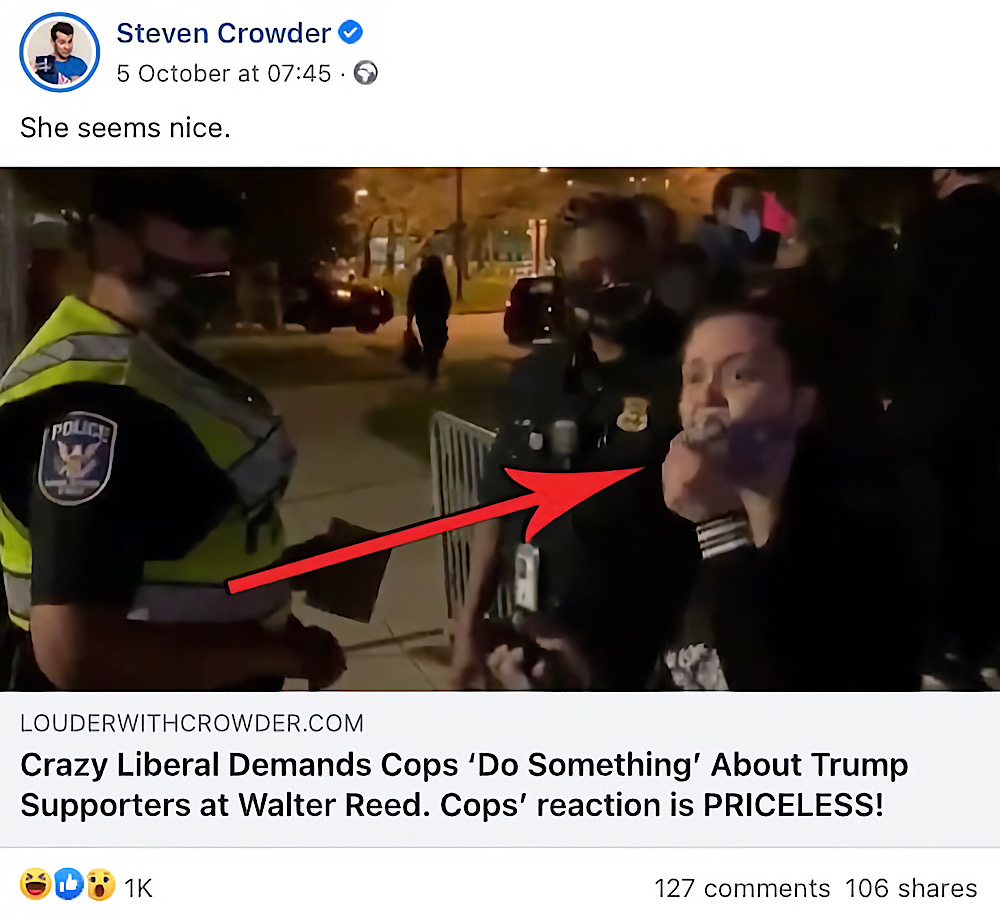 Kirchoff added that Facebook also took down a repost of a tweet from Crowder that discussed COVID-19 mortality rates and survival rates and the negative side effects of lockdowns.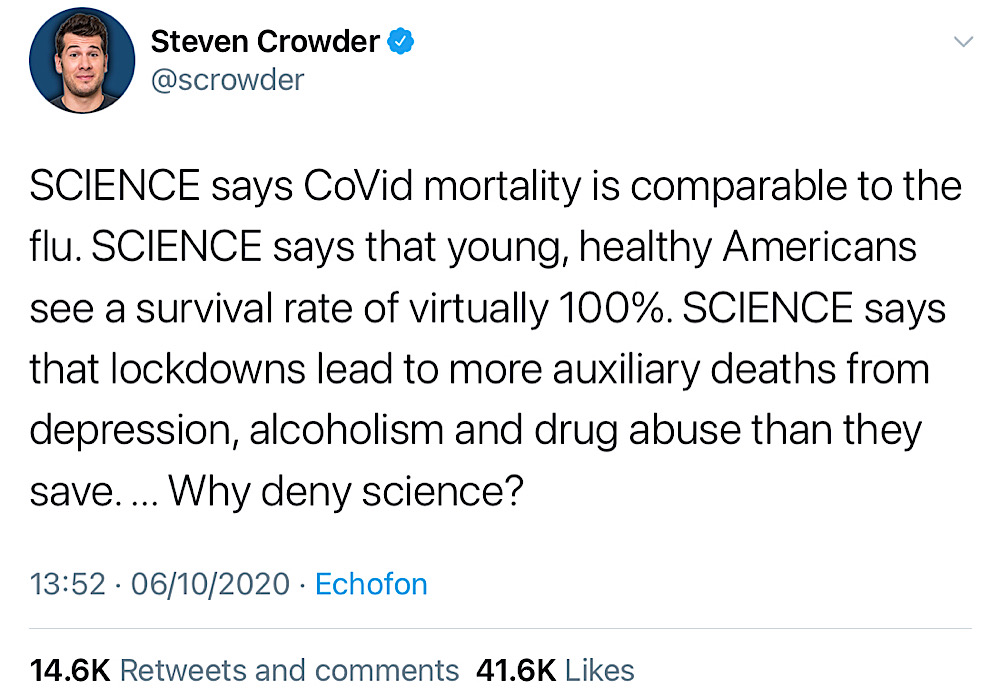 Kirchoff argued that both of the headlines Facebook branded as clickbait provide full context on the stories that they're linking to and aren't clickbait. She added that Facebook didn't give her any option to appeal the takedown of the third post.
Additionally, Kirchoff accused Facebook of arbitrary censorship and making up "whatever rules it feels like in order to push its agenda" of "total thought control."
She added that by "removing information it doesn't like, fact-checking articles it doesn't like, or threatening to unpublish a massive page for reasons it never defines," Facebook is engaging in "thought manipulation."
Facebook's threat to delete Crowder's page reflects a recent escalation in similar threats, actions, and restrictions against large conservative pages over the last couple of months.
In September, the Facebook page of pro-Trump comedian Terrence K. Williams was threatened with deletion after he reacted to a viral video clip of a man's feet being set on fire during riots in Portland this month. Several pro-Trump groups with millions of followers were also purged at the end of September.
And earlier this month, political commentator Mark Levin, who is a supporter of President Trump, had his page hit with reduced distribution, supposedly for sharing "false news."
In addition to the direct action against conservative pages, Facebook recently announced one of its largest and most far-reaching bans ever when it banned QAnon – a movement with millions of followers that are largely pro-Trump.
This month's sweeping Facebook censorship has also impacted the President himself with Trump's post comparing COVID-19 to the flu digitally erased by the world's largest social network.