With over 2 billion users, Facebook's control over the flow of online information is vast and amid the coronavirus pandemic, the company has made several changes that ensure users are directed to mainstream media outlets and health authorities instead of independent outlets that welcome debate and discussion on the topic.
Now Facebook has announced another change that will funnel users to these sources via a new notification screen which will appear whenever they attempt to share articles about the coronavirus.
Facebook didn't provide screenshots of what these notifications will look like or the options that will be presented to users but wrote that they would provide "information about the source of the link and direct people to the COVID-19 Information Center for authoritative health information."
The COVID-19 Information Center presents coronavirus content from health authorities and mainstream media outlets.
Facebook also said that these coronavirus article notifications would be similar to another type of notification that was rolled out today which warns users when they attempt to share an article that is more than 90 days old.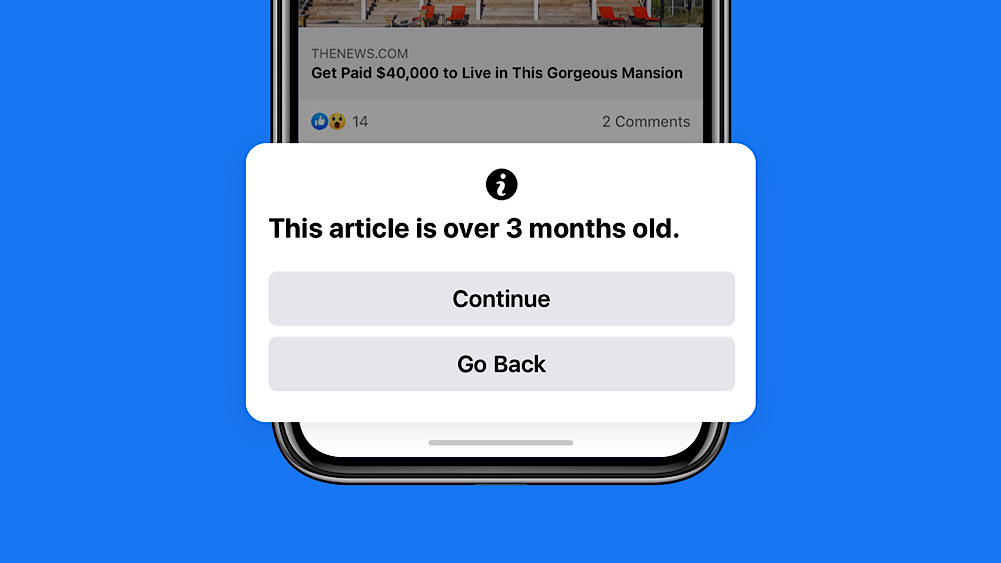 These notifications ask users if they want to "Continue" or "Go Back" so presumably the coronavirus notifications will offer similar options and ask users if they want to continue or go to the COVID-19 Information Center.
Facebook has yet to announce when these coronavirus article notifications will go live but said it will be testing other uses of notification screens over the next few months and that it is currently exploring these coronavirus article notifications.
Related: How the term "misinformation" has been weaponized as an online censorship tool amid the coronavirus pandemic
Facebook already dissuades users from sharing links that have been fact-checked via a notification that warns them that the post is false and states that their page or website could face sanctions if they "repeatedly publish or share false news."
The platform also sends warnings and articles from the World Health Organization (WHO) to users who have consumed what Facebook deems to be "misinformation."
Additionally, Facebook outright bans users from linking to sites if it decides the sites have violated its community standards.
These notifications and warnings are highly effective at dissuading users from viewing the underlying content with Facebook CEO Mark Zuckerberg revealing that users don't view the content 95% of the time when a fact-check warning is applied.