Avi Yemini, an Australian reporter and online commentator, announced that he had his Facebook page, the Yemini Report, "unpublished" by Facebook. (i.e., hidden from public view, before eventual and likely deletion.)
It would be newsworthy at this point if Facebook actually had provided Yemini with a reason or a course of action to correct the situation – but as you may have guessed it, the giant has not done any such thing.
Left in this type of dark, Yemini's initial instinct was to appeal to his Twitter audience to "spread the word" and also warn what happens when they "upset the wrong people."
Still – this is (hopefully) not yet a full-blown mafia flick we're living in on social media, and so Yemini – who has been covering anti-lockdown protests in Australia – came back with another tweet shortly after tagging Facebook's official Twitter accounts once again and clarifying that, unlike what rival outlet Gizmodo was suggesting, he wasn't personally banned from the platform – one of his previous pages had been shut down by Facebook.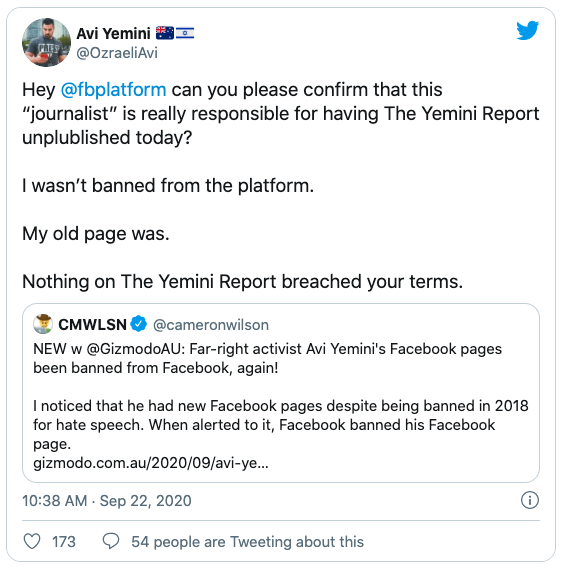 And more intriguingly, Yemini claims that the content of the Yemini Report never violated Facebook's terms – and asked who was behind reporting it as such.
In the tweet, he tagged an Twitter account as the possible "journalist culprit." It belongs to someone whom Twitter has bestowed with a blue check mark badge (suggesting credibility) – although they have some 8K followers compared to Yemini's (non-blue-checked account) with nearly 130K followers.
And Yemini's suspicion of their involvement came after they cited his original tweet to refer to him as a far right activist who had been banned from Facebook after the platform had already removed another page belonging to him for "hate speech".
"When alerted to it, Facebook banned his Facebook page," the reporter stated.
That's the reason Yemini suspected it was this "journalist," as he put it, that was behind the unpublishing of the Facebook page.