Fact-checking website Politifact has accused Florida's Gov. Ron Desantis' press secretary Christina Pushaw of instigating harassment after she criticized their reporting on Twitter. Pushaw shared an email from a reporter, pointing out what she calls "incompetence and bias."
In the article, titled "PolitiFact reporters face online harassment; we keep fact-checking anyway," Politifact's chief editor Angie Drobnic Holan singled out Pushaw, accusing her of harassing reporters.
Related: Claiming that criticism is "harassment" is an increasingly prevalent gatekeeping tactic among journalists 
Holan said that Pushaw has a habit of posting emails she has received from reporters on Twitter, which they see as an attempt to get followers to harass the reporters.
"Reporters have alerted a press secretary that we're writing about their boss and simply asked for comment. Within minutes, she's published the email and slammed the reporters as incompetent, while trying to rally an online mob to attack the reporters – who are just doing their jobs," Holan wrote.
She added: "Rather than responding to journalists' press inquiries in a standard manner, Pushaw will attack them on Twitter, urging online mobs to vilify things that are legitimate practices of journalism."
Responding to the article on Twitter, Pushaw wrote: "So now it's 'harassment' to point out that an email from a reporter reveals incompetence and bias? But the same reporters can baselessly accuse my boss all day of much worse, with zero pushback and full support from their editors? Nah, we are not playing that game anymore."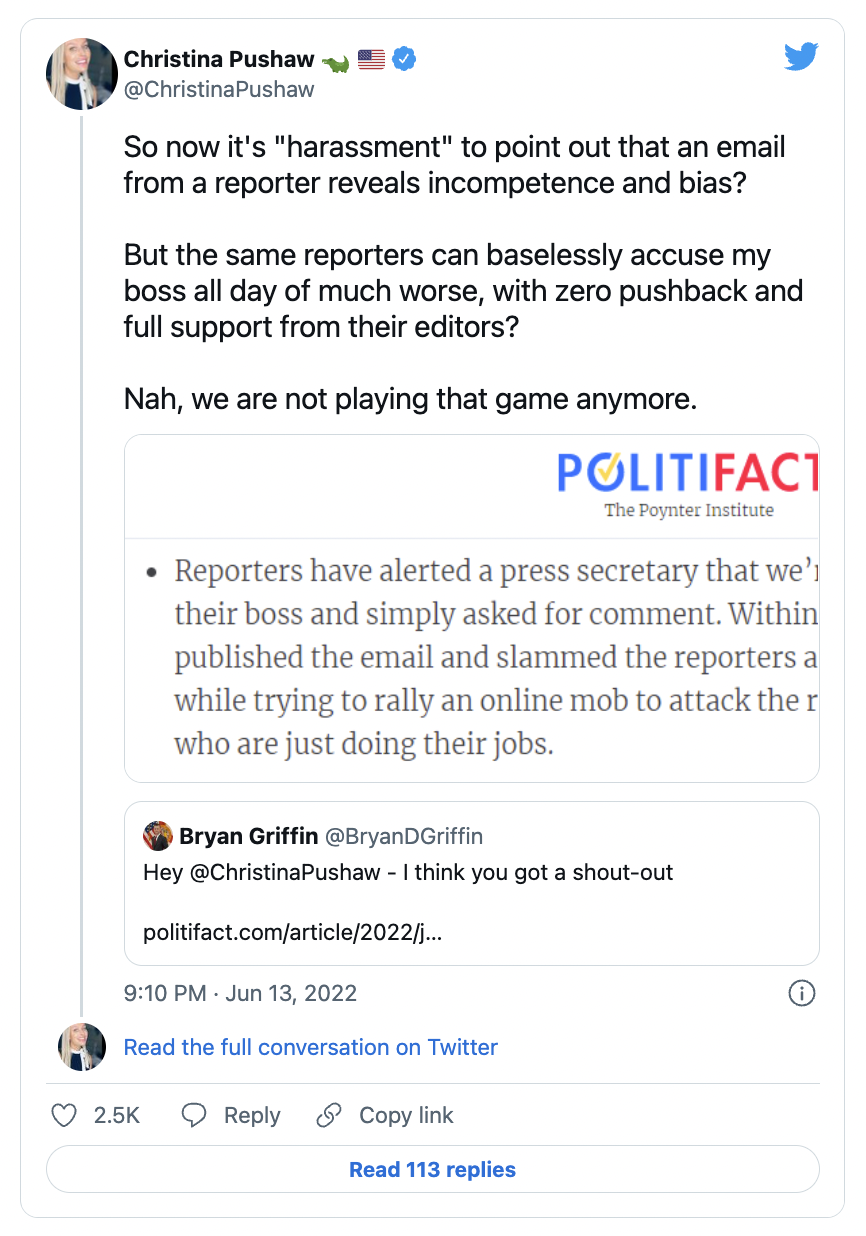 In another tweet, Pushaw said that Holan's argument means Politifact reporters are harassing Gov. DeSantis.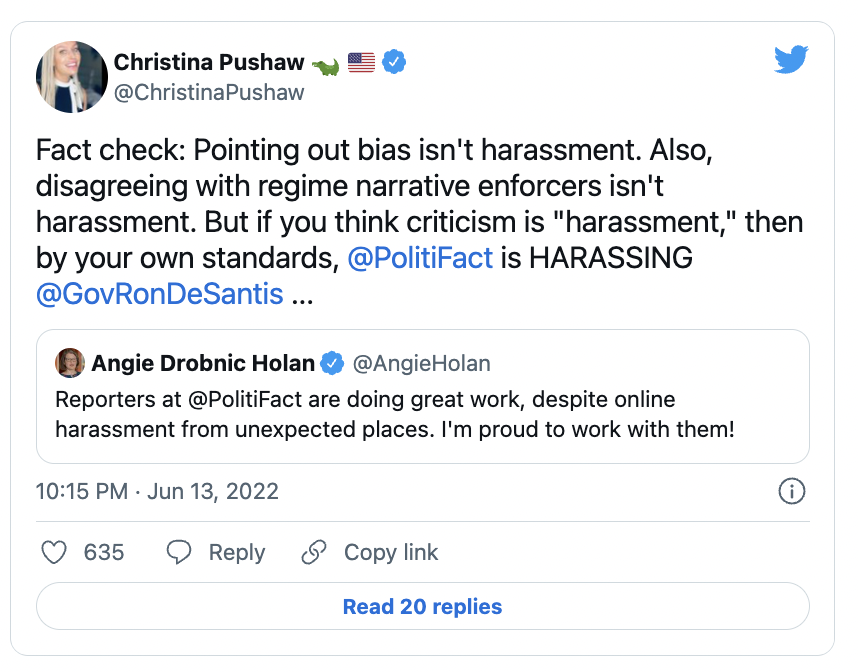 "Fact check: Pointing out bias isn't harassment. Also, disagreeing with regime narrative enforcers isn't harassment. But if you think criticism is 'harassment,' then by your own standards, @PolitiFact is HARASSING @GovRonDeSantis…" she wrote.
Online fact-checkers are particularly controversial as their rulings on stories are often used as the basis for social media platforms to censor content if it contradicts the decision of a fact-checker.