Responding to allegations in the Twitter Files that it regularly communicated with Twitter employees, flagging content and accounts that potentially violated the platform's terms of service, the FBI has suggested that what it did wasn't censorship as it did not ask Twitter to "take action."
FBI officials said that they provided information to Twitter so that the platform could make a decision on whether or not to take action.
"We are providing it so that they can take whatever action they deem appropriate under their terms of service to protect their platform and protect their customers, but we never direct or ask them to take action," the FBI officials said.
The allegations that the FBI and Twitter were in close contact were made in the sixth installment of the Twitter Files, released by independent journalist Matt Taibbi.
According to Taibbi, in an email sent November 10, 2022, an FBI employee wrote: "Hello Twitter contacts, FBI San Francisco is notifying you of the below accounts which may potentially constitute violations of Twitter's Terms of Service for any action or inaction deemed appropriate within Twitter policy."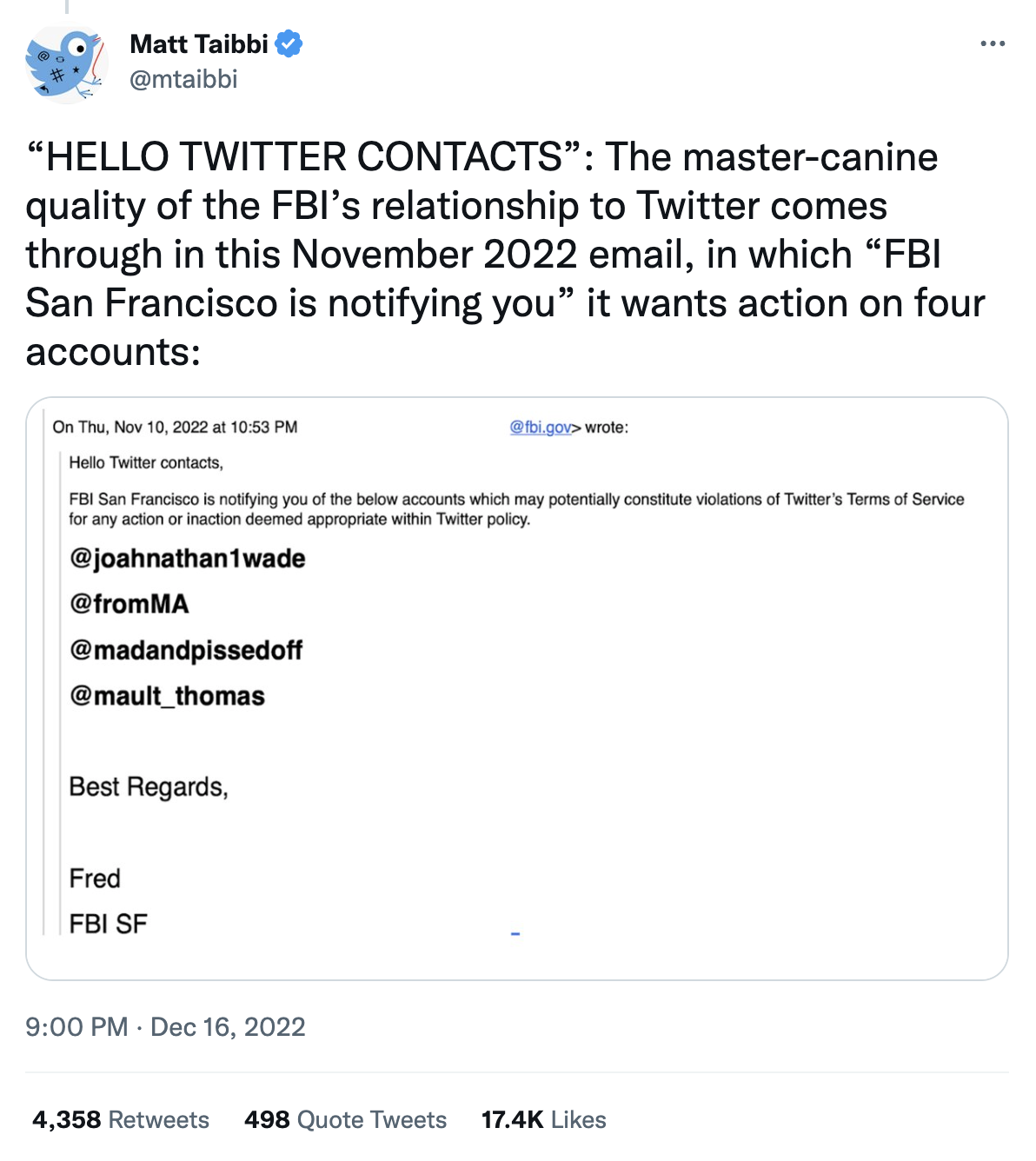 The email listed four accounts. In response to the email, a Twitter employee said three of the four accounts had been suspended and the fourth was still under review.
The FBI told Fox News that they did not give Twitter "specific instructions or details regarding the Hunter Biden laptop story."
Asked if the bureau directly or indirectly provided Twitter with information regarding Hunter Biden or Russian influence, the officials said, "We focus on activities attributed to foreign actors, not on the content or narrative."
In another batch of the Twitter files, released by Michael Shellenberger, Twitter's former deputy legal counsel Jim Baker, who was at the FBI before joining Twitter, received an email from another Twitter employee indicating that the platform had received over $3 million from the FBI for processing requests.
Speaking to Fox News, the FBI did not deny the payment. An official told the news outlet that the payment was "reimbursement" for the "reasonable costs and expenses associated with their response to a legal process … for complying with legal requests, and a standard procedure." The official added, "We don't just reimburse Twitter," suggesting that the bureau pays other social media companies.
In a statement, a spokesperson for the bureau said: "The correspondence between the FBI and Twitter show nothing more than examples of our traditional, longstanding, and ongoing federal government and private sector engagements, which involve numerous companies over multiple sectors and industries. As evidenced in the correspondence, the FBI provides critical information to the private sector in an effort to allow them to protect themselves and their customers."
"The men and women of the FBI work every day to protect the American public. It is unfortunate that conspiracy theorists and others are feeding the American public misinformation with the sole purpose of attempting to discredit the agency."