The way Mozilla has swerved away from its founding values of openness and freedom in recent times has been a spectacle for many in the tech community, and a recent statement from the company's chairwoman only adds to the confusion as to purpose of Mozilla in a word where it its values sometimes align more with Big Tech and corporate interests.
Deplatforming is not enough, according to the Mozilla Foundation, the creator of the Firefox browser. It asserted that the January 6 riots would have happened if more was done to tackle disinformation online.
"This week, we saw the culmination of a four-year disinformation campaign orchestrated by the President. We have to acknowledge how the internet was misused to get here," Mozilla wrote on Twitter. "And we have to change it."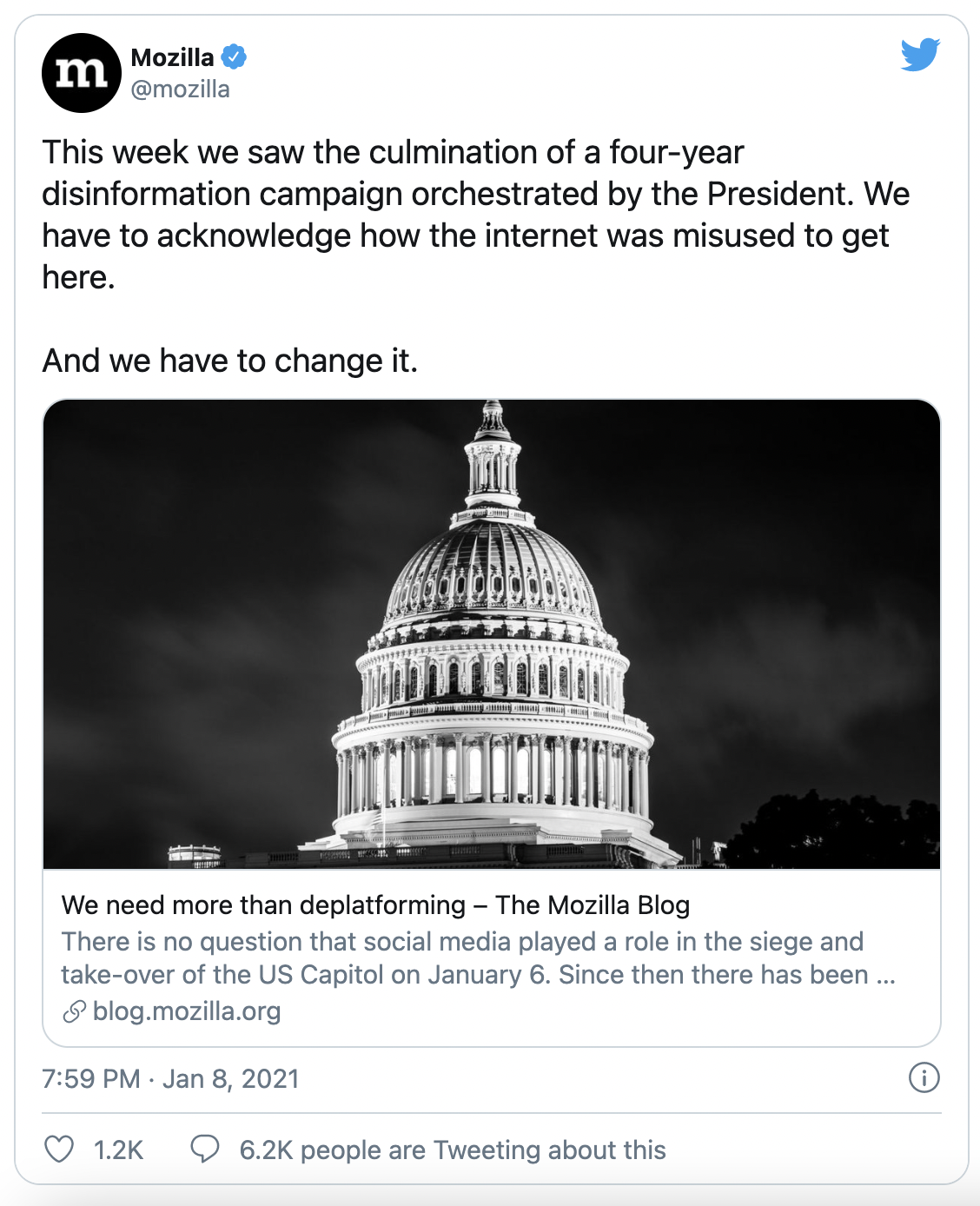 The tweet featured a link to an article by Mozilla Foundation's chairwoman Mitchell Baker. She claimed that "rampant use of the internet to foment violence and hate, and reinforce white supremacy is about more than any one personality."
Following the January 6 riots, Facebook, Twitter, and other mainstream social media platforms suspended President Trump permanently or indefinitely. According to Baker, de-platforming is not enough of a solution.
"We need solutions that don't start after untold damage has been done. Changing these dangerous dynamics requires more than just the temporary silencing or permanent removal of bad actors from social media platforms," she wrote.
The article suggested the following "precise and specific actions" social media platforms should commit to:
Reveal who is paying for advertisements, how much they are paying, and who is being targeted.
Commit to meaningful transparency of platform algorithms, so we know how and what content is being amplified, to whom, and the associated impact.
Turn on by default the tools to amplify factual voices over disinformation.
Work with independent researchers to facilitate in-depth studies of the platforms' impact on people and our societies and what we can do to improve things.
Following Trump's suspension from most mainstream social media companies, many have sought alternatives such as Gab.com, which has reported a 750% increase in traffic over the past few days.
Meanwhile, Parler, which is censorship-free like Gab.com, is facing challenges after being removed from Apple's App Store and Google's Play Store, and taken offline by Amazon.