Forbes has privated a video that was being shared online and embedded in news articles to debunk yesterday's episode of CBS' 60 Minutes.
CBS is being accused of manipulatively editing a heated exchange between one of its reporters and Gov. Ron DeSantis over an alleged "pay for play" scheme involving supermarket chain Publix. The interview, from a press conference last month, featured in the episode of "60 Minutes."
CBS News' reporter Sharyn Alfonsi pressed the governor over allegations that he awarded Publix the opportunity to distribute COVID-19 vaccines in Palm Beach County after a sizable donation.
"Publix, as you know, donated $100,000 to your campaign," Alfonsi began her inquiry. "And then you rewarded them with the exclusive rights to distribute the vaccination in Palm Beach…"
The governor cut her off, saying, "First, of all what you're saying is wrong.
"That's a fake narrative," DeSantis responded after Alfonsi asked him to explain why the narrative was wrong.
"I met with the county mayor, I met with the administrator, I met with all the folks at Palm Beach County and I said, 'Here's some of the options: We can do more drive-thru sites, we can give more to hospitals, we can do the Publix.' And they said, 'We think that would be the easiest thing for our residents.'"
CBS edited out several minutes of DeSantis explaining why he believes the claims were wrong.
"Wow. And it appears that @60Minutes edited the clip to cut out several minutes of @GovRonDeSantis giving extensive details showing just how wrong this narrative is," AG Hamilton wrote in a tweet where he shared the full exchange. Forbes then privated the video.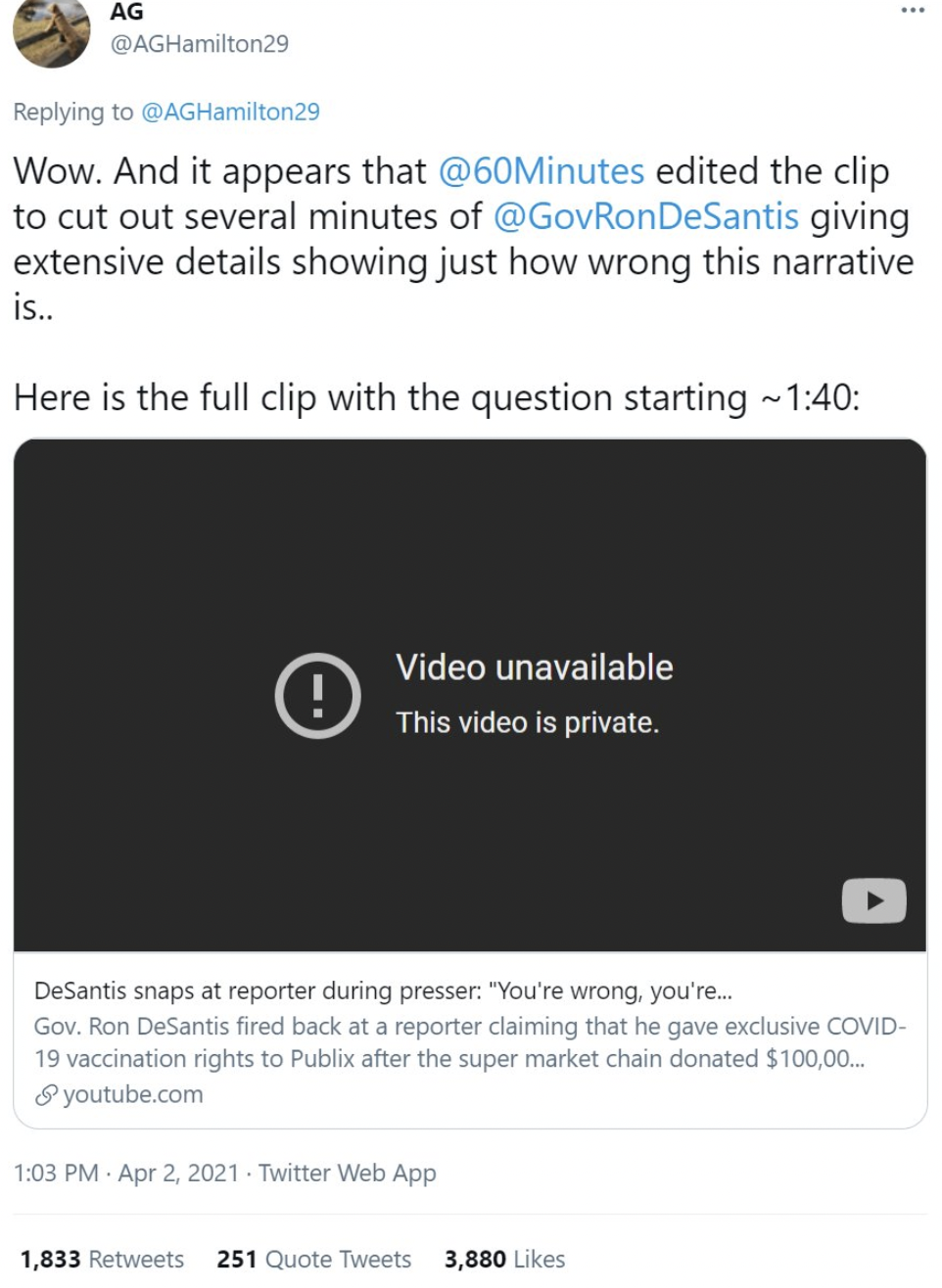 In the missing portion of the exchange, DeSantis said:
"First of all, the first pharmacies that had [the vaccine] were CVS and Walgreens and they had a long-term care mission, so they were going to the long-term care facilities. They got the vaccine in the middle of December, they started going to the long-term care facilities the third week in December to do LTCs. So that was their mission, that was very important and we trusted them to do that. As we got into January, we wanted to expand the distribution points.
"So yes, you had the counties, you had some drive-thru sites, you had hospitals that were doing a lot, but we wanted to get it into communities more. So we reached out to other retail pharmacies: Publix, Walmart, obviously CVS and Walgreens had to finish that mission and we said we're going to use you as soon as you're done with that."
The governor also said that Publix was the "first one to raise their hand" in readiness to distribute the vaccines.
"They literally cut out him explaining the whole process including who was responsible for LTCs (not Publix), how Publix raised their hand as [CVS/Walgreens] was doing LTCs, how they had a trial to test it, why it worked, & how now CVS/Walgreens are being used now," Hamilton wrote in a subsequent tweet.
CBS News is yet to comment on the accusation of deceptive editing.
Publix called the "pay for play" allegation an "irresponsible suggestion" that is "absolutely false and offensive."
Forbes hasn't commented on why the video was debunking 60 Minutes' narrative, that had been online for several weeks, was privatized after it started to gain traction following the airing of the episode.