Journalist Matt Taibbi has released a "Twitter Files Supplemental" which reveals that even Twitter's former Head of Trust and Safety, Yoel Roth, was uncomfortable with some of the Federal Bureau of Investigation's (FBI's) demands to the company.
Previous releases of internal Twitter documents and depositions have shown that the FBI had regular meetings with Twitter and other tech platforms. Twitter allowed the FBI to flag tweets and the FBI flagged jokes and satirical accounts for censorship as part of this process.
While serving as Twitter's Head of Trust and Safety, Roth communicated and met with the FBI regularly. Roth was part of a high-level Twitter censorship team that made "the most politically sensitive decisions." He also defended Twitter's high-profile ban of satire site The Babylon Bee after he left Twitter.
Despite his support of much of Twitter's censorship and his regular meetings with the FBI, even Roth was left "perplexed" by some of the agency's demands.
In a July 2020 email, San Francisco FBI agent Elvis Chan told Roth that the Foreign Influence Task Force (FITF), an inter-agency group that tackles cyber threats, will be contacting Twitter with questions. Chan also noted that "there was quite a bit of discussion within the USIC [United States Intelligence Community] to get clarifications from your company."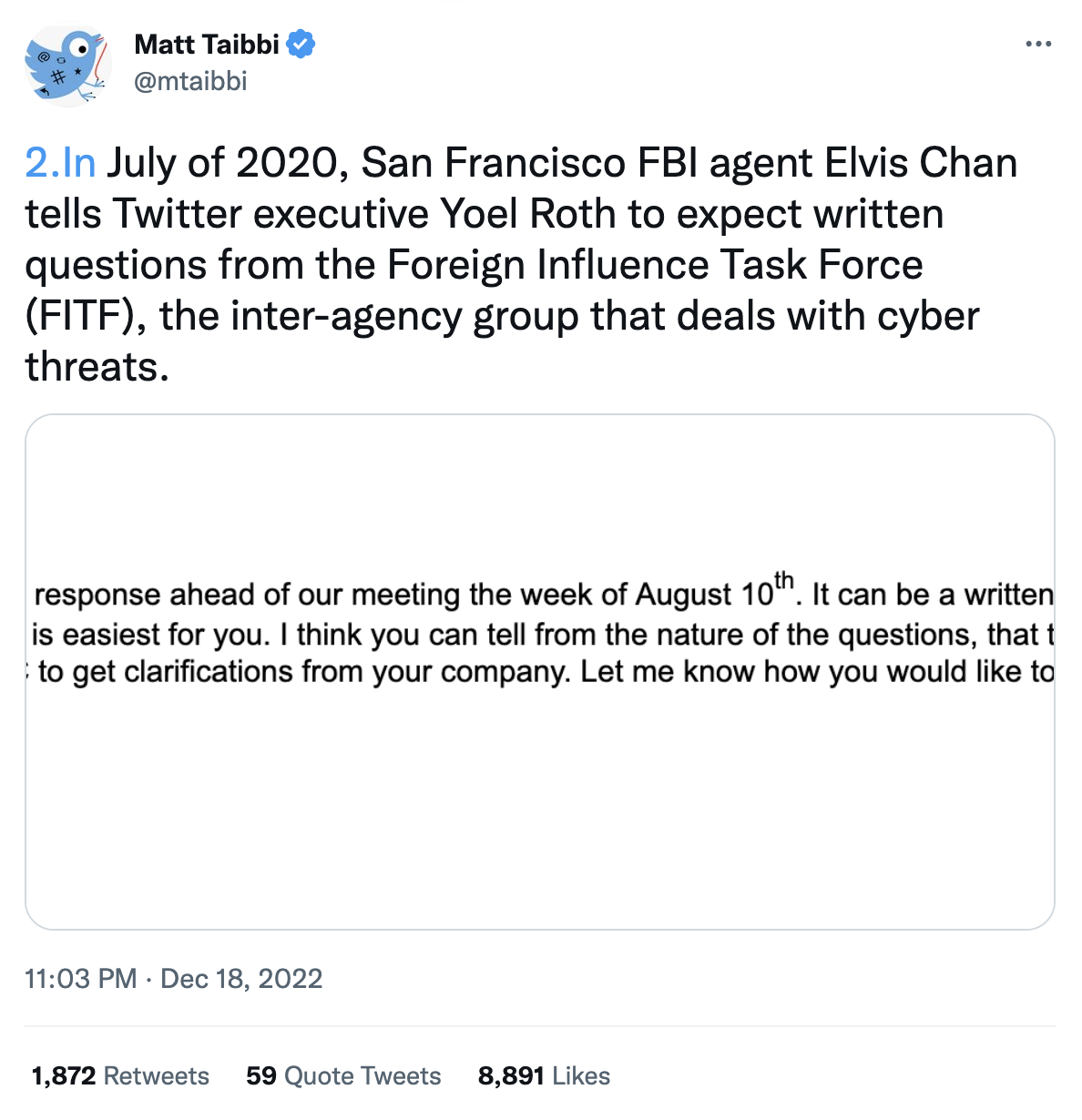 The questionnaire authors seemed unhappy that Twitter had indicated it "had not observed much recent activity from official propaganda actors" on its platform in a June 2020 meeting and pressed Twitter to provide extensive information on how it measures "official propaganda actors."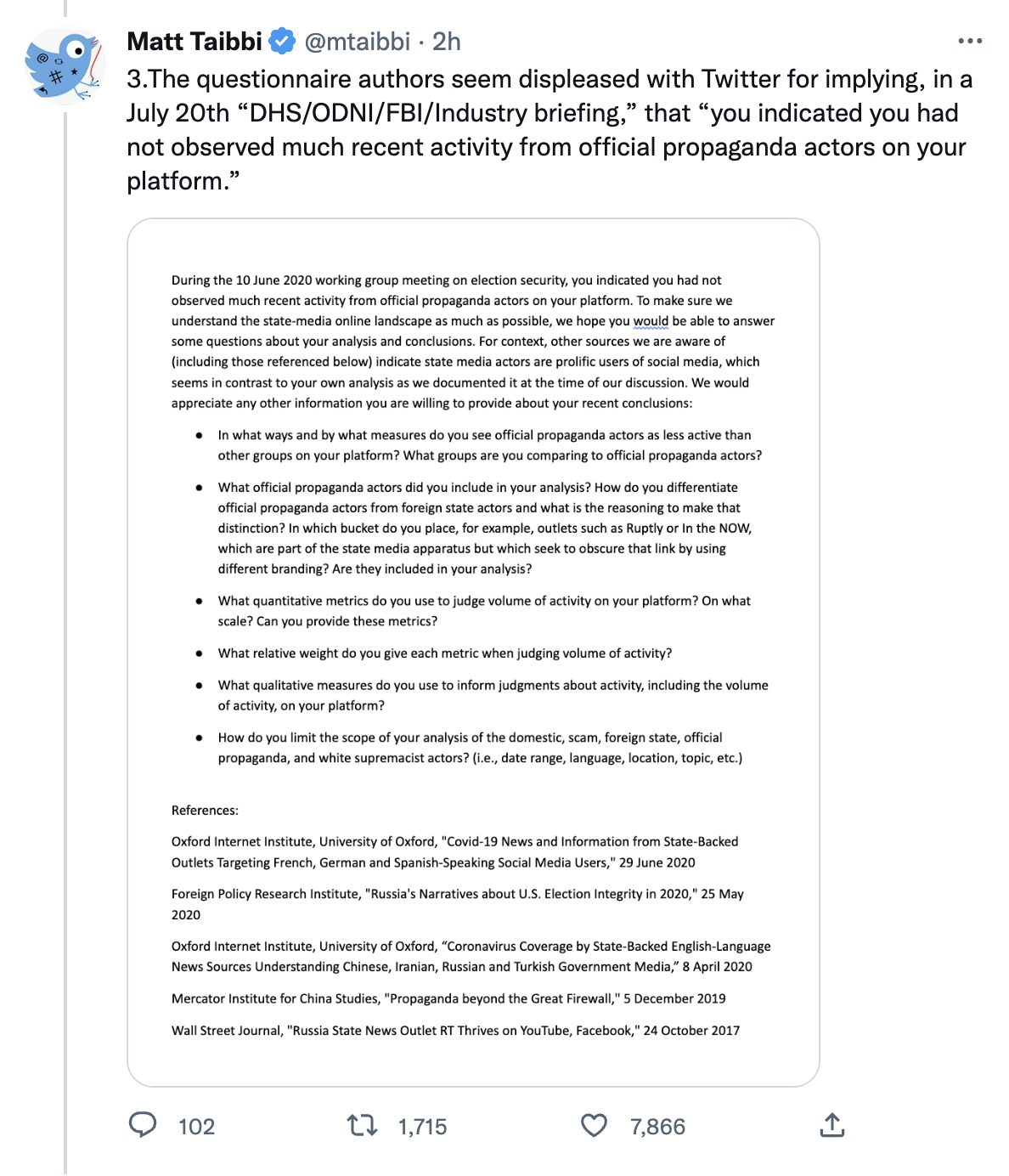 Roth shared the questions with other Twitter executives and expressed his discomfort about the FBI demands.
"I'm frankly perplexed by the requests here, which seem more like something we'd get from a congressional committee than the Bureau," Roth wrote to his colleagues. "There's a big discussion to be had about state-controlled media, which will be impacted by the label launch later this month – but I'm not particularly comfortable with the Bureau (and by extension the IC [intelligence community]) demanding written answers here. What's your perspective on how best to navigate?"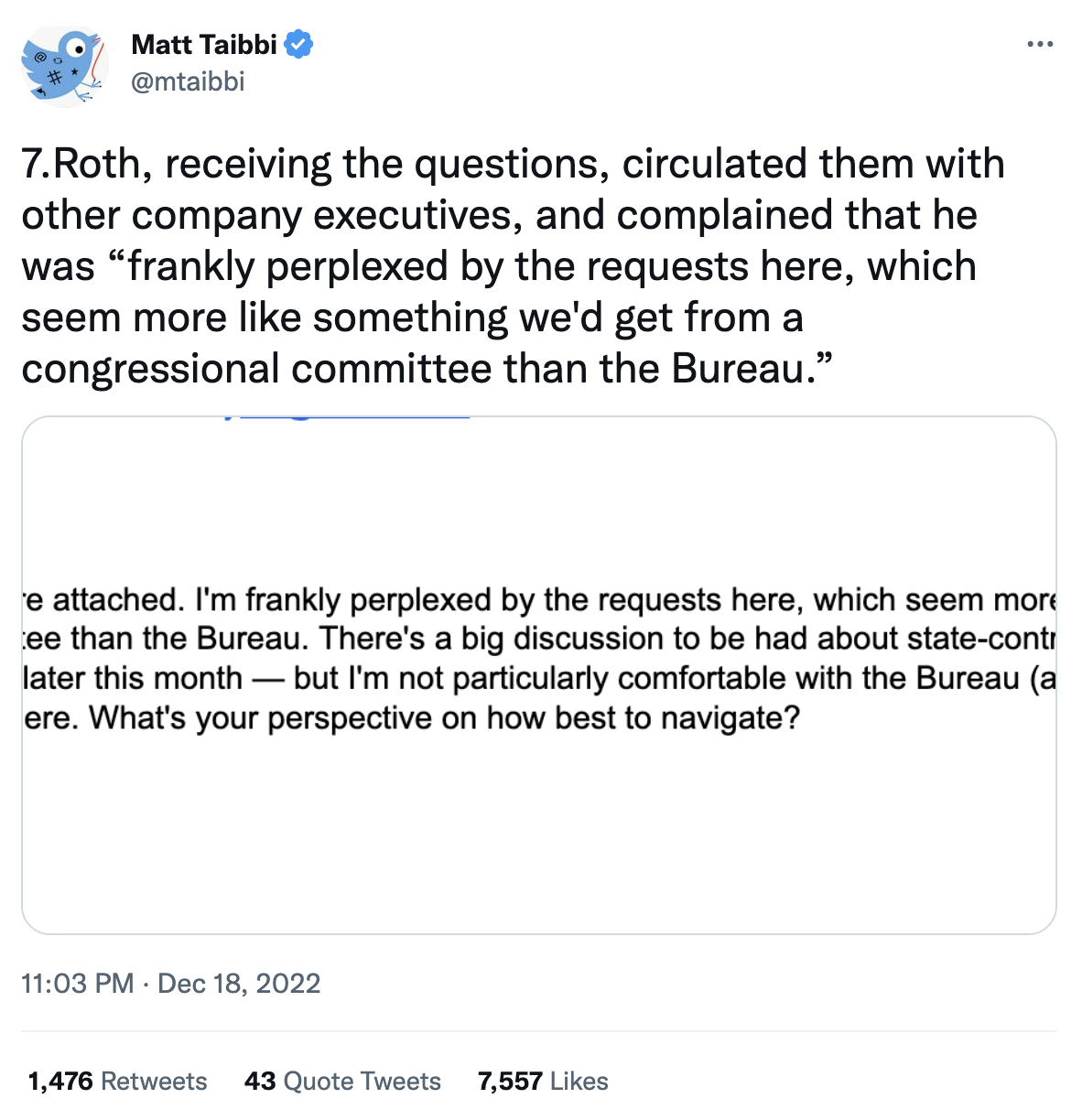 Although the demands left Roth uncomfortable, he still indicated a desire to appease the FBI and the intelligence community in a follow-up email to Twitter executives.
"My recommendation is to get on the phone with Elvis ASAP and try to straighten this out," Roth wrote. "I'm concerned that there's swirl somewhere in the IC about a statement that may have been fundamentally misunderstood. Would you be ok with me reaching out to Elvis today to try to do that, in advance of more formally engaging with the doc they sent?"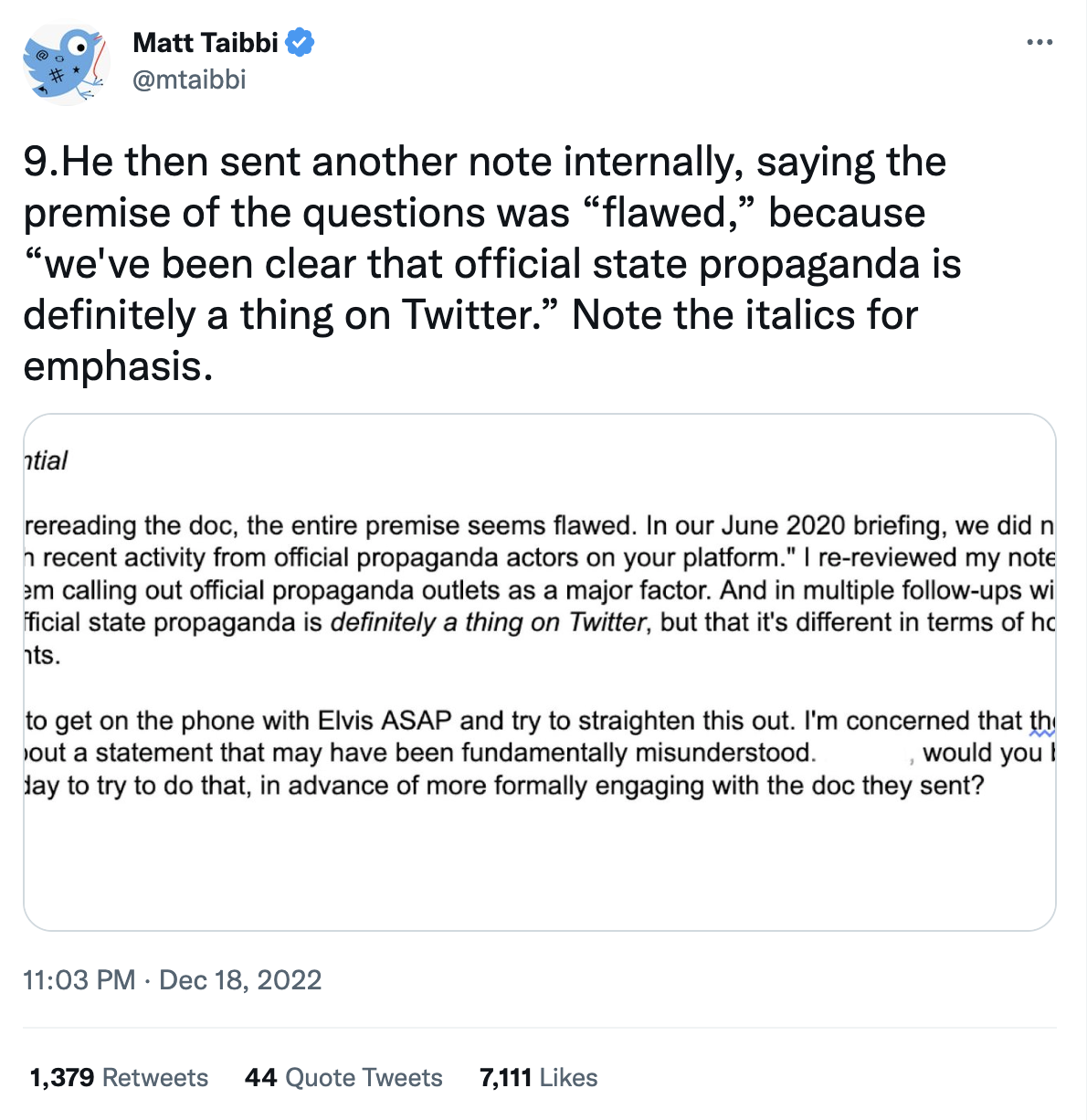 Twitter is one of several tech platforms that the FBI has admitted to meeting regularly with. It also testified to meeting with Facebook, Google, Microsoft, Yahoo!, Reddit, and Wikimedia.
The FBI recently defended these meetings by claiming that it "regularly engages with private sector entities to provide information specific to identified foreign malign influence actors' subversive, undeclared, covert, or criminal activities" and insisting that "private sector entities independently make decisions about what, if any, action they take on their platforms and for their customers after the FBI has notified them." However, the FBI didn't comment on the evidence of it targeting US citizens.