The networking and social platform LinkedIn is once again accused of involvement in suppression of free speech – and this time it isn't to comply with Chinese censorship.
The Front Line COVID-19 Critical Care (FLCCC) Alliance non-profit has revealed on Twitter that their LinkedIn account was disabled for violating the Microsoft company's "misinformation" policy.
A screenshot of a short, generic notice doesn't reveal any specifics, inviting instead this freshly deplatformed user to read up on LinkedIn's policy, or ask them to "take a second look" – i.e., appeal.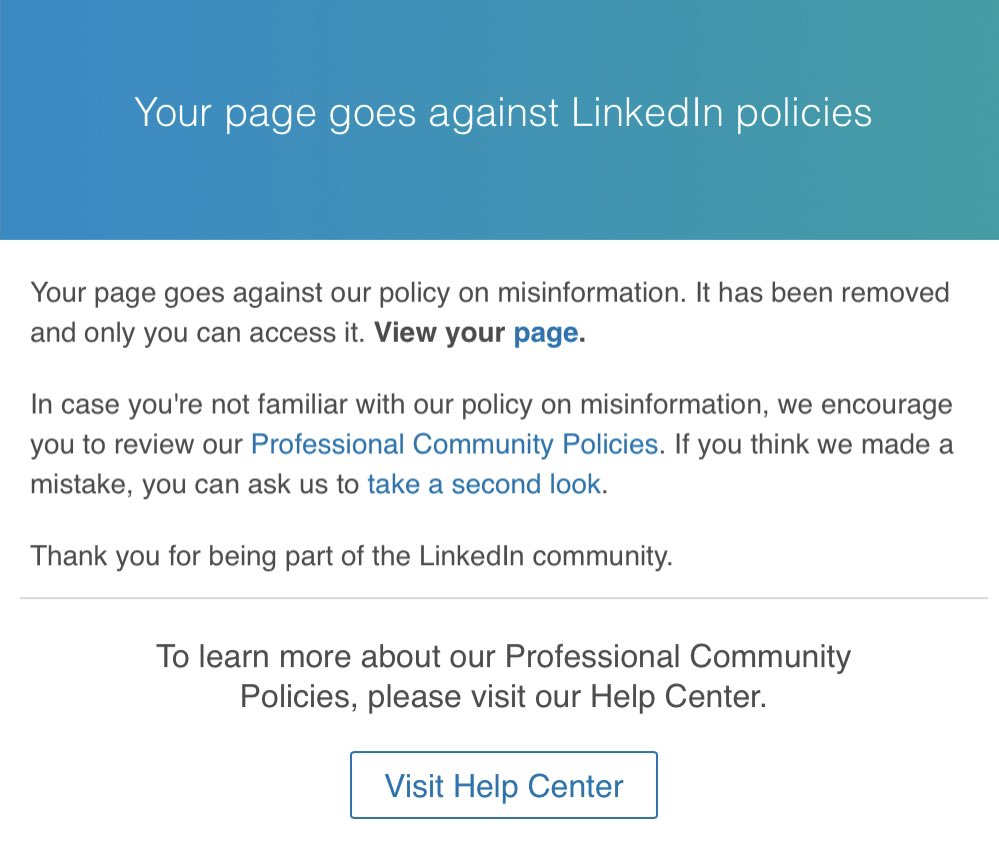 The FLCCC Alliance said on Twitter they were doing that, adding, "Oops. Seems they mistook scientific truth for misinformation. That's been happening a lot lately, wouldn't you say?"
Although LinkedIn has failed to provide a specific reason for banning the account, it's not a stretch to assume that the "misinformation" in question has to do with Covid-related content, which is still strictly policed on major online platforms.
It seems the only way for these private companies to stop censoring Covid content is to receive "a blessing" from the US government – as has been the case with the reversal of the ban on any discussion regarding the origin of the virus.
However, recommending treatment with drugs like ivermectin and hydroxychloroquine still remains off limits.
On its website, the FLCCC Alliance says that it is a group of internationally recognized and published scientists and physicians from around the world who came together in the early days of the pandemic, in March 2020.
Their mission statement is to study and develop protocols to prevent and treat Covid in all stages of the disease in order to save lives.
This group of medical experts disagreed with treatments that required long-term ventilation and provided patients only with supportive care – which is the mainstream approach to treating the illness.
But members of the FLCCC Alliance believe that this produced excessive mortality rates, and as early as March last year came up with their own protocol, called MATH+, which was published in August.
The recommended protocol states that evidence from emerging clinical trials shows ivermectin as having "highly potent real-world, anti-viral, and anti-inflammatory properties" against SARS-CoV-2 and COVID-19 – and this is likely the type of content that set off LinkedIn's censorship alarm bells.
Dr Pierre Kory of the FLCCC is no stranger to censorship on Big Tech platforms.