The free speech social network Gab has had its account to the help desk and customer support platform Help Scout canceled with immediate effect. Gab was given no prior warning of the ban which led to its help and FAQ pages being taken offline; killing off all of the links for Gab's support pages and leaving its 800,000+ registered users being unable to access support pages.
Help Scout's co-founder Nick Francis let Gab CEO Andrew Torba and his team know about the ban via an email which you can see in the tweet below.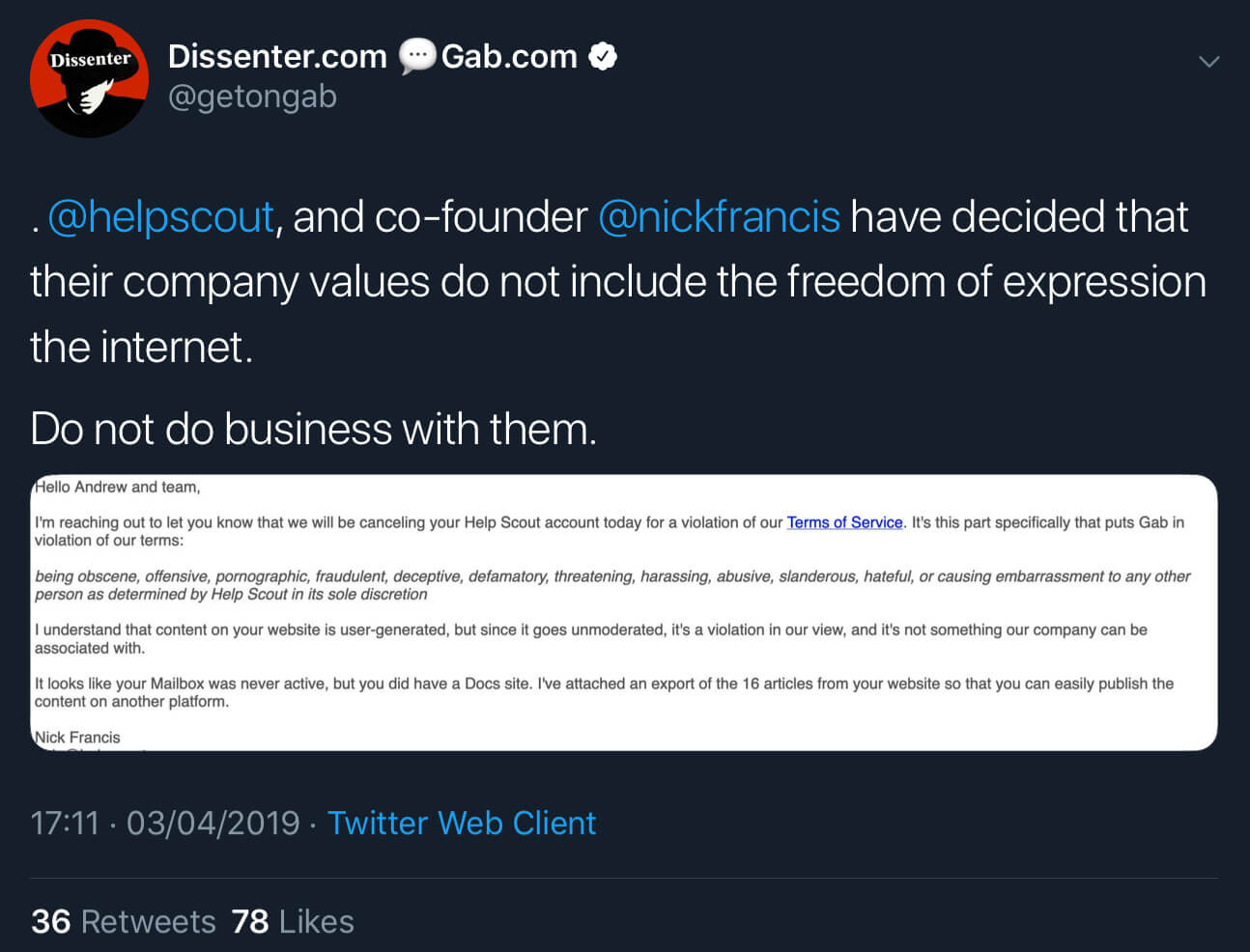 Here's the specific text from the email that relates to why Gab was banned from Help Scout:
I'm reaching out to let you know that we will be canceling your Help Scout account today for a violation of our Terms of Service. It's this part specifically that puts Gab in violation of our terms:

being obscene, offensive, pornographic, fraudulent, deceptive, defamatory, threatening, harassing, abusive, slanderous, hateful, or causing embarrassment to any other person as determined by Help Scout in its sole discretion

I understand that content on your website is user-generated, but since it goes unmoderated, it's a violation in our view, and it's not something our company can be associated with.
Gab CEO Andrew Torba was paying for the 3rd party service Help Scout to manage its customer support pages; detailed "docs" posts that help Gab's users navigate the features of Gab, and to also provide a place for users to turn when there's something they need help with.
In an unusual approach for a software-as-a service that's being paid for, Help Scout didn't give any advance warning so that its customer Gab could find another service provider for a smooth transition.
Instead, Help Scout chose to be rather disruptive and, in a hostile move towards a paying customer, pulled the plug on Gab instantly, causing all its support pages to throw up errors for Gab's users who were looking for help and support.
While it's not the first time anti-free speech services such as Help Scout have parted ways with Gab, it's usually common practice with most online service providers – especially where that service is being paid for – to offer advanced warning about when that service would be killed. It's a courtesy that many of Gab's previous service providers have honored.
While Help Scout did at least provide Gab with the text content that was contained within the posts that was hosted on the service, the URL structure of the help pages are now gone and Gab users looking for assistance are met with "Page Not Found" notices: