Gab Share, the browser extension that allows you to share links without being censored, is now available in the Google Chrome Web Store. This means you can now add it directly to Google Chrome, Brave, Chromium, and other supported browsers in one click without having to download a separate file.
As we covered previously, Gab Share allows any Gab user to share a link from their browser to Gab with one click. Unlike other social networks which restrict sharing by shadow banning their users, imposing nebulous hate speech policies, and suppressing certain content in their algorithms, Gab champions free speech and free expression. This means anything you share via Gab Share is protected by the First Amendment of the United States Constitution.
Another thing that makes Gab Share unique is that it sits in the browser and automatically enables sharing on any site you visit. This makes it an incredibly innovative solution to the mass internet censorship we're seeing right now because the extension can't be blocked by activists, big tech, or website owners.
Early reviewers are having a great experience with Gab Share and it currently has a 100% five-star rating from these initial reviews.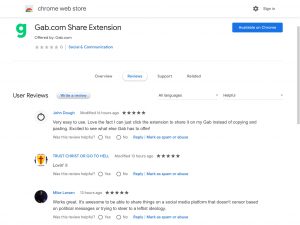 The addition of Gab Share to the Google Chrome Web Store represents a fantastic growth opportunity for Gab. The Google Chrome Web Store gets more than 299 million visits per month (based on SimilarWeb stats) so Gab Share will now have access to this huge additional audience. Additionally, many people are familiar with the simplified one-click installation process for browser extensions that are added via the Google Chrome Web Store so they may feel more comfortable using Gab Share now that this installation option is available to them.
You can get the Gab Share browser extension from the Google Chrome Web Store here and once it's installed, you can start sharing your favorite content to Gab.
If you're a fan of Gab Share, then make sure you keep an eye out for updates on Gab Comments. This innovative browser extension will create a Gab comments section for any piece of content on the internet which is fully protected by the First Amendment.
We'll keep you up to date on all the latest developments with both Gab Share and Gab Comments.