A recently published internal Twitter email shows that German authorities warned the company about posts that would target Big Pharma and "may violate TOS [terms of service]" shortly before the start of a global online campaign calling for large pharmaceutical companies to share their Covid vaccines with the world.
The email was published by journalist Lee Fang as part of the latest release of Twitter Files — internal Twitter communications that have revealed how Twitter censored at the behest of federal government agencies, Democrat staffers, and others.
In the December 13, 2020 email, Nina Morschhaeuser, Twitter's former Head of Public Policy, Government and Philanthropy in Germany, told several Twitter teams that German pharmaceutical company BioNTech, the developer of the Pfizer–BioNTech COVID-19 vaccine, and German authorities had contacted her team to warn about an online campaign targeting Covid-19 vaccine companies which was due to start on December 14, 2020.
"The authorities are warning about 'serious consequences' of the action, i.e. posts and a flood of comments 'that may violate TOS' as well as the 'takeover of user accounts' are to be expected," Morschhaeuser wrote in the email. "Especially the personal accounts of the management of the vaccine manufacturers are said to be targeted. Accordingly, fake accounts could also be set up."
Morschhaeuser asked Twitter to monitor several hashtags and accounts that were expected to be used or targeted in the campaign. She added that German authorities had referred to a "permissible" campaign that allowed users to send auto-populated tweets.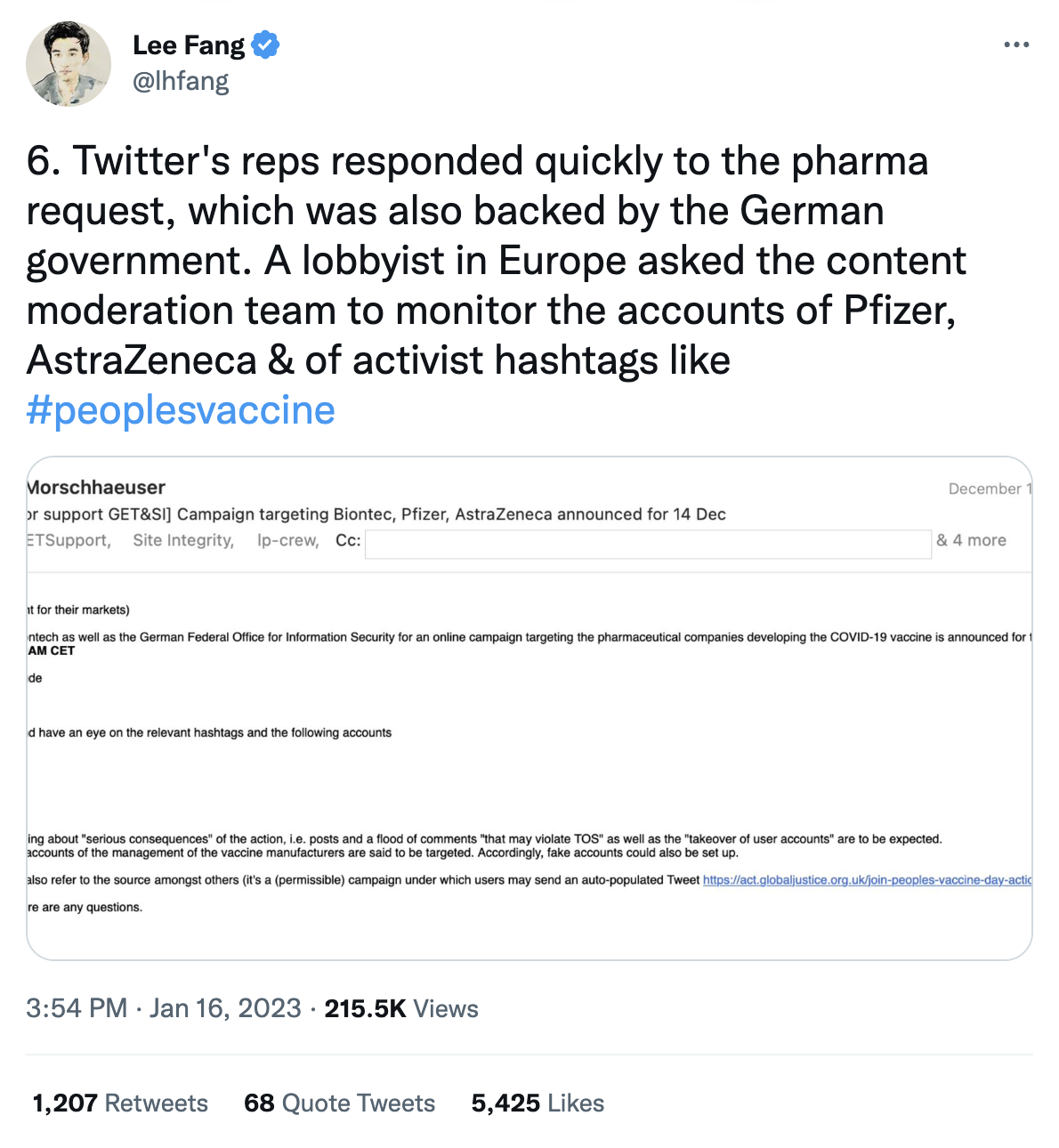 The campaign German authorities had referred to was the "Peoples Vaccine Day of Action" — a global online campaign that called for "Big Pharma to share their vaccines with the world" and urged people to "join a global day of mass calling, emailing and tweeting" on December 14, 2020.
The day before sending this email to Twitter, Morschhaeuser had received an email from BioNTech's Director of External Communications, Jasmina Alatovic, warning about the campaign and asking for help hiding BioNTech's Twitter account during the campaign.
"Could you help us hide our BioNTech Twitter account for two days on Sunday so that comments etc. are no longer possible?" Alatovic asked in the email to Morschhaeuser.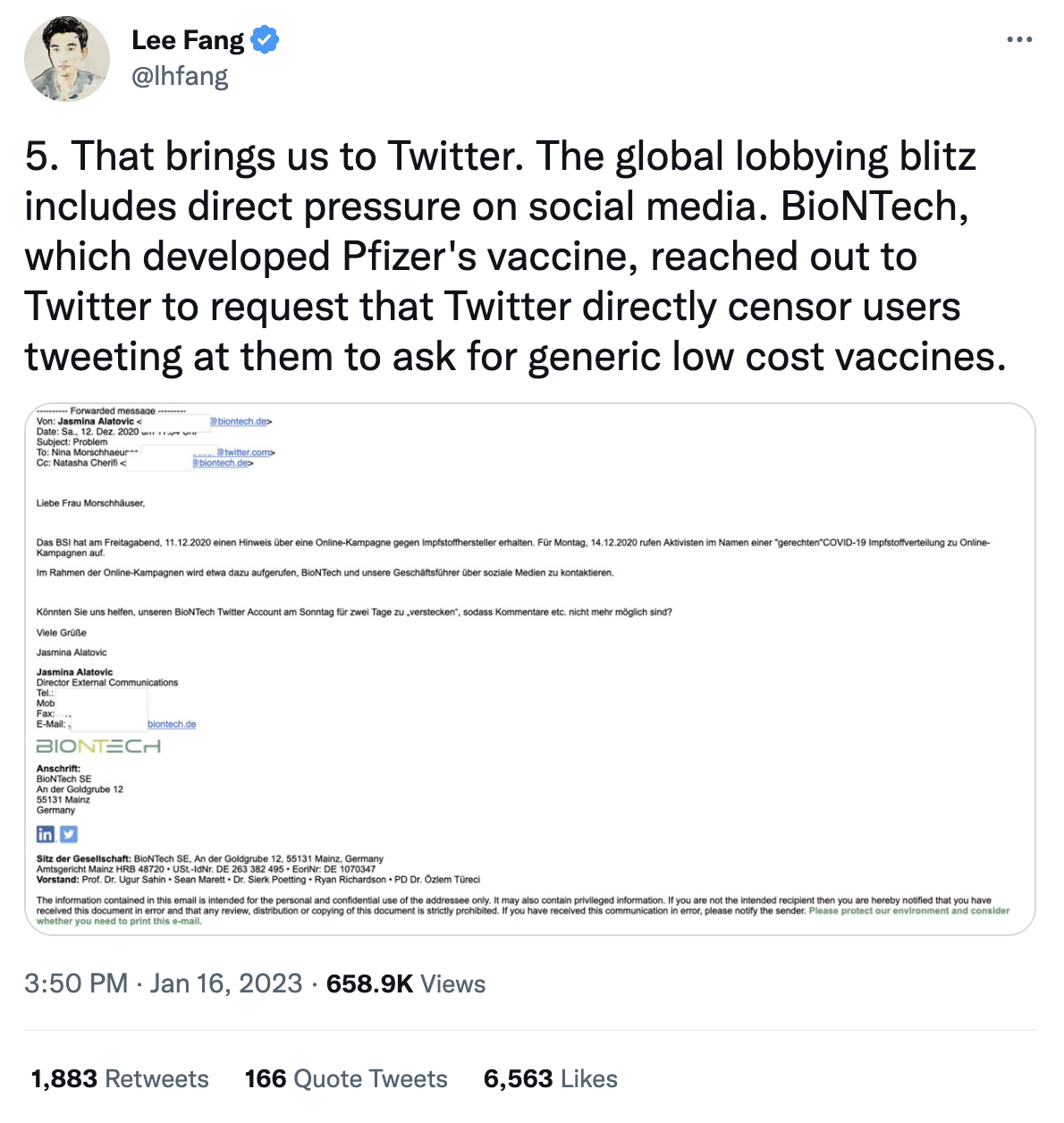 Fang noted that the potential "fake accounts" Morschhaeuser mentioned in her December 13, 2020 email to the Twitter teams were real people and that one of these people, Terry Brough, a 74-year-old retired bricklayer from the United Kingdom (UK), had his account flagged after calling for Big Pharma to ensure that poor countries don't miss out on a Covid vaccine.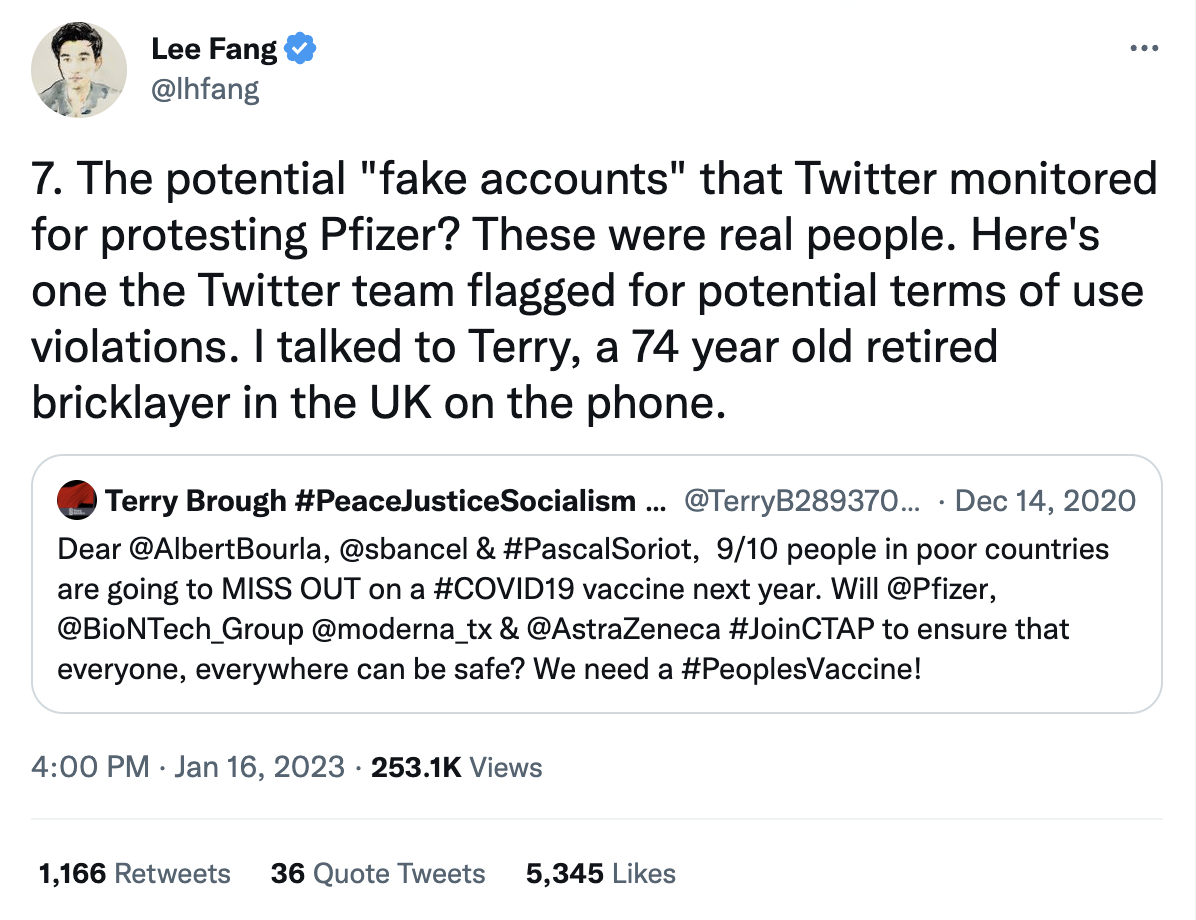 "I'm actually 74 and still living," Brough told Fang. "I was a bricklayer all my life just like my dad. I'm no Che Guevara, but I've been an activist, a trade unionist, and a socialist. And all I did was sign a tweet. I wish I could've done more, really."
Fang said it's not clear what actions Twitter took in response to BioNTech's request. He also revealed that several Twitter employees initially found that the activist campaign didn't violate Twitter's rules but Twitter continued to monitor associated tweets.
Not only did German authorities warn Twitter to monitor a campaign targeting the pharmaceutical companies developing Covid vaccines but the German government also helped to fund one of these vaccines, the Pfizer–BioNTech COVID-19 vaccine, by providing $445 million of funding to BioNTech's Covid vaccine program in 2020.
Pfizer went on to make $37 billion from this Covid vaccine in 2021 and the vaccine continued to generate billions of dollars in revenue for the pharmaceutical giant in 2022.
And while the warning email from Morschhaeuser raised concerns about fake accounts, Germany's government has been caught creating hundreds of fake "right-wing extremist" social media accounts.