Many creators have shared their frustrating experiences with YouTube Support when attempting to regain access to hacked channels.
And now game streamer GhazzyTV is reporting that he too has found YouTube's support lacking when attempting to get help with his hacked channel.
In a recent video on his hacking ordeal, GhazzyTV said that the channel was hacked almost three months ago and the issue still isn't resolved.
According to GhazzyTV, he regained access to his hacked channel about two weeks ago but the channel itself was invisible to the public and he can't change the associated email, change the channel name, change the channel URL, monetize, or see his old videos.
GhazzyTV's videos can be played via direct URLs and do appear in search but the channel itself says it's "not available."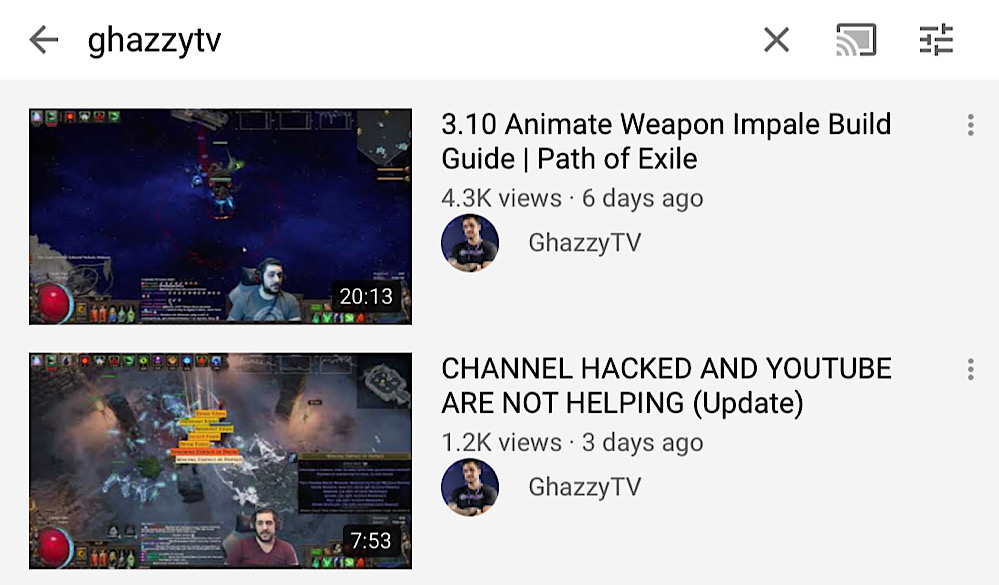 GhazzyTV added that thousands of the hacker's videos are still in his channel and that the last time he received an update from YouTube was on March 13 when he was told the channel was back up and running.
Since then, GhazzyTV said he's told YouTube about the issues with his channel and messaged them once per day but received no response.
"I don't really know what to do," GhazzyTV said. "YouTube has clearly shown that the only thing they give a sh_t about is not looking bad to the public."
GhazzyTV also talked about how he's only been able to continue creating content while his channel was compromised because of the support he's been receiving during live streams.
"I cannot survive another month without the stream covering," GhazzyTV said and added that he will have to stop streaming and get a job if the support from viewers of his live streams dries up.
Despite the support from live stream viewers, GhazzyTV said not being able to access the channel he depends on for income has proved to be frustrating:
"I am extremely salty and really f_cking angry about the situation cos it's soon three entire months of me not having access to my channel and it's my livelihood, it's what makes me able to create content."
GhazziTV also suggested YouTube responded quickly when his channel was first hacked because it got lots of attention on Twitter and urged those who want to help to tweet about his situation.
GhazzyTV's experience is similar to the ordeal experienced by lifestyle YouTuber Meghan Rienks after her channel was hacked.
Rienks spent months trying to regain access to her hacked channel but was bounced between different support team members and met with a flurry of unhelpful responses.