God Emperor Trump, a popular pro-Trump meme page, was banned by Facebook with just a few days left for the US Presidential Election. Tom Pappert, who owns the page, said that Facebook has banned his page for the 7th time since 2015 when he first created the page.
"Today Facebook banned my pro-Trump meme age, God Emperor Trump, for the 7th time in five years. I broke no rules. I ran no other page that got banned. They just banned my page that reaches millions 10 days before the election based on a totally bogus excuse," tweeted Pappert.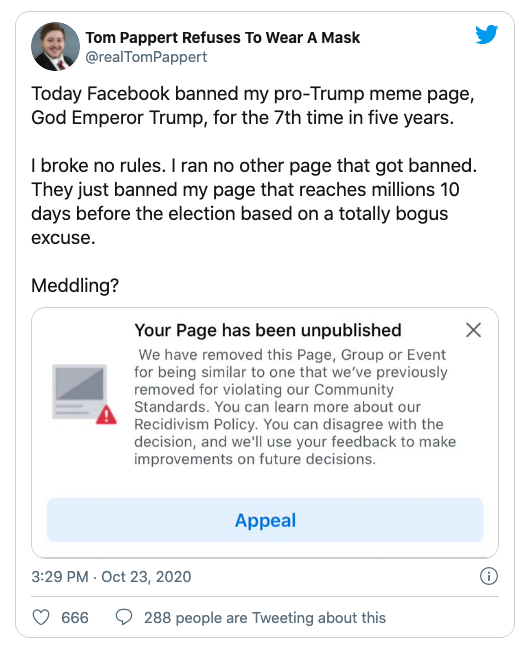 Facebook, in its notice to Pappert, said that the page was taken down as it was "similar to the one" that the company previously took down for violating the platform's rules. Simply put, Facebook claims that Pappert has recreated the page after it was already banned from Facebook.
But then, Facebook kept reinstating the page each time it banned it. And so far, the page was banned six times and restored all the six times. What's more, Pappert never really had to create the page from scratch as Facebook kept restoring the page every time it banned it.
So in essence, Facebook's claims that it is taking the page down is baseless. It is also worth noting that Facebook provided no reasons when it banned the page the previous time.
"No posts were removed from the page, none of the page's staff were banned from the platform, and nobody was given the customary 'Session Expired' notification users receive when they go against one of Facebook's Community Standards. Instead, our team was given a notification that God Emperor Trump was unpublished with no explanation," said Pappert's statement.