The image of the Southern Poverty Law Center (SPLC) may have been steadily tarnished over the past years, but Google appears to still be doing its part in protecting the group and preventing critical or investigative content from gaining a place of prominence in its search results.
The SPLC – which says that it monitors and exposes white supremacists and radical right-wingers in the US, and is a self-appointed curator of a controversial "hate groups census" – in 2019 had to part ways with its founder, Morris Dees, amid explosive accusations of the non-profit fostering a toxic workplace rife with gender and race-based discrimination.
Now independent journalist Mike Cernovich has published an article linking the organization's work and what the report sad is a far-left mass shooter – but searching for its title, "How a Convicted Terrorist used the Southern Poverty Law Center's Website to Identify Targets," on Google links users to – the SPLC website, rather than the story itself.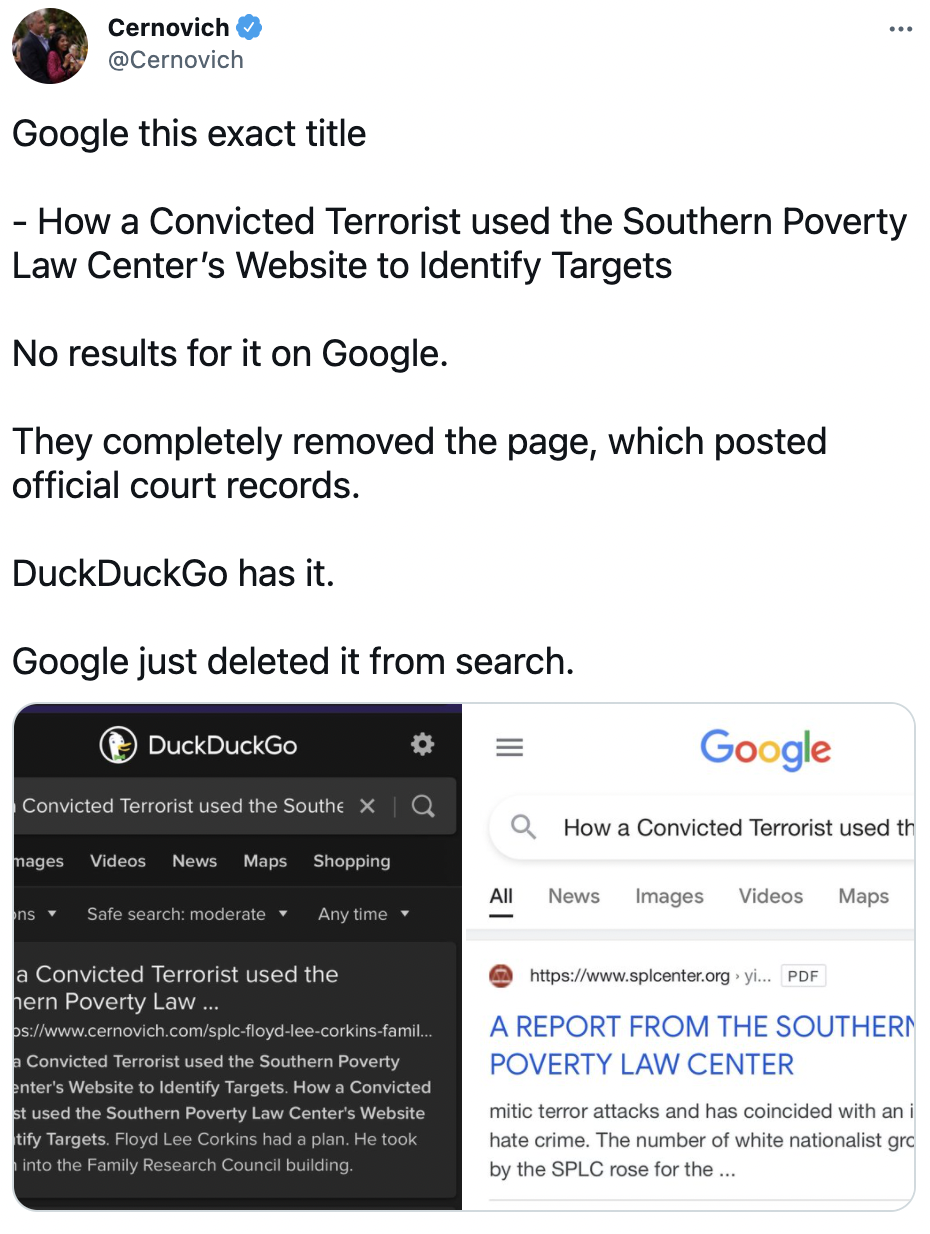 This suggests that the search algorithm has been tweaked to hide the actual article, even though, as the author said in a tweet, searching for the same phrase on DuckDuckGo surfaces the proper link first.
Cernovich's report deals with Floyd Lee Corkins, who is described as a far-left activist responsible for an attempted mass shooting attack against the Family Research Council (FRC).
This Washington DC-based Christian conservative organization was included in the "hate watch" list compiled by the SPLC, and Corkins – who told the FBI he had a list of his own, of four potential targets – identified the FRC thanks to it being named by the SPLC as a "hate group."
Chernovich spoke for Breitbart News – who said their own articles had in the past been "deranked" in Google Search to a similar effect – to defend his report as truthful and based on public court records, and accuse the SPLC and Google of effectively colluding to suppress the article instead of going the route of demanding a retraction – which the journalist thinks they knew they could not get.
He also mentioned another high profile controversy marring the "authority" of the SPLC to maintain a "hate watch" – having had to pay millions of dollars to Maajid Nawaz, after labeling him as "an anti-Muslim extremists."