In a recent interview, former Google engineer Zach Vorhies, who worked at the company for eight years and leaked a trove of documents showing Google's biases, said that Google is using a blacklist to remove autocomplete suggestions for the search term "Clinton body count." Vorhies also believes that the existence of this blacklist shows that Google was lying when one of its executives told the Senate Judiciary Committee in July that Google doesn't utilize blacklists.
Vorhies made the comments during an interview while discussing his Medium article titled: "Why did Google suppress auto-complete for "Clinton Body Count"?"
In the Medium article, Vorhies references Google's public documentation on its autocomplete suggestions which says:
Autocomplete suggestions use real Google Search data and show suggestions based on common and trending searches
Autocomplete suggestions may be removed if they violate Google's autocomplete policies which prohibit suggestions that are sexually explicit, hateful, violent, dangerous, harmful, spam, closely associated with piracy, or subject to a valid legal request
These removal policies explain why popular searches from Google Trends may not appear as autocomplete suggestions
His article then shows how the Google autocomplete suggestions for "Clinton body count" and "Trump body count" appear to go against what's laid out in this documentation.
Typing "Clinton body c" in a Google Search box returns no autocomplete results.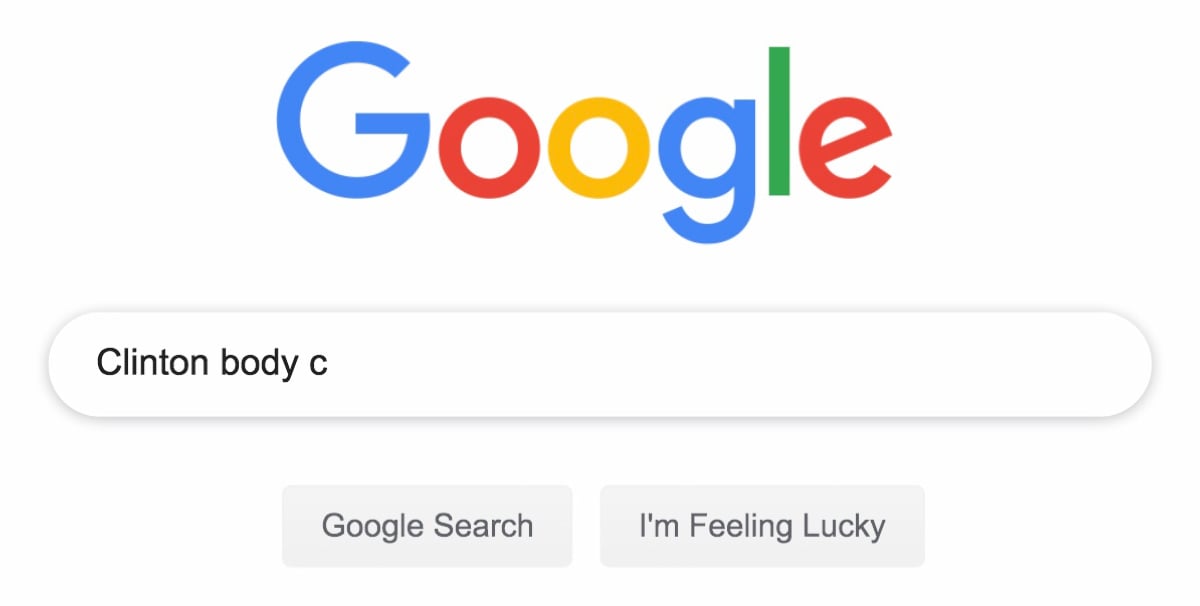 However, typing "Trump body c" returns autocomplete results for "Trump body count."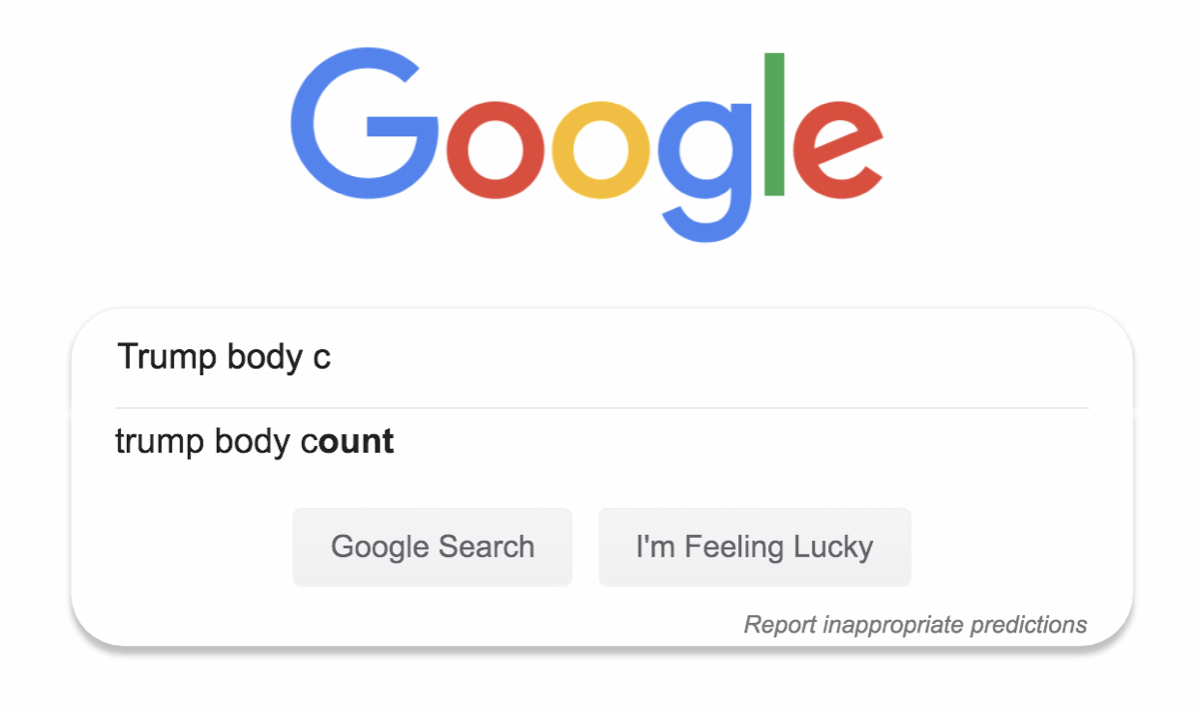 The omission of autocomplete results for "Clinton body c" and the inclusion of autocomplete results for "Trump body c" is strange for a couple of reasons.
First, based on Google Trends data, both terms trended at the start of this month after it was reported that convicted sex offender Jeffrey Epstein had committed suicide. However, "Clinton body count" was a much more common search term at this time and received more than 10 times the amount of searches.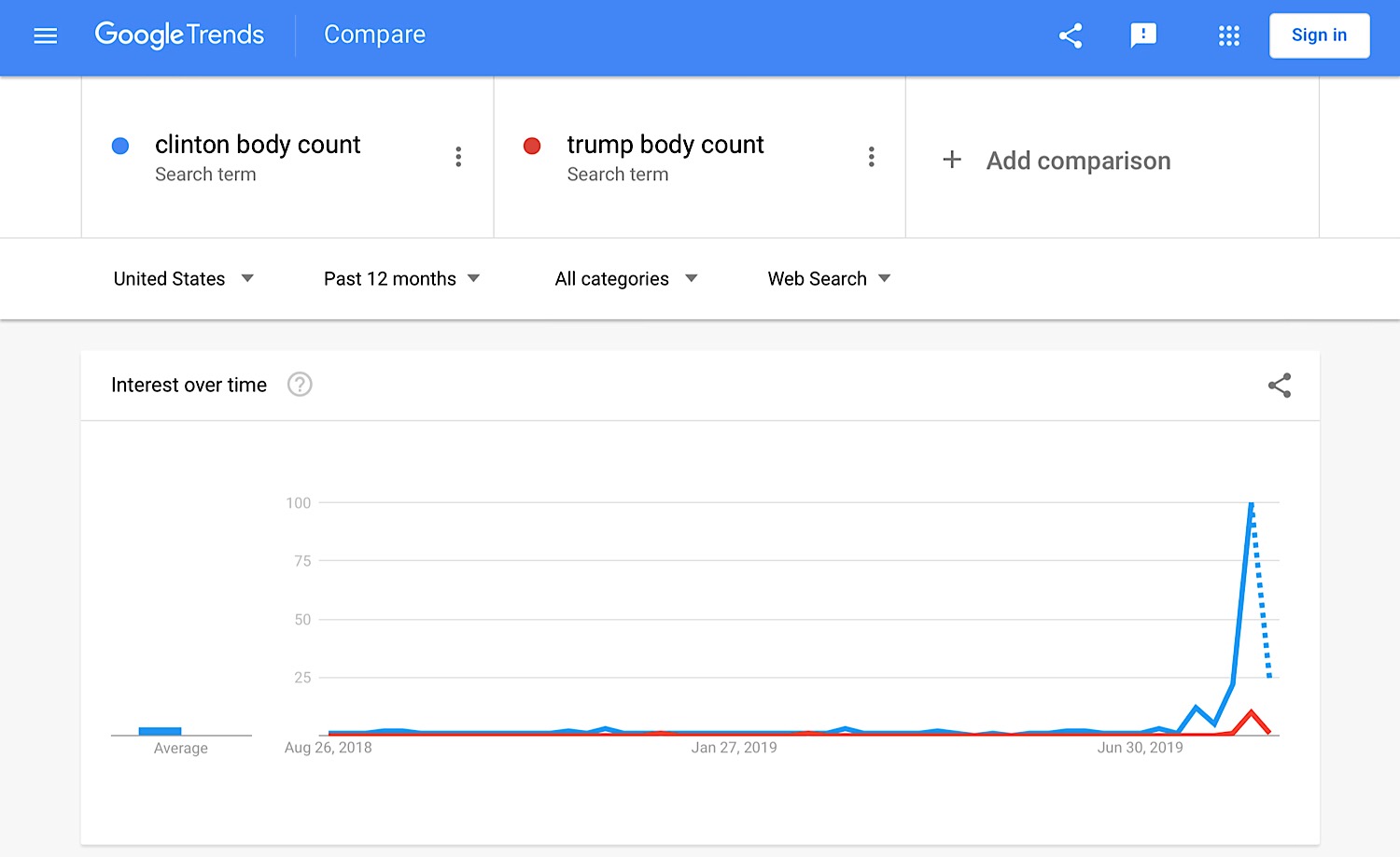 Second, if Google has removed "Clinton body count" for violating its autocomplete policies, it's unclear why "Trump body count" doesn't also violate those same policies. For example, it's possible that "Clinton body count" was removed for being violent but if that determination was made, it doesn't explain why "Trump body count" wasn't also removed for being violent.
In his interview about the article, Vorhies expanded on this discrepancy and suggested that it's the result of a Google blacklist: "There's obviously a blacklist that's being utilized, either explicitly or embedded in a neural network."
Vorhies also talked about how he discovered another apparent blacklist for Google-owned YouTube when he was working at the company in July. Ironically, he made this discovery while listening to a Senate Judiciary Committee hearing where Google executive Karan Bhatia told Senator Marsha Blackburn: "We don't use blacklists, whitelists to influence our search results."
Vorhies described the exasperation he felt when discovering what appeared to be a YouTube blacklist at the same time as a Google executive was denying the use of blacklists in the Senate by saying: "The lies are just so, like, in your face that it's just, it's ridiculous. It needs to be confronted. It needs to be exposed."
This isn't the first time Vorhies has raised concerns over Google removing suggestions from autocomplete. When he first leaked internal documents about Google's biased artificial intelligence (AI) to Project Veritas in June, Vorhies showed that there are also no Google autocomplete suggestions for "Hillary Clinton's emails" yet there are autocomplete suggestions for "Donald Trump's emails." Vorhies said at the time that Google was using its machine learning (ML) fairness AI algorithm to delete this autocomplete suggestion because the company believes it's "unfair" to return results based on "Hillary Clinton's emails."
Vorhies is also one of a growing number of current and former Google engineers who have suggested that Google representatives haven't told the truth during their congressional testimonies. In July, senior Google engineer Greg Coppola suggested that Google CEO Sundar Pichai's statements to Congress on political bias were untrue while former Google engineer Mike Wacker accused Pichai of not telling the truth to Congress when talking about search manipulation.
Wacker has also backed up Vorhies' statements on Google's use of internal blacklists and said that YouTube manipulates its search results via a blacklist.
In addition to these statements, multiple leaked documents from Vorhies and others appear to show Google using blacklists to manipulate its search results in various products. These leaked documents include: