In the wake of the coronavirus pandemic, tech giants such as Facebook, Google, and Twitter are becoming increasingly vigilant and censoring any content related to coronavirus posted on their platforms.
Unlike human moderators, bots cannot differentiate between what is an absolute violation and what might not be one. As a result, they end up censoring all the content that fits their expansive view of a violation and that simply escalates to become censorship.
Christ Church in Moscow, Idaho, is one such victim of undue censorship as Google suspended its app from the Play Store for uploading videos of Bible lessons and guidance for dealing with the COVID-19 pandemic.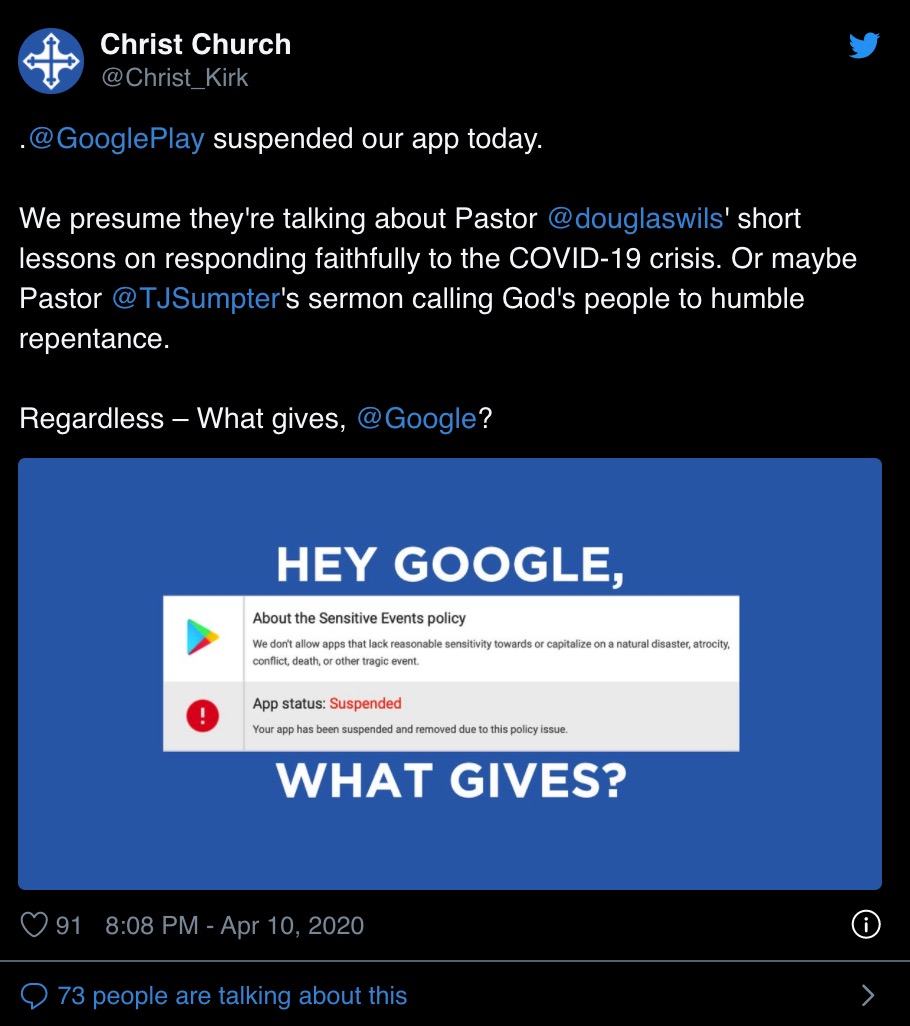 "@GooglePlay suspended our app today.
We presume they're talking about Pastor @douglaswils' short lessons on responding faithfully to the COVID-19 crisis. Or maybe Pastor @TJsumpter's sermon calling God's people to humble repentance.
Regardless — What gives, @Google?", tweeted Christ Church.
After appealing the suspension, Christ Church ended up discovering that Google was suspending all apps that referred to the pandemic.

What's more, the response from Google pointed out that Christ Church violated their 'Sensitive Events' policy, and thereby asked it to remove all references to COVID-19 to get their app restored on the Play Store.
"We are not purporting to present any medical advice or information on the virus, we are simply presenting what we believe Scripture teaches in regards to how to face such crises in faith and love to our neighbor," said Ben Zornes, executive minister at Christ Church, to the Washington Examiner.
While the Christ Church app is available on Apple's App Store, it isn't available on the Play Store.
The ministers and staff of Christ Church are contemplating the right way forward and expressed their dissatisfaction at the turn of events by saying they believe Google may be censoring them.
Zornes, however, also acknowledged the fact that it may not be an intentional move on Google's part and might be the algorithm's doing. "It sounds like they're doing a lot of this just by algorithms rather than actual staffers reviewing these things".