We recently did a deep-dive for members about how the ?DMCA and copyright claims are one of the greatest growing threats to free speech online.
Now, an investigation has revealed that Google has fallen victim to fake copyright notices and is taking down several legitimate news articles and similar search results.
Google, much like any other search engine, is mandated to comply with the DMCA guidelines, according to which copyrighted content cannot be returned in search results. Leveraging this loophole, several unscrupulous individuals or organizations, have filed anywhere near four billion fake copyright complaints to take down links to news pieces that showed a particular political figure or an individual in a negative light.
In the recent past, for instance, Google returned the result of an article that covered the movements of two coronavirus-infected Brits who were in Vietnam and thereby warned others to take precautions when coming in contact with tourists who have been to international destinations.
But now, the article does not appear in search results anymore. What could be the reason? A copyright claim.
While most copyright takedown requests are by legitimate organizations that seek for the removal of harmful or fake content, recent findings also reveal that fake copyright DMCA takedowns are a norm.
Google falling prey to fake copyright claims is a huge problem due to the search engine's huge dominance on the internet. If anything is wiped out from Google, it is pretty much wiped off from the face of a good portion of the internet as most people only use Google to search for information.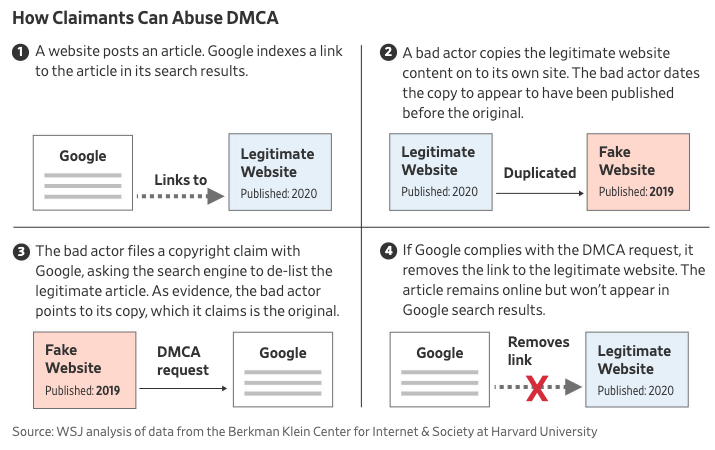 "If people can manipulate the gatekeepers to make important and lawful information disappear, that's a big deal," said a former Google lawyer, Daphne Keller.
Digging deeper, it becomes evident that Google most relies on automated systems to review such takedown notices and do what is needed. Unlike human reviewers, bots do not possess the discretion to weed out fake notices from the authentic ones – at least that is how it currently seems to be.
Nonetheless, after the WSJ brought the activity to Google's notice, the tech giant ended up restoring a whopping 52,000 links which were taken down due to malicious and phony copyright claims. The company said that it "aims to strike a balance between making it easy and efficient for rightsholders to report infringing content while also protecting free expression on the web".