Google has put an advertising block on journalist Piers Morgan's Daily Mail column where he criticized gymnast Simone Biles for dropping out of the Tokyo Olympics and claimed that his column contained "dangerous or derogatory content."
Morgan said that Google quietly placed the advertising block on his column, which is titled "Sorry Simone Biles, but there's nothing heroic or brave about quitting because you're not having 'fun' – you let down your team-mates, your fans and your country," eight hours after it was published.

In the column, Morgan blasted both Biles and the "Twitter snowflake virtue-signallers" who praised Biles for quitting.
Morgan's Daily Mail columns regularly garner thousands of views, comments, and shares for the outlet. And this Simone Biles column was one of his most popular with over 51,000 shares and 9,000 comments.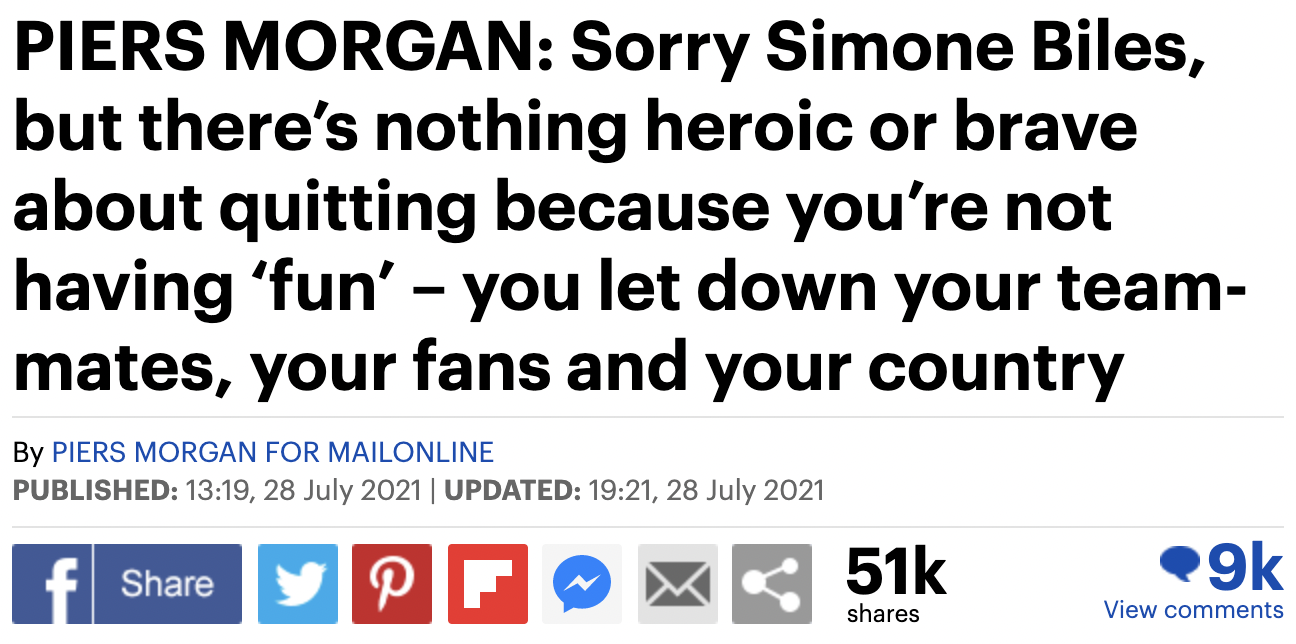 One of the main ways the Daily Mail earns revenue from Morgan's columns is through Google ads that are embedded on the page. But because Google flagged this column as being dangerous or derogatory, the Daily Mail won't earn any Google ad revenue on the huge number of views that this column generated.
According to Google's advertising policies on dangerous or derogatory content, four types of content are not allowed:
"Content that incites hatred against, promotes discrimination of, or disparages an individual or group on the basis of their race or ethnic origin, religion, disability, age, nationality, veteran status, sexual orientation, gender, gender identity, or any other characteristic that is associated with systemic discrimination or marginalization"
"Content that harasses, intimidates, or bullies an individual or group of individuals"
"Content that threatens or advocates for physical or mental harm on oneself or others"
"Content that seeks to exploit others"
But Morgan refuted Google's allegations that his column broke any of these rules and suggested that the column was demonetized because of who he was criticizing.
"By Google's own yardstick, I did nothing wrong," Morgan said. "It's hard not to escape the conclusion that the company only intervened with the Biles column because I was criticising a black woman and woke Twitter said that was racist without any evidence to support that claim. And if that is true, it's utterly shameful."
Morgan added that Google's actions are "an attack on free speech" and designed to dictate the opinions journalists and commentators are allowed to express:
"Google's punitive action also represents a disgraceful attack on free speech.
In a democracy, I'm allowed to say that Simone Biles wasn't a hero for quitting.
But by banning advertising because I expressed that opinion, Google is effectively saying that the only opinion they will tolerate on their platform is that Simone Biles IS a hero for quitting."
Google's demonetization of Morgan's article is the latest of several examples that highlight the mass influence the tech giant's dominance in digital ads and digital news distribution has on news coverage and commentary.
Google leads the global digital ad market with a 28.9% market share. However, unlike its closest rival, Facebook, which has a 27.5% share of the market, Google has an ad revenue sharing program that lets publishers embed ads on their website and insert ads in their YouTube videos in exchange for a cut of the revenues.
According to analytics service W3Techs, Google Ads is used by 98% of all the websites whose advertising networks it knows and this represents 44.7% of all websites. Many of the websites that monetize through Google Ads rely on this program for most or all of their revenues which means that they're heavily incentivized to avoid topics that result in demonetization in order to stay in business.
Not only does Google wield a huge level of control over news websites' revenues via Google Ads but it also pays specific outlets millions of dollars directly through its Google News partnerships. This further increases news outlets' dependence on the tech giant for revenue and creates another incentive for these websites to publish content that complies with Google's rules to ensure that these contracts are renewed.
And Google has leveraged its power to demonetize news outlets numerous times in recent years with Sky News Australia's YouTube channel being demonetized, conservative news outlet LifeSiteNews being demonetized, conservative news outlet The Federalist being threatened with demonetization, and independent news outlet ZeroHedge being pressured into implementing a stricter comment moderation policy in order to get its Google Ads reinstated.