Update – February 6, 2019: Google has now added a microphone to the tech specs for Nest Secure. However, this archive of the tech specs taken on the day this post was originally published (February 5, 2019) shows that Google only updated these tech specs and disclosed this microphone to consumers on February 6, 2018.
Original Article: People are rightfully suspicious of Google when it comes to privacy. The company makes its money by collecting as much of your personal data as possible. So, unfortunately, today's news that Google has been shipping the Nest Secure alarm system with a hidden microphone isn't that surprising, although it is rather worrying.
Rumors of these hidden microphones started to circulate when Google announced that Google Assistant would be coming to Nest Secure systems through a software update. Google Assistant requires a microphone to function but according to the tech specs (archive link) for Nest Secure, none of the equipment contains a microphone. This led people to speculate that there may be an undisclosed microphone in the Nest Guard base system (one of the devices that comes with the Nest Secure alarm system) which could be activated to work with Google Assistant.
Google has now responded to this speculation in a statement to Android Authority and confirmed that Nest Guard base systems do indeed contain a hidden microphone. Here's the full statement:
The Google Assistant on Nest Guard is an opt-in feature, and as the feature becomes available to our users, they'll receive an email with instructions on how to enable the feature and turn on the microphone in the Nest app. Nest Guard does have one on-device microphone that is not enabled by default.

All devices that come with the Google Assistant built in are designed with privacy in mind. Once the Google Assistant is enabled, the mic is always on but only listening for the hotwords "Ok Google" or "Hey Google". Google only stores voice-based queries after it recognizes those hotwords. Voice data and query contents are sent to Google servers for analysis and storage in My Activity. Through My Activity, users are in control of their information. They can view or delete voice queries in My Activity.
According to Android Authority, these inactive microphones have been built-in to Nest Secure alarm systems since their release in November 2017. Google hasn't said why the devices have been shipped with this inactive microphone but the most logical explanation is that the company has been planning this Google Assistant rollout since the release of Nest Secure.
While this is certainly a great way for Google to get the Google Assistant into more people's homes, the decision to do this by shipping hardware with a hidden microphone is very questionable. This microphone has been sitting in Nest Guard devices for over a year without any disclosure by Google. It could have been turned on by Google at any moment without consumers knowledge. It could also have been breached by other parties and used as a covert listening device.
At a time when people are increasingly concerned about the prevalence of microphones in electronic devices, this is not a good look for Google. The recent bug in Apple's Group FaceTime video calling feature which allowed people to listen to the microphone of other iPhone users without their knowledge highlighted just how disastrous a breach of these microphones can be. And this happened on devices where users knew the microphone was active. The potential implications for a hidden microphone are even worse.
As you probably expect, people are not thrilled about this latest development, highlighting that it's a security nightmare and even questioning the legality of shipping a device without disclosing that it contains a microphone.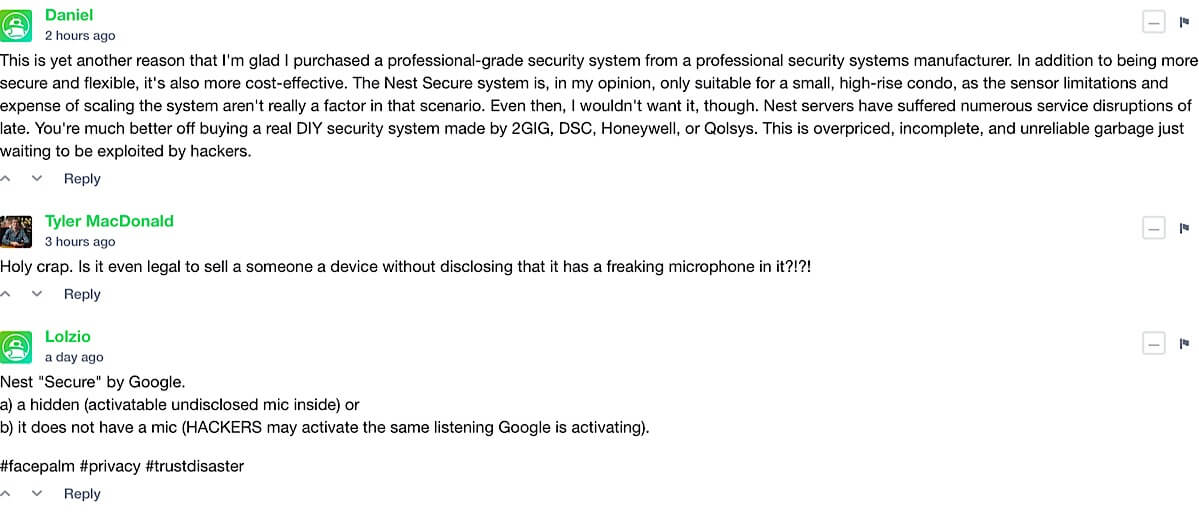 Ultimately, it's yet another example of Google's consistent encroachment on our privacy and personal data.