Recently it was revealed that Google was scanning Gmail to collect data on non-Google purchases. Now a new set of screenshots has revealed that Google is getting ready to start collecting even more purchase data from Gmail with a new Google Pay integration.
The screenshots were released by the reverse engineer Jane Manchum Wong on Twitter and show:
A screen that says "Get offers from your inbox" along with a button for Google Pay users to connect the app to their Gmail. This screen says that connecting to Gmail will provide easy access to loyalty cards, passes, tickets, and other offers sent to your Gmail account.
A screen that shows a sample list of reward card data that has been collected from Gmail. The listed items include rewards from American Airlines, American Eagle Outfitters, Best Buy, Choice Hotels, J.C. Penney, and United Airlines.
A settings screen that allows users to enable and disable Gmail imports (the integration which collects loyalty cards, passes, tickets, and offers from Gmail).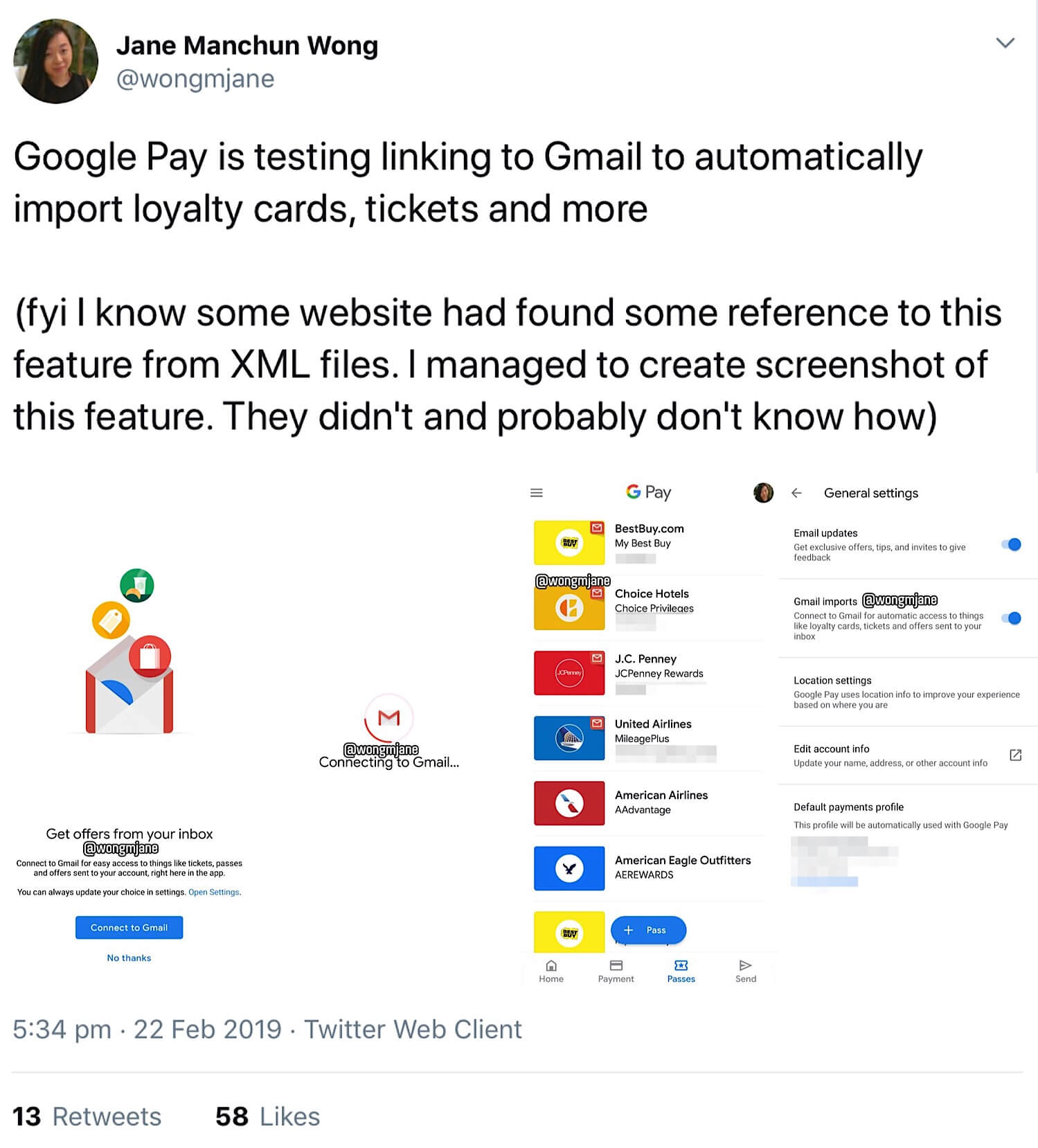 It's not clear when or if this feature will go live.
However, once it's live, Google will be able to combine the non-Google purchase data it already collects from Gmail with data on the loyalty cards you own, how often you use these loyalty cards, how often you redeem points on these loyalty cards, the balance of all your loyalty cards, and much more. This will allow it to build an incredibly detailed profile of your purchasing habits which advertisers will probably be able to use when running targeted ads.
Since Google's entire business is built on data mining, this revelation is hardly surprising but it is creepy to see integrations that comb through your personal emails in such detail. While it's good to see an option to disable this integration and turn off the data collection, it's still disconcerting that Google is constantly adding new features to Gmail that allow it harvest increasing amount personal data.