One of the most popular podcast players on the Google Play store, Podcast Addict, has been suspended on the grounds that some of the podcasts it indexes reference the coronavirus but aren't approved by government entities or public health organizations.
According to the now-removed Google Play store listing for Podcast Addict, it was the number one podcast app on Android with over 9 million downloads and over 2 billion podcast episodes downloaded through the app.
It had over 500,000 user ratings with an average rating of 4.7/5 and had been on the Google Play Store for more than nine years.

Google told Xavier Guillemane, the developer of Podcast Addict, that the app had been removed due to its references to COVID-19:
"Pursuant to Section 8.3 of the Developer Distribution Agreement and the Enforcement policy, apps referencing COVID-19, or related terms, in any form will only be approved for distribution on Google Play if they are published, commissioned, or authorized by official government entities or public health organizations."
In order to get the app restored, Google is asking Guillemane to remove references to COVID-19 and keywords related to COVID-19 from the app.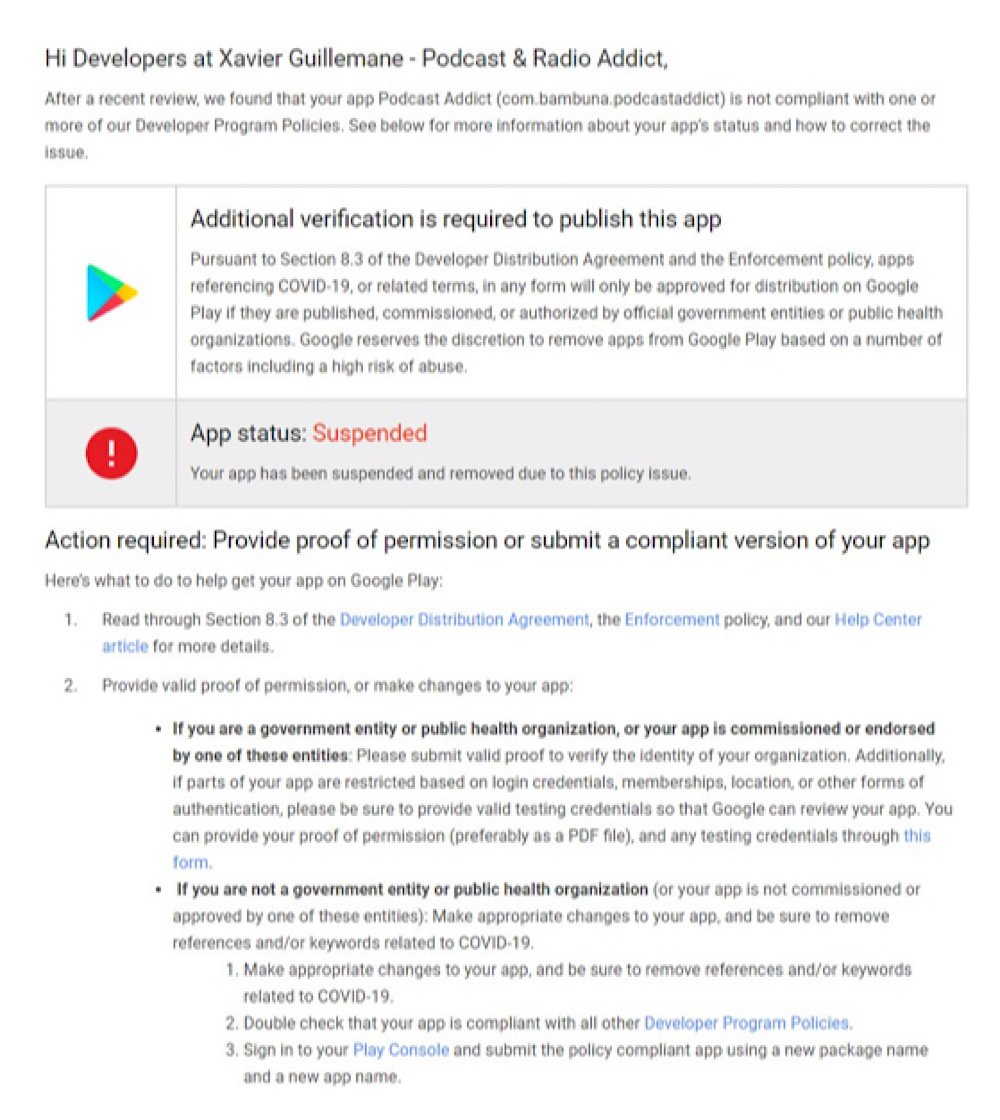 Podcasts player apps such as Podcast Addict connect users with podcasts but don't actually host the content.
The way podcast apps serve up this content is similar to how web browsers connect users with websites but don't actually host any of the content on those websites.
What Google is asking of Podcast Addict would be comparable to Google asking a web browser app to remove references to all the websites and social media posts that reference the coronavirus unless the reference comes from an official government entity or public health organization.
Additionally, Google isn't applying these same rules to its own podcast app – Google Podcasts.
Searching for "coronavirus"or "COVID-19" in Google Podcasts returns podcasts from mainstream media outlets that aren't endorsed by government entities or public health organizations.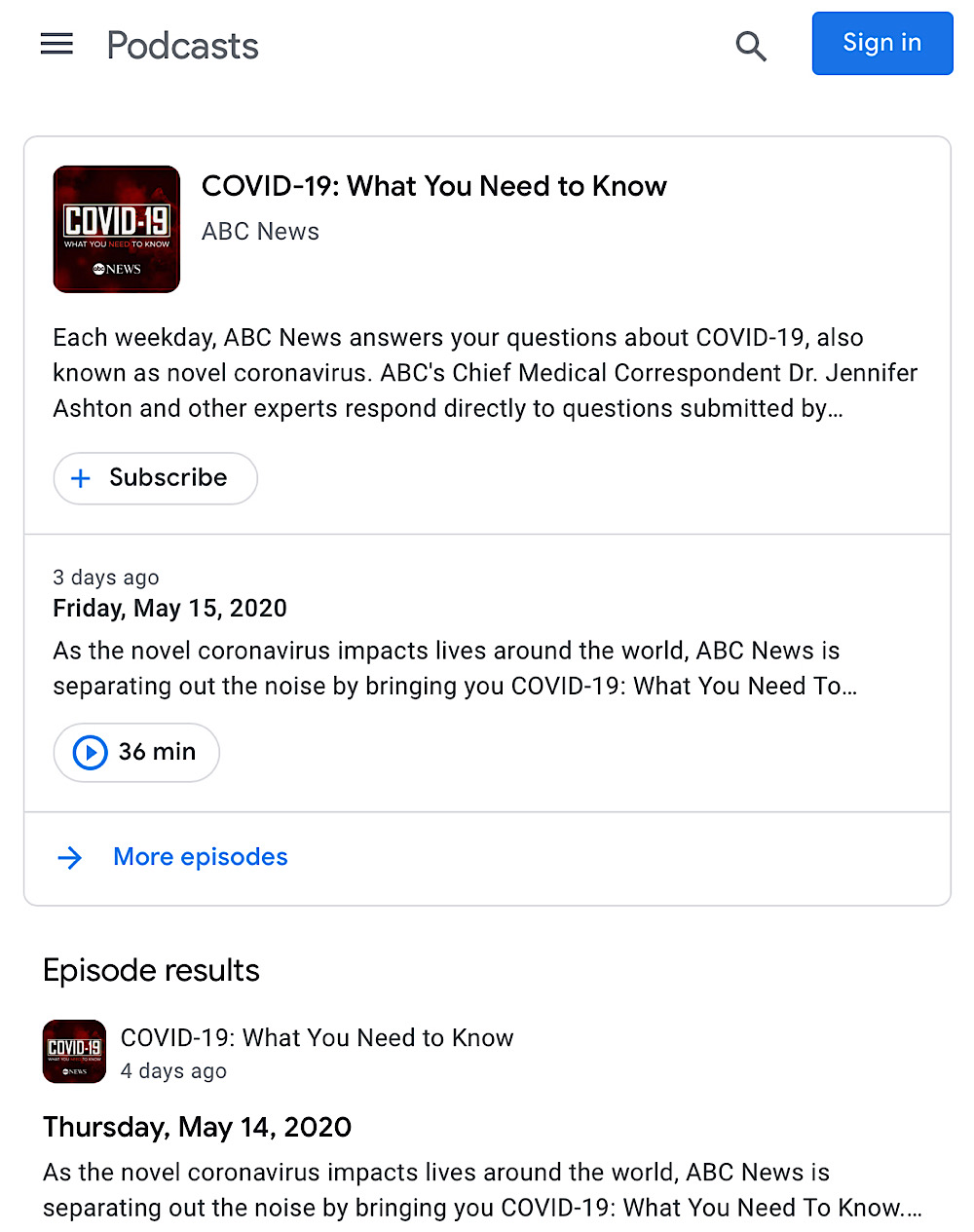 Existing Podcast Addict users who have the app installed can still use it as normal and get automatic updates but they won't be able to make in-app purchases until the app is restored to the Google Play store.
New and returning users who want to install Podcast Addict on a new device also won't be able to do it via the Google Play store.
This means users who paid for premium features of the app will be blocked from installing the app with those features on new devices via the Google Play Store unless Google reverses its decision.
Another impact of the suspension is that Google AdMob, the service Podcast Addict uses to display ads in the app to support its development, has stopped serving ads.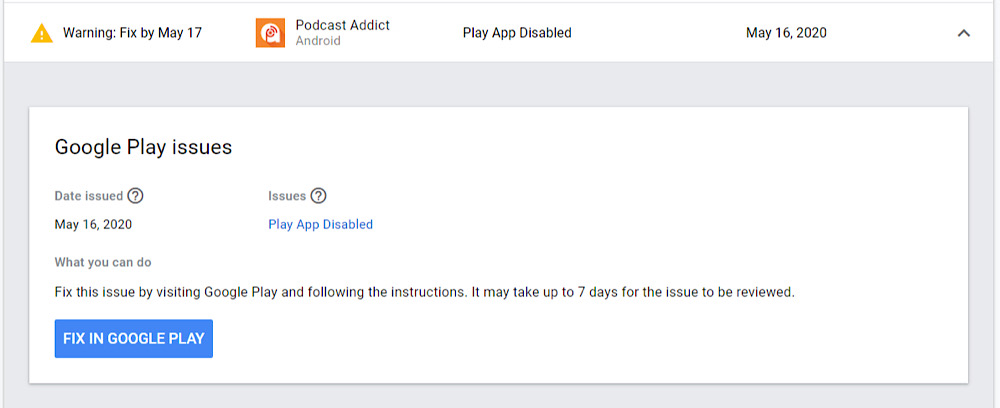 For now, Podcast Addict is distributing the official version of the app via an Android Application Package (APK) which users can sideload onto their devices but this sideloaded version won't appear in Android Auto – a feature that allows users to mirror their Android devices to the dashboard of compatible cars.
Podcast Addict discussed the impact the suspension is likely to have on its app and tweeted that it "basically doesn't exist" once the listing is gone due to the dominance of Google's store when it comes to Android app distribution.
Additionally, Podcast Addict noted that Google's requested "fix" for the app will result in it being published as a new download which means the 9 million+ downloads and 500,000+ reviews that it has accumulated on the Google Play store over the last nine years will be wiped out.
Podcast Addict described the situation as " really depressing" and wrote that not having any control over the situation as an independent developer who has spent nine years working on the app is "the worst feeling."
Guillemane is predicting that in the best-case scenario, the situation will take 21 days to resolve which means thousands of existing users will be lost because they are unable to install Podcast Addict on their new Android devices.
The whole situation serves as yet another example of the collateral damage caused by Google and other big tech companies when they introduce policies that prescribe what users are allowed to say about the coronavirus and restrict who is allowed to comment on it.