A federated alternative to Google's own Hangouts and Duo Android apps got suspended from the Play Store without explanation on Saturday.
Element (previously known as Riot.im) is one of the clients, and a popular one, for Matrix, a federated open source messaging protocol.
Judging by the comments that started coming in after the Element's announcement on Twitter, the app is also used widely by a number of governments, including US, French, German, and British, as well as companies and universities.
That may be the reason why Google even paid attention to Element's complaints and eventually fairly quickly announced that it would shortly reinstate it to the Play Store. But the story reveals at least two things: the tech giant Google doesn't fully understand (or doesn't care to) how tech works, fediverse in particular. And if you have some clout that Google pays attention to, you might have a shot at having your app reinstated after it gets removed.
It seemed like Element's case was moving in the other, well-rehearsed and depressing direction; an initial blog post from the company said they were kicked off the store without warning or notification on January 29, with an appeal lodged a couple of hours later receiving one of those generic messages that said content on the app violated Google's term of service.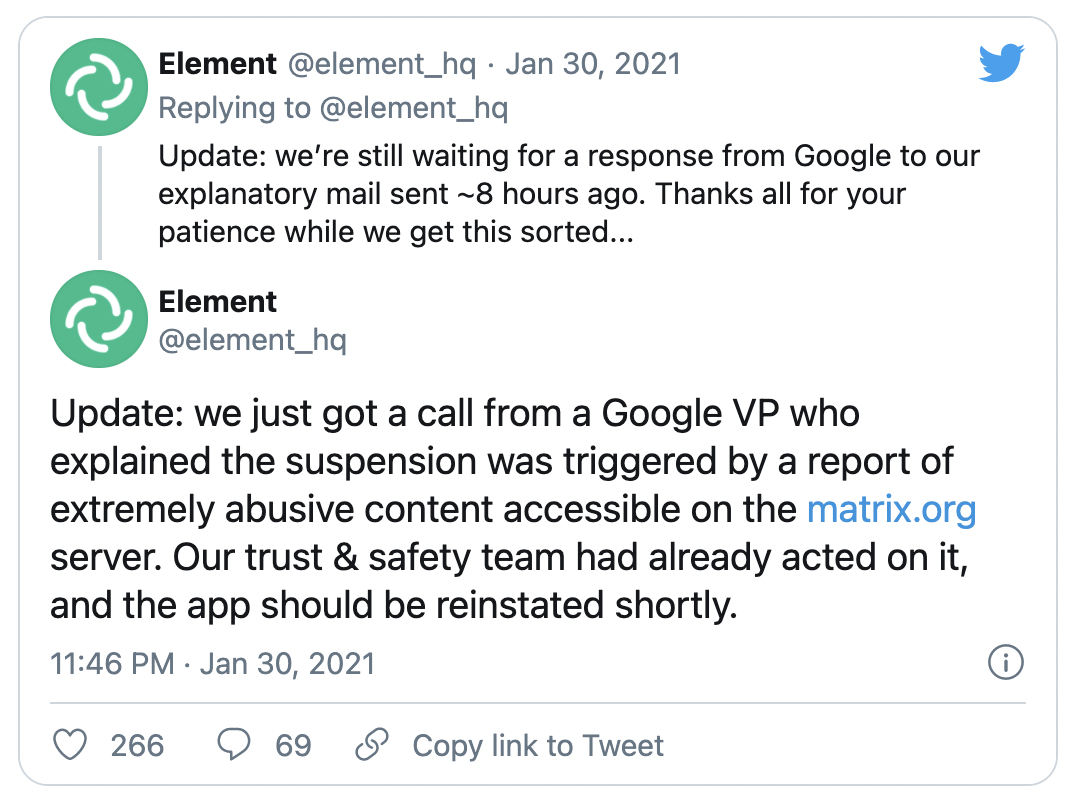 Element then had to submit another appeal, explaining to Google how the app and the federated network built on Matrix works, and that Element no more controls content on Matrix than a browser controls content on the internet.
Something caught the eye of Google here, maybe the fact that so many governments and academic institutions use the app, and a Google VP announced on Sunday that Element would be reinstated soon, and that the banned content had in fact been found on one of Element's servers, which has in the meantime been removed.
In other words: still no customer service over at Google, but if you're lucky you'll get a random VP involved and have your app back in the store after the giant bothers to look into what the actual problem is, and you fully comply.