A new report is suggesting that Google maintains two internal blacklists which prevent certain pages and domains from appearing in Google's featured snippets and answer blocks at the top of its search results. The blacklists appear to be primarily targeting opinion content and conservative news.
According to The Daily Caller, the first blacklist is called "webanswers_url_blacklist" and it blocks certain pages from being listed in featured snippets at the top of Google Search. The Daily Caller says that the instructions for this blacklist indicate that it's manually edited and that in the future, all opinion content will be blacklisted for queries related to "newsey/political/sensitive" web answers.
This op-ed from The Washington Post titled "How Vladimir Putin Became The World's Favorite Dictator" is reportedly on the blacklist. The Daily Caller says that this article would show in a featured snippet for the search query "who is the dictator of Russia?" before it was blacklisted.
The second blacklist is called "all_fringe_domains" and appears to be algorithmically generated according to The Daily Caller. It reportedly lists:
American Spectator
Breitbart News
Breitbart Unmasked
Breaking911
Bring Your Bible to School Day
Consortium News
Free Thought Project
SpeakerRyan.org
Spencer Watch
St. Philip the Deacon Lutheran Church
The Franklin Society
The Gateway Pundit
The Gorka Briefing
The Daily Caller suggests that this second blacklist is part of Google's wider efforts to algorithmically remove what it deems to be "inappropriate web answers" from its featured snippet results.
In a statement to The Daily Caller, Google said that it has policies that prevent featured snippets being shown for certain topics and that its systems will not show featured snippets that violate Google policies. However, it's not clear how any of these blacklisted domains violate Google's policies.
Pages and domains that appear in featured snippets get prime positioning at the top of Google Search results so being blacklisted from these featured snippets can significantly lower a site's visibility in Google Search.
For example, the screenshot below shows the featured snippet for the query "who is the google ceo?" It takes up the entire page and gives prime positioning and visibility to Google CEO Sundar Pichai's Wikipedia page.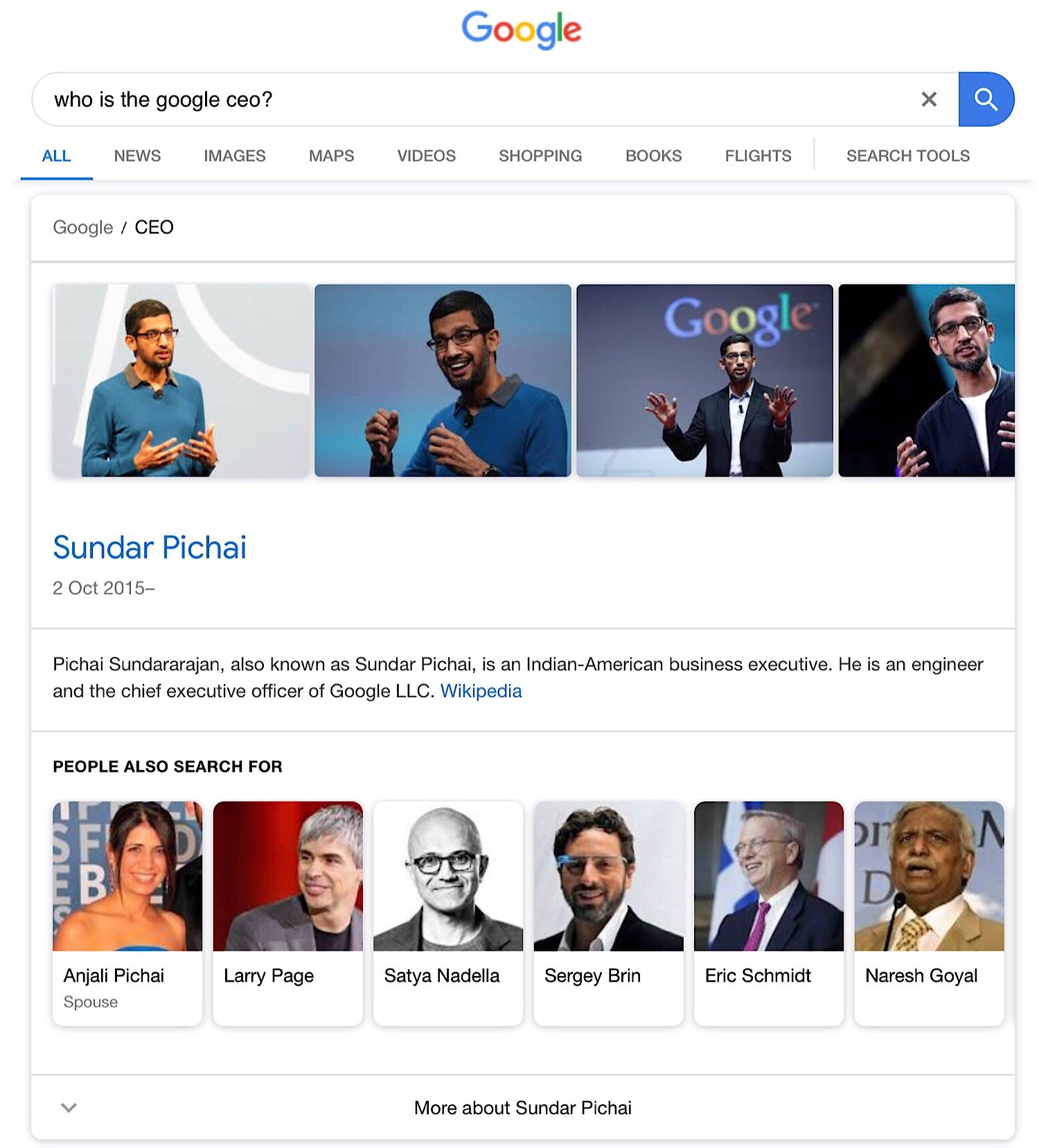 This report is the second example we've seen this year that indicates Google is manually manipulating its search results, despite Pichai telling Congress that the company does not "manually intervene on any particular search result."