When you search for a video on Google Search, most of the videos you will find are from YouTube. According to a report on The Wall Street Journal, Google intentionally favors results from YouTube over other competitors such as Facebook, Dailymotion, and Twitch.
The conducted tests and found out that YouTube results were much more likely to appear on Google's search results. During the tests, they searched for videos appearing on YouTube, Facebook, and Dailymotion and found that Google favored the YouTube option even when the videos have similar titles.
According to the report, engineers at Google have intentionally tweaked search algorithms to favor YouTube results. The search results do not seem to account for the number of views, likes, and comments on the videos. The WSJ searched for a video posted on both Facebook and YouTube. The one on Facebook had 900 comments and over one million views, compared to 400 comments and 182k views for the one on YouTube. Yet, in search results, the on uploaded on YouTube appeared before the one on Facebook.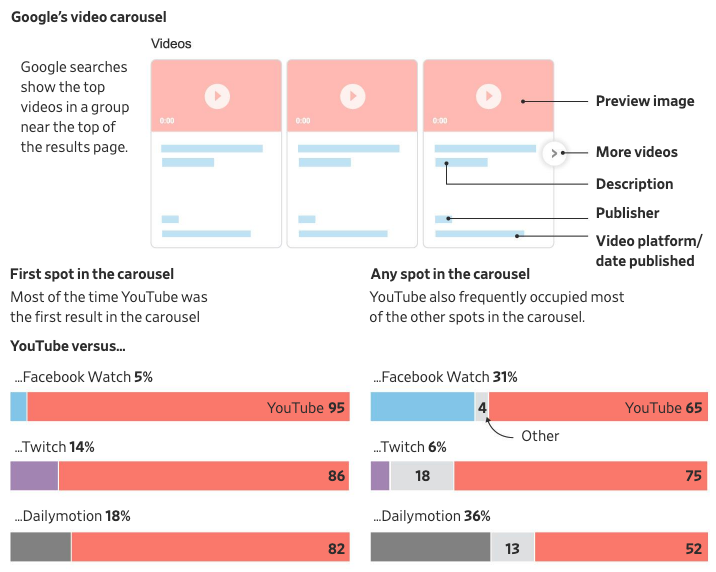 The search bias is something other video sharing platforms have suspected for long. However, as Professor Dirk Lewandowski of Hamburg's University's Department of Applied Science notes, it is difficult to prove the apparent bias by Google in favor of its video-sharing platform.
"If Google says, 'We favor websites that are more popular,' then by their standard it might be perfectly OK to list YouTube first," explained the professor.
When asked about this, Google claimed that its search system focuses on what people would consider relevant and helpful.
"Our video ranking systems use signals from all video sources in the same way — there is no preference given to YouTube or any other video provider," said Google in a statement.
The report continues to prove Google's constant violation of antitrust laws. Google has been investigated by 49 states, including California, on antitrust accusations. Later this month, the Alphabet-owned company will also join Facebook, Apple, and Amazon for a Congress hearing on antitrust.